USGBC NY Upstate: 8th Annual Green Building Expo + Ed

Wednesday, October 16, 2019 from 1:00 PM to 8:00 PM (EDT)
Event Details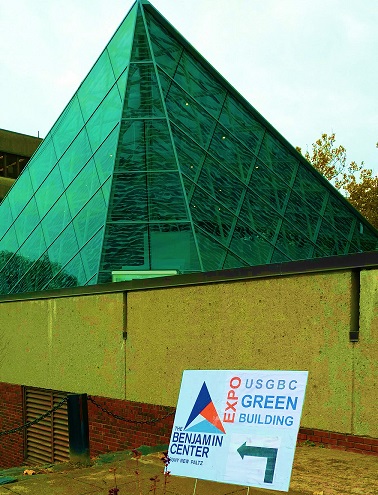 REGISTER TODAY TO EXHIBIT OR ATTEND              
       

    U.S. Green Building Council New York Upstate   

           
8th ANNUAL GREEN BUILDING EXPO and ED 
SUNY New Paltz Student Union   
WEDNESDAY, OCTOBER 16, 2019
1PM - 5PM Education Sessions   

 5PM - 8PM Expo & Networking
Join us for an educational, informational event showcasing green building products and services.  Networking. Learning. Seeing green products and services.  Earning continuing education credit.
Light Food and Cash Bar.  FREE** Admission with Advance Online Registration.
** $3 PARKING PERMIT REQUIRED @ SUNY NEW PALTZ All visitors who park on the SUNY New Paltz campus must display a valid Visitor Parking Permit on dashboard  Monday - Friday between 6:30 a.m. - 6:30 p.m. Park & Pay machines accept credit/debit cards ONLY, NO CASH and are located in the entrance of the Rt. 32 Lot, West entrance located on Hawk drive, off Rt. 208 and Elting Lot adjacent to Parker Theater.
Expanded Education Session Schedule:  (continuing education credit pending)
What is wrong with this "High-Performance Building"?                                                                              1PM  in  Room 401  Russell Ley of Russell Company
Building owners wonder why their "Certified" High-Performance Building does not perform as it was designed to. This Visual presentation shows correct and incorrect building ways and asks questions like: What is this? What is right? What is wrong? How many items are not correct? How did this happen? How do we correct them? Learn best practices through actual examples of projects designed as High-Performance buildings, but are falling short of expectations. The process of "Sequence of Operations" will be discussed along with the steps of the checks and balances process to ensure favorable building performance outcomes.
EV Charging Stations - Information, Incentives, and Installation Guidelines for NY Property Owners & Developers                                                                                                                                              1PM  in Room 402  Victoria McGarril of Energetics, Inc.
NYS property owners and developers are in an influential position to aid the advancement of electric vehicle technology. New York State expects plug-in electric vehicle (PEV) ownership to continue to increase rapidly over the next few years, causing a demand increase for charging stations. In order to prepare communities for an increase in PEVs, New York State Energy Research and Development Authority (NYSERDA) is supporting a project to share information and resources on PEVs and their charging stations with property owners and developers so they are better prepared to facilitate this technological advancement. This presentation will provide an overview of PEV technology, its benefits, incentives, and installation guidelines. We will share resources being developed to guide the installation of charging stations in future and existing developments and answer questions on this topic.
But It is Too Expensive! Barriers and Solutions to Market Acceptance of Green Building                      2PM in Room 401  Rick Alfandre, AIA, LEED AP BD+C of Alfandre Architecture and                             Jeff Domanski of Hudson Valley Energy  
Session will work with the audience in an interactive session to identify perceived barriers to green building and to find solutions to break through those barriers. Drawing on the presenters' combined professional experience and on in-depth research of marketing and behavioral trends, session participants will discuss practical, behavioral, organizational, financial, communications, and technological approaches to deploy effective energy efficiency, renewable energy, and other sustainability strategies in their work.   Alfandre and Domanski will work with the attendees, as a team, to create a tool kit to help persuade project stakeholders to embrace sustainability. The session will focus in an innovative way on behavioral and communications barriers and solutions.
The Power of Net Zero Building                                                                                                                       2PM in Room 402  Jeff Irish of SunCommon              
Today, we have the technology to create buildings that not only have smaller energy impacts than ever before but also produce more energy than they use through the use of energy conservation techniques and technologies like heat pumps and photovoltaics. Today's climate crisis and green-minded homeowners demand we as builders take up these technologies. LEED now offers net zero certification as well as a host of other new certifications that can help us identify the good work our buildings are doing.
AV/IT Design with LEED                                                                                                                            2PM in Room 407  Patrick Cuddy of Legrand                                                                                           
The right AV Equipment creates more productive, more engaging spaces, and picking the right products can not only up the seamlessness in doing business but create the wow factor that you want to impress your customers. But did you know that picking the right AV equipment also puts you on track to meet several LEED credits, in LEED 4.0 BD+C, ID+C and LEED 4.1 BD+C, ID+C?  This course provides architects, specifying engineers, designers, building owners and others an interactive overview of AV/IT solutions that collectively have the potential to create an experience within your workplace, your hospital, and your homes, and contribute several points toward your LEED certification.  When approached strategically, a building's power, light, data and A/V infrastructure can contribute to energy savings and the occupants' comfort and productivity. The most successful implementations occur when these needs are addressed early in the design and construction process to ensure the space will meet the changing needs of the built environment and continue to meet the building's mission for years to come. This course helps architects, specifying engineers, designers, building owners and others gain an overview of how some of the major product categories in AV/IT can contribute credits in 5 of the 9 credit categories toward LEED certification. Upon completion, participants will be able to discuss how AV/IT solutions can be a part of an overall LEED design and potentially contribute toward building certification; discuss how AV/IT solutions cancontribute towards increasing the level of certification; learn how AV/IT solutions contribute to sustainable business objectives and corporate responsibility; learn how AV/IT solutions can be a part of a High Performance building; become aware of how to solve for common AV/IT application and create a checklist to use when designing for LEED.
Zero Energy Off the Shelf - 5 Years of Data and Lessons Learned                                                            3PM in Room 401  Rick Alfandre, AIA, LEED AP BD+C of Alfandre Architecture, PC       
A Net Zero Energy building performed better than anticipated using off the shelf technology. How is this possible?   231 Main Street is a LEED Platinum Net-Positive-Energy, healthy and comfortable, multi-tenant, office building located in the Hudson Valley.   231 Main is a resilient example of how to design, build, and operate zero energy buildings in cold climates.   Rick Alfandre, the developer, architect and contractor, will illustrate the easily available "off-the-shelf" systems used, and how they are applicable to other projects.   231 Main was designed and built to serve as an example of a highly productive and healthful work environment. Using 231 Main as a starting point, Rick will create an interactive conversation about the key elements of the process of creating zero energy buildings including design principles and energy modeling, construction methods, commissioning and post occupancy verification. Audience members will be encouraged to share their experiences and to ask questions. Rick will discuss how the aggregation of many details are needed to achieve the goal of zero-energy building. With over five years of energy data, we will review and compare initial energy modeling to actual results. The session will focus on lessons learned with action steps for future projects.  
A Risk Is A Cost :  Using immersive experiences to optimize building choice.                                          3PM in Room 407  Jeff Domanski of Hudson Valley Energy
Is a furnace replacement free? No, of course not. So then, why do homebuyers act as though it is? What about asthma? Is the medication to treat asthma free and is the condition no big deal? No? Then why do home buyer act as though it is? Our mental wiring makes people bad at thinking about risks. This is bad news for those who design and build high performance and zero energy homes. When the homebuyer dismisses important risks and costs, the choice is likely to be for the conventional house rather than a healthier, cost-saving, high performance house. A homebuyer wants to answer a simple question—how much does the house cost—but the homebuyer tends to consider only the costs that are easy to think about (the list price or construction costs).
Understanding Stone Wool (Mineral Wool) in Interior and Exterior Applications -Solutions for Thermal, Fire, and Sound Control                                                                                                4PM in Room 209  Dan Edelman of ROCKWOOL
The net energy savings realized in a properly insulated building are well understood. However, as design professionals strive to maximize thermal resistance, yet reduce mass in the wall assembly, insulation is increasingly being positioned in both the stud wall and the exterior side of the building envelope. This split insulation concept has introduced a number of design issues and concerns; particularly as relates to fire resistance, moisture management, and wall drying rates. This program focuses on the unique properties of stone wool insulation, and suggests how it can improve thermal, fire, water and sound suppression performance in a well-detailed wall assembly.
 RetrofitNY: Introduction and Analysis of NZE                                                                                               4PM in Room 407  Saul Brown of RetrofitNY, a NYSERDA program
NYSERDA's RetrofitNY is revolutionizing the way buildings are retrofit to achieve net-zero energy (NZE) performance throughout New York State and beyond. Based on the successful Energiesprong program launched in the Netherlands and being rolled out across Europe, RetrofitNY is developing scalable NZE solutions with integrated envelope treatments, consolidated mechanical systems and onsite renewables for a variety of building sectors. After completing designs for six affordable housing pilot projects and receiving proposals for a SUNY dormitory project, RetrofitNY is aggressively working to reduce solution costs and support manufacturers and solution providers in their efforts to attain price points competitive with conventional construction.
 High-Performance Buildings: Who, What, Why, and How To                                                                     4 PM in Room 401  Russell Ley of Russell Company                             
"How should we define "High-Performance"? How can we measure it?  "You can't manage what you do not measure"- Peter Drucker  This session will teach participants how to calculate and qualify energy efficiency. It will also address human comfort, durability, resiliency, indoor air quality (IAQ), healthy environment, air-tightness, safety, and sound.  This session will cover the principles of High-Performance Buildings, including:1. Controlled Air-Tightness 2. Continuous insulation, without thermal bridging  3. High-Performance windows and doors  4. Controlled ventilation with heat recovery  5. Minimized and fine-tuned mechanical systems  Occupancy behavior is a big factor in the performance of energy complex buildings with many systems that all have to work together. How can we educate—or re-educate—those who live or work in High-Performance buildings to use the structures in ways that elevate energy efficiency? Even professionals in the field may need such education, potentially including architects, mechanical engineers (MEPs), and facilities managers.  This session will address the need for a team of professional that share the same goal of creating a fine-tuned High-Performance Building.
 Special Thanks to Our Hosts:  
                                  
Thanks to our Promotional Partner:

When & Where

State University of NY at New Paltz
Student Union Building
New Paltz, New York 12561


Wednesday, October 16, 2019 from 1:00 PM to 8:00 PM (EDT)
Add to my calendar
Organizer
USGBC NY Upstate is a vibrant community of individuals interested in educating, advocating, and celebrating green building in places where we live, work, worship, shop, and learn.  USGBC NY Upstate encompasses 53 counties in NYS. We are a membership based, not-for-profit organization.  Please join us as a member and as a volunteer!  Visit our website to learn more.