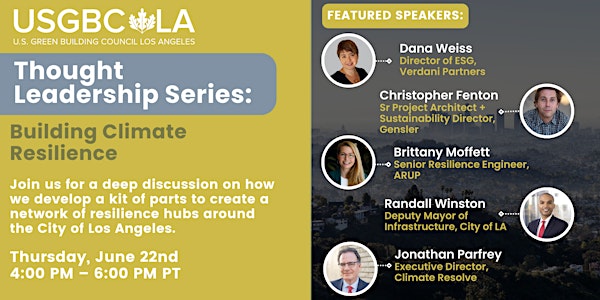 USGBC-LA Thought Leadership Series: Building Climate Resilience
Join us for a deep discussion on how we develop a kit of parts around creating a network of resilience hubs around the City of Los Angeles!
Date and time
Thursday, June 22 · 4 - 6pm PDT
Location
444 Flower St 444 Flower Street Los Angeles, CA 90071
Refund Policy
Contact the organizer to request a refund.
Eventbrite's fee is nonrefundable.
Agenda
4:00 PM - 4:05 PM
Welcome
4:05 PM - 4:25 PM
Framing Presentation
5:10 PM - 5:25 PM
Audience Q&A
5:25 PM - 6:00 PM
Closing Remarks
About this event
At this event, we will:
Release the results of a Technical Advisory Panel jointly developed with the Urban Land Insitute Los Angeles (ULI-LA) building upon our work creating a resilience hub in Boyle Heights.
Discuss lessons learned around what physical improvements and community engagement strategies have worked well and which could be approached differently.
Challenge how we best position resilience as a service and amenity for both developers and community planners that enhance the long-term value of their projects.
LOCATION: 444 South Flower Street, Los Angeles, CA 90071 -- The Gallery, on the 2nd floor
*Event will be live-streamed via Zoom.
Speakers
Director of ESG, MBA, LEED AP, FSA Credential Level II Candidate
Dana currently serves as an ESG Director and leads the Resilience Program for Verdani Partners. She brings 15 years of experience in sustainable design and corporate responsibility, working across diverse roles in ESG for commercial real estate, triple bottom start-up consulting and sustainable non-profit consulting and urban landscape architecture. She has developed and implemented ESG policies and protocols for clients across the real estate sector and is currently advising on ESG for over $35 billion in client assets under management. Dana holds a Bachelor of Landscape Architecture and an MBA in Sustainable and Socially Responsible Business.
Christopher Fenton
Sr Project Architect + Sustainability Director, Gensler
Following the completion of his Masters degree from SCI-Arc (Southern Calif School of Arch), Christopher has over 20 years of experience working both as project designer and architect. Throughout his career, Christopher has been passionate about high performance building design and is continuously exploring strategies to minimize the carbon footprint of the projects he leads and supports. Those projects encapsulate building typologies spanning across multiple sectors including Office, Science & Technology, Healthcare, Education, Transportation, Civic, and Residential Mixed Use.
In addition to the technical development of these projects, he also focuses on implementing sustainable strategies and systems that help to directly support more vulnerable populations. Christopher has won several research grants to explore how to bring resilient design solutions to help reconnect more marginalized communities. These efforts are in collaboration with community organizations, augmenting current programs, that ultimately help support vulnerable populations during extreme events. His recent work with the Sola Group, includes the design & development of a resilience hub that will serve as an integral component to a low-income housing development, and community center.
Senior Resilience Engineer, ARUP
Brittany Moffett is a Senior Resilience Engineer based in Arup's Los Angeles office. Her expertise lies in analyzing and visualizing complex systems to address underlying vulnerabilities and enhance adaptive capacity. Brittany's work spans different scales, focusing on crucial questions kike how individual buildings can contribute to grid resilience and how existing trusted community resources can be equipped with distributed energy resources to serve as safe havens during escalating climate hazards. Her projects inform policy and program design and she's had the privilege of collaborating with organizations like HUD, NRDC, SCE, Enterprise, NYSERDA, as well as various City and County departments. Brittany holds a Bachelor's degree in Civil Engineering and a Master's degree in Building Science from USC's School of Architecture.
Deputy Mayor of Infrastructure, City of LA
Randall Winston's career spans law, architecture, and public service. Randall serves as Deputy Mayor of Infrastructure for the City of Los Angeles, where he leads Mayor Karen Bass' infrastructure policy and alignment of public works and transportation investments. Previously, he was an attorney at O'Melveny & Myers, where he represented government and environmental organizations facing complex litigation and state and federal investigations.
Prior to his legal practice, Randall was appointed by Governor Jerry Brown to serve as Executive Director of the California Strategic Growth Council, a state agency integrating efforts to achieve the state's climate and sustainable community goals. Under his leadership, SGC invested over $1.3 billion in transit-oriented affordable housing, land conservation, and capacity building in the most under-resourced communities throughout California.
Randall also served as an advisor to Governor Jerry Brown, where he worked across state agencies to lead implementation of Executive Orders on green buildings and electric vehicles, including development of unprecedented regulations to reduce emissions from the building and transportation sectors. He also led the planning and execution of trade missions to China and Mexico, working with foreign government officials and businesses across the state to forge international trade and environmental agreements.
Before serving in the Brown administration, Randall worked for Pritzker Prize-winning architect Norman Foster, collaborating with interdisciplinary teams on design, urban planning, and infrastructure projects throughout the world. He also spent two years working for urban development and architecture firms in Beijing, China.
Randall served as an inaugural Policy Fellow at Elemental Excelerator, a nonprofit venture fund focused on scaling equitable, market-driven solutions to climate change. He is Vice Chair of California Environmental Voters, and serves on the boards of UCLA's Institute of the Environment & Sustainability and UC Berkeley's Center for Law, Energy & the Environment.
Randall received a B.A. in Government from Harvard University, a Master of Architecture degree from the University of Virginia, and a Juris Doctorate degree from the U.C. Berkeley School of Law.
Executive Director, Climate Resolve
Before founding Climate Resolve, Jonathan Parfrey served as a commissioner at the Los Angeles Department of Water and Power (2008-2013). Jonathan is a member of the LA28 Olympics Sustainability Working Group. He is a founder and board member of CicLAvia, the popular street event, as well as a founder of the statewide Alliance of Regional Collaboratives for Climate Adaptation. He served as director of the GREEN LA Coalition (2007-2011) and as the Los Angeles director of the Nobel Peace Prize-winning organization Physicians for Social Responsibility (1994 to 2007). Prior to that, Jonathan founded and directed the Orange County Catholic Worker (1987-1993). He was appointed to Governor Schwarzenegger's Environmental Policy Team in 2003.
Jonathan received the Paul S. Delp Award for Outstanding Service, Peace, and Social Justice (1992), was awarded a Durfee Foundation Fellowship (2002), a Stanton Fellowship (2010), and was appointed a Senior Fellow at the USC Marshall School of Business (2011). He is currently an advisory board member at the UCLA Center for Healthy Climate Solutions; a fellow at the Los Angeles Institute for the Humanities; a member of the State of California Climate Adaptation Technical Advisory Council (2016); a member of the steering committee for the US Climate and Health Alliance(2016); a member of the steering committee of the Tiüac'a'ai Healthy Land Project of the Fernandeño Tataviam Band of Mission Indians; and an advisory board member at the UCLA Luskin Center for Innovation. In April 2016, he received the Los Angeles County Board of Supervisors Chair's Green Leadership Award. When he's not at work, Jonathan likes to hang out with his wife, Nancy L. Cohen, his four children, and four grandchildren, as well as going with friends on epic hikes and bike rides.
USGBC-LA advances the passions and elevates the expertise of our members through curated community groups. Learn more about our member groups, and open doors to collaborating with a network of authentic, purpose-driven advocates.
We look forward to having you be a valuable part of our organization -- volunteering alongside our passionate members to be a change maker in your local community!
Your support is crucial in helping us advance and continue our initiatives to transform Southern California into a more sustainable region for all! Donate now!