Description
Join USGBC Indiana as we tour the Downtown Indianapolis Transit Center. This course will engage attendees with a tour of the IndyGo Downtown Transit Center and will highlight specific green strategies that were integrated into its design. Early bird prices end June 13th! Lunch is included with this event.
Learning Objectives
Demonstrate how the stormwater techniques for transit center were used to manage rainwater onsite and discuss how these can be used to meet the LEEDv4 stormwater credit
Integration of LEED requirements on urban redevelopment site including the tobacco free prerequisite and heat island reduction.
Discuss how the site layout and building orientation accommodate existing underground infrastructure, promote the flow of traffic, and employ passive solar strategies.
Explore how high-efficiency, environmentally-friendly features (displacement ventilation, LED lighting, TPO roofing, etc.) elevate the design and how the building is perceived.
The event is approved for 1.5 GBCI LEED AP BD+C credits and AIA LU/HSW and ACEC PDH.




Instructors: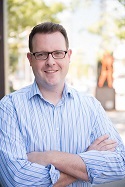 Tim King has focused his career in site development and stormwater design in order to develop sustainable site solutions. He is an expert in the real world application of green infrastructure and has implemented sustainable designs for healthcare, governmental, public utility, commercial and residential projects. His passion for sustainability comes from optimism that the world is still reaching its potential. He actively engages his interest in community development with projects ranging from projects the City of Indianapolis's signature Downtown Transit Center to stormwater improvements for a mountainside orphanage in Mexico.
Tim holds a Bachelor of Science, Civil Engineering from Rose-Hulman Institute of Technology and has been the Assistant Professor for a Low Impact Development course at his alma mater. He is a licensed Professional Engineer and LEED AP with Guidon Design, a Service Disabled Veteran Owned Small Business in Indianapolis, Indiana.



Drew White, FAIA, co-founded Indianapolis-based Axis Architecture + Interiors in 1995. He began his career living and working in three architecturally influential cities (Los Angeles, Houston, and Chicago) while working for Skidmore, Owings and Merrill. He has more than 30 years of experience designing corporate, civic, mixed-use housing, and revitalization projects. He values architecture and interior design as equals, and is inspired by his clients and community, by travel in the U.S. and abroad, and by the desire to create a modern aesthetic. Drew describes his style as rational, clean, and honest, and he challenges his studio to achieve a high standard of innovation and invention. Drew is a past president of both AIA Indiana and AIA Indianapolis, and currently serves as a board member for both the Indianapolis Art Center and Indiana Modern. He holds an undergraduate degree in architecture from the Knowlton School of Architecture at The Ohio State University, and a Master of Architecture from the University of Illinois at Chicago.
Kevin Osburn, ASLA, PLA, is the Managing Principal of Rundell Ernstberger Associates. In his 28-year career as a Landscape Architect, Kevin has provided transformational site design, planning, and placemaking solutions that enhance communities' quality of life and social, environmental, and economic health. With a particular talent of working simultaneously at both the master plan and detailed design scales, his diverse portfolio of work demonstrates a mastery of balancing the human need for connectivity, interaction, and sociability with environmental performance and natural beauty. A leading practitioner in the design of innovative green infrastructure, complete streets, equitable transportation, and engaging public places, Kevin's projects have fostered significant positive change in communities throughout the Midwest. His works are cited as models by cities throughout the U.S., featured in national design journals, and visited by millions of people each year. Kevin led the site design of the Julia M. Carson Transit Center working with the design team to ensure its multimodal connectivity, sustainable approach to site design, and welcoming, vibrant, and active public spaces.