| | |
| --- | --- |
| USGBC Florida Sarasota Green Movies That Matter | |
Event Details
The 2018 Green Movies That Matters Series  is brought to you by U.S. Green Building Council Florida Myakka River Branch, Transition Sarasota, City of Sarasota Ready for 100% Clean Renewable Energy for All, and Solutions to Avoid Red Tide.  The series is screening eight (8) movies for a total of nine (9) screenings -- eight screenings at the Unitarian Universalist Church and two screenings at the Mote Marine Laboratory Theater (May 8 & Sept 13).  Below are descriptions of each film and a link to their trailers.  Join us in fostering dialogue and awareness about sustainability issues through the power of film every fourth Friday and a couple of mid-week screenings!
6-7pm Social/Yummy vegan dinner
7-9pm Movie/Discussion
Each screening has a social and light refreshments beforehand and a discussion afterwards.  It is a great intellectual night out!  Advance tickets $8.  Whole series pass (9 screenings): $75.  Tickets at door: $10
HUGE thank you to our Needle Moving Series Sponsors: Albert Wooster & Co., Brilliant Harvest, Carlson Studio Architecture, MGB Built, Mirabella and Willis Smith Construction
We also want to give a special shout out to our venue host the Unitarian Universalist Church of Sarasota!
List of Screenings
APRIL 27

 

-

 

T

H

E

 

T

R

U

E

 

C

O

S

T

May 8

- TROUBLED WATERS & FACING THE SURGE (Mote Marine; register here)
MAY 25

 

-

 

A

H

E

A

D

 

O

F

 

T

H

E

 

T

I

D

E

 

&

 

F

A

C

I

N

G

 

T

H

E

 

S

U

R

G

E

JUNE 22

 

-

 

T

R

O

U

B

L

E

D

 

W

A

T

E

R

S

JULY 27

 

-

 

S

O

N

I

C

 

S

E

A

AUG 24

 

-

 

F

E

D

 

U

P

Sept

13

- a plastic ocean (mote marine; register here)
SEPT 28

 

-

 

A

 

P

L

A

S

T

I

C

 

O

C

E

A

N

OCT. 26

 

-

 

F

O

O

D

 

C

H

O

I

C

E

S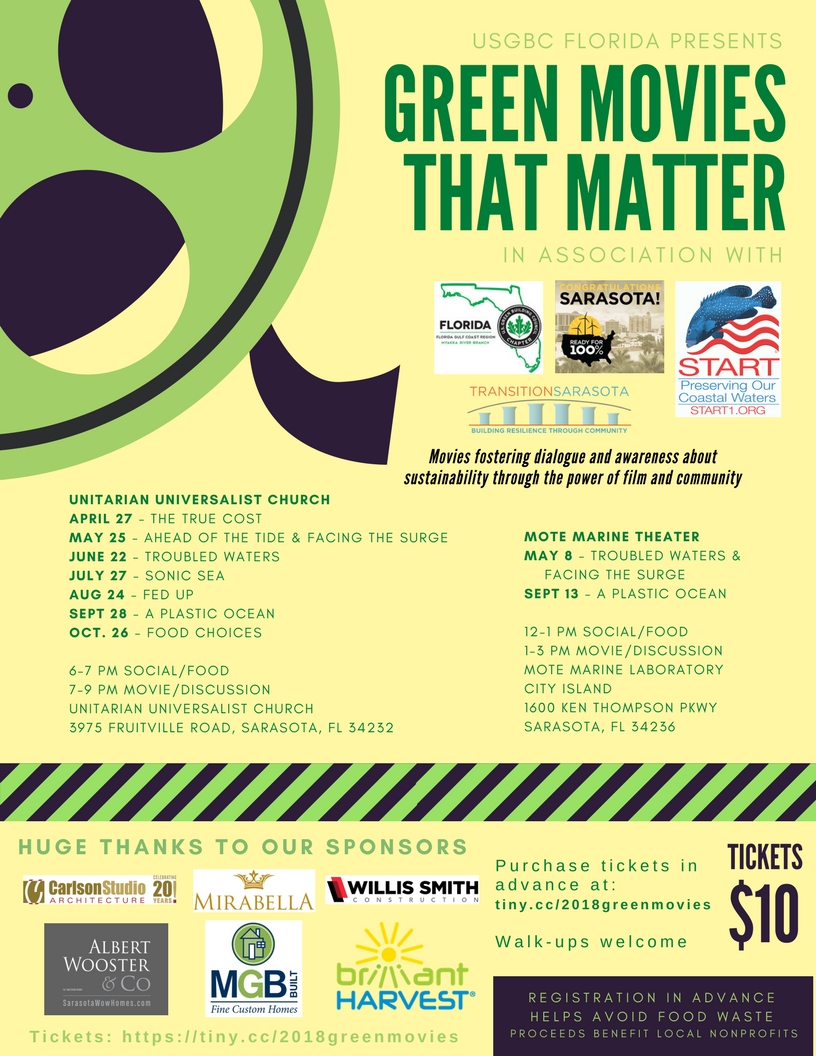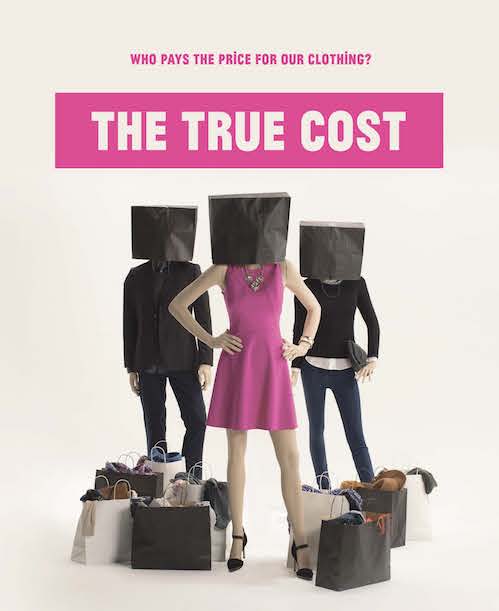 This is a story about clothing. It's about the clothes we wear, the people who make them, and the impact the industry is having on our world. The price of clothing has been decreasing for decades, while the human and environmental costs have grown dramatically. The True Cost is a groundbreaking documentary film that pulls back the curtain on the untold story and asks us to consider, who really pays the price for our clothing?

Filmed in countries all over the world, from the brightest runways to the darkest slums, and featuring interviews with the world's leading influencers including Stella McCartney, Livia Firth and Vandana Shiva, The True Cost is an unprecedented project that invites us on an eye-opening journey around the world and into the lives of the many people and places behind our clothes.
Thank you to our Social & Refreshments Sponsor: BEE Green Realty LLC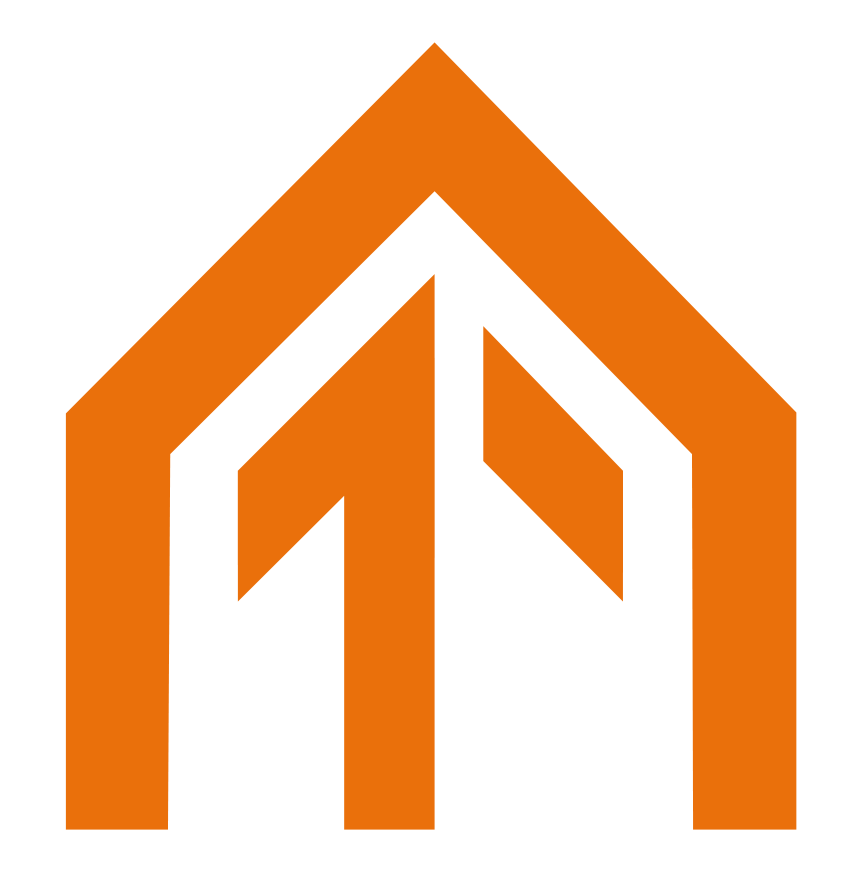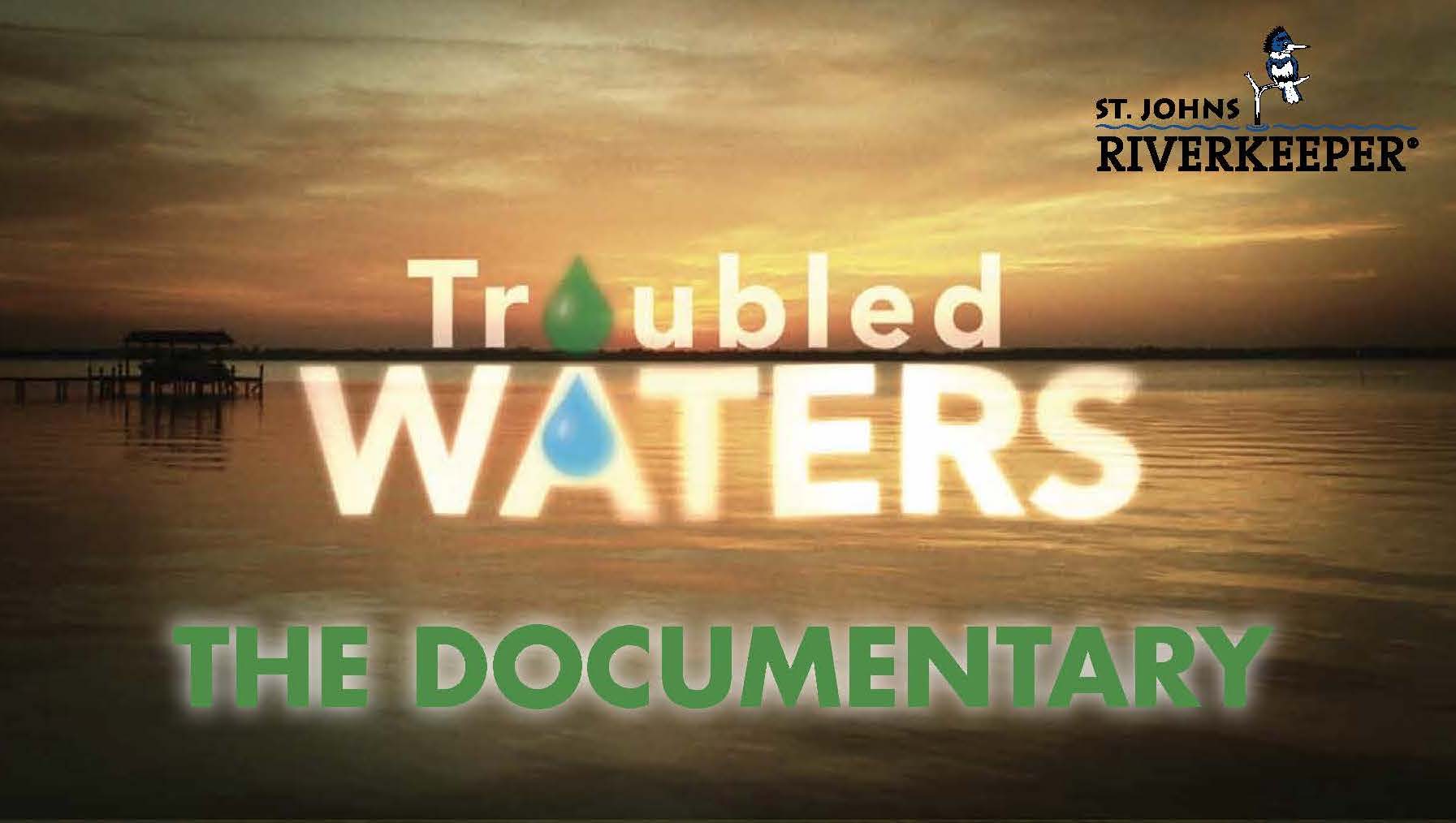 Despite their importance, Florida's waterways are suffering from significant pollution problems such as fertilizer runoff, poorly treated municipal and industrial wastewater, and failing septic tanks. Combined with the impacts from a rapidly growing population, we have a potential recipe for disaster.
This documentary video, Troubled Waters, was funded by St. Johns Riverkeeper and produced by Ray Hays and PRC Digital Media.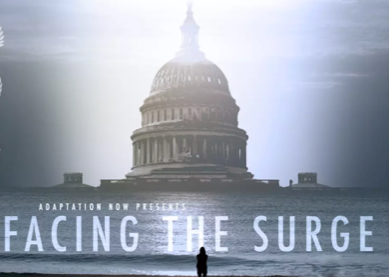 Facing the Surge documents the tangible costs of sea level rise for the people of Norfolk, VA. Norfolk is home to the largest naval base in the country and to thousands of hard-working Americans struggling to adapt to the rising tides and an uncertain future. But Facing the Surge is not a film about loss and inaction. It tells the stories of citizens from across the United States as they step forward to raise awareness and push their government to solve climate change.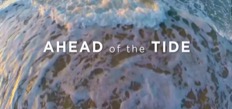 Ahead of the Tide is a short film and 10-part video series highlighting the effects of sea level rise and climate change through the stories and voices of local Floridians. Each showcases various aspects concerning sea level rise and includes interviews with scientists, engineers, politicians, conservation directors, educators, authors, activists.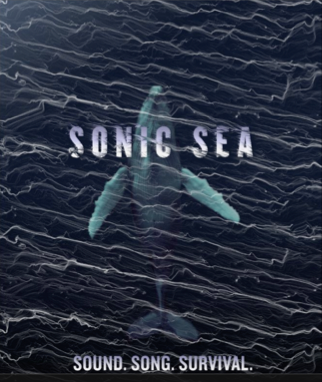 Sonic Sea is a 60-minute documentary about the devastating impact of industrial and military ocean noise on whales and other marine life. The film begins with a mystery: the unexplained stranding and mass mortality of several species of whales in the Bahamas in March 2000. As the mystery unfolds, the film explores the critical role of sound in the sea, and the sudden, dramatic changes human activity is inflicting on the ocean's delicate acoustic habitat -- changes that threaten the ability of whales and other marine animals to prosper, to function, and ultimately, to survive. Sonic Sea features several charismatic scientists, including Ken Balcomb, the former Navy pilot and acoustics expert who proved to the world that naval sonar is killing whales, as well as the musician and environmental activist, Sting, whose moving interview connects the sonic world of marine life with our sonic world on land. The film offers solutions (and, by extension, hope) for a quieter ocean, and underscores that the ocean's destiny is inextricably bound with our own.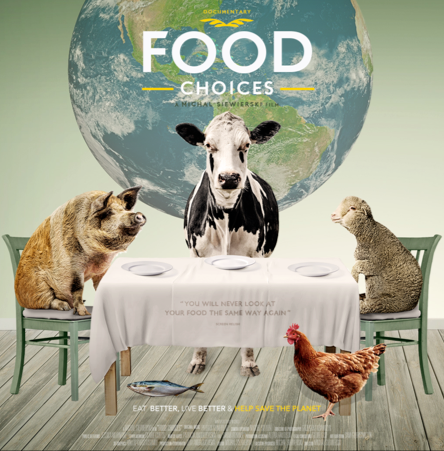 Join award-winning filmmaker Michal Siewierski on his three-year journey to expose the truth about our food choices. This ground-breaking documentary explores the impact that food choices have on people's health, the health of our planet and on the lives of other living species. And also discusses several misconceptions about food and diet, offering a unique new perspective on these issues. Featuring interviews with 28 world-renowned experts, including Dr. T Colin Campbell, Joe Cross, Dr. John McDougall, Capitan Paul Watson, Dr. Pam Popper, Dr. Michael Greger, Rich Roll, Dr. Richard Oppenlander, Dr. Toni Bark and several others. This film will certainly change the way you look at the food on your plate.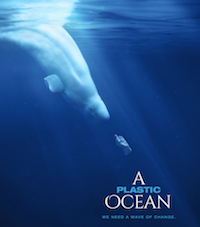 A Plastic Ocean is a documentary that unites scientists and a free diver in an investigation of the effects of plastics on the marine environment. Plastics enter the world's oceans, break into small pieces, and enter the food chain. These plastics and the toxins they attract are eventually consumed by humans.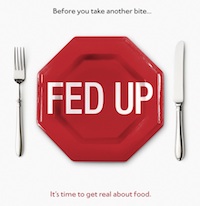 Everything we've been told about food and exercise for the past 30 years is dead wrong. FED UP is the film the food industry doesn't want you to see. From Katie Couric, Laurie David (Oscar winning producer of AN INCONVENIENT TRUTH) and director Stephanie Soechtig, FED UP will change the way you eat forever. 
When & Where

Unitarian Universalist Church of Sarasota
3975 Fruitville Road
Sarasota, FL 34232


Organizer
U.S. Green Building Council Florida is working to make healthy, sustainable buildings a reality for the Sunshine State within a generation. Our diverse membership is comprised of builders, architects, engineers, environmentalists, nonprofits, corporations, students and individuals, providing our nonprofit organization with not only a remarkable passion for sustainability and green building, but also a wealth of knowledge and industry access at every level.  As part of a large network that is creating sustainable places to live, work and play across the entire country, our amazing volunteers and staff work both collaboratively and independently to fulfill USGBC's mission here in Florida.