Location
DLR Group
6225 N 24th Street
Suite 250
Phoenix, AZ 85016
Join us in Phoenix on September 23rd for breakfast, networking and active discussion around green building and sustainability in Arizona.
About this event
*Please read the notice about parking below.*
You're invited to join the USGBC Arizona community for a half-day summit this September. We'll kick off the morning with networking and light breakfast, followed by a presentation and Q&A with AZ Representative Christian Solorio, AIA, LFA, NOMA, LEED AP BD+C. The rest of the event will consist of multiple "rapid fire" presentations from Arizona's sustainability community members and facilitated breakout sessions to develop deeper conversations. This event will inspire problem solving and sharing of solutions for a more sustainable Arizona, so please join us!
Schedule:
9:00 am - 9:30 am: Check-in, breakfast, networking
9:30 am - 10:00 am: Advocating for Green Building Legislation in Arizona: Presentation and Q&A with AZ Representative Christian Solorio, AIA, LFA, NOMA, LEED AP BD+C
10:15 am - 11:55 am: Community presentations
11:55 am - 12:30 pm: Breakout groups, discussion
Interested in volunteering at this event? Reach out to Emmery: eledin@usgbc.org
Interested in sponsoring this event? Reach out to Charlie: cwoodruff@usgbc.org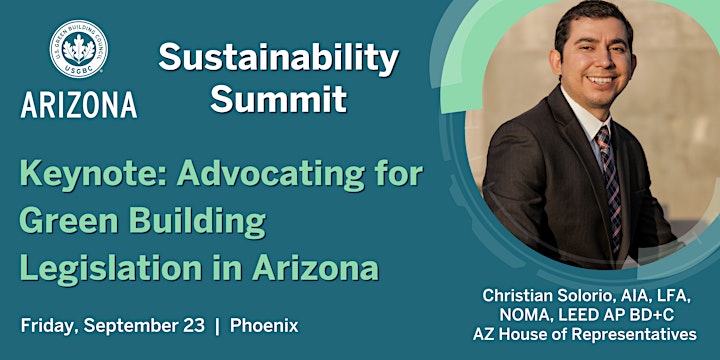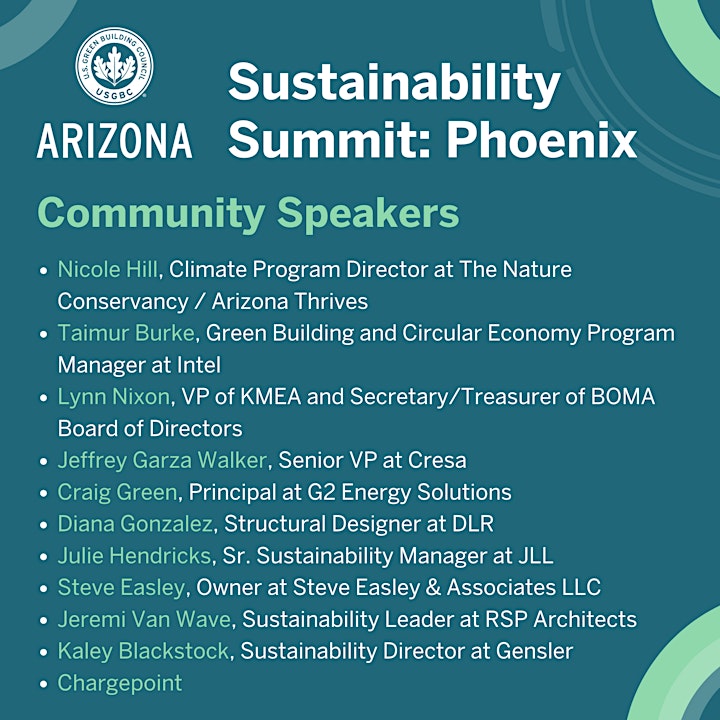 Important Parking Note from DLR
You may only park in visitor spots or any uncovered spots to the north side of the lot. Please do not park in any spot marked Reserved, DLR, McCarthy or any other name.
*Carpooling and public transportation are HIGHLY recommended, as there are only 25-30 uncovered parking spots available.
In-person Health and Safety Statement
The safety and well-being of our community is our top priority. USGBC continues to monitor policy and procedures and is working actively to remain in compliance with federal, state, and local agencies to implement best practices aimed at managing the spread of COVID-19.
To protect the health and peace of mind of our attendees, USGBC has implemented the following preventive measures:
All in-person attendees of USGBC events must be vaccinated in advance to participate. Full vaccination is defined as having received two shots of the Pfizer or Moderna COVID vaccine or one shot of the Johnson & Johnson product (or a comparably approved vaccine for international attendees) and must be dated at least 14 days in advance of the event.
Facial mask wearing is required for all indoor activities and encouraged for outdoor activities except when actively eating or drinking.
Attendees are asked to observe social distancing protocols and respect other's personal space
All attendees are required to review and agree to USGBC's Event Attendee Release & Liability Waiver (included in the registration)
Religious exemption will be considered on a case-by-case basis, contact eledin@usgbc.org for requirements
Additional measures may be implemented as necessary. Direct any inquiries related to USGBC's commitment to fostering a safe environment for all USGBC event participants to cwoodruff@usgbc.org.
Visit the links below for more information about federal, state, and local mandates and recommendations to maintain safety: