Description
Celebrate Earth Month in Tucson with USGBC Arizona and the Tucson Emerging 2030 District!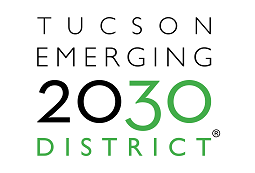 This event has sold out! Day of walk-ins will be considered on a first come, first serve basis.


Join USGBC Arizona members and volunteers at our next Case Studies and Cocktails on April 20 to tour the historic Hotel Congress in dowtown Tucson, followed by a networking reception with the Tucson Emerging 2030 District and other partners! At the networking reception representatives from USGBC and the Tucson Emerging 2030 District will be available to talk more about their work in the community. Hors d'oeuvres and drinks will be served.
Earn 0.5 GBCI CE and learn how the Hotel Congress is positioning itself as a leader in energy efficiency and sustainable design in partnership with this District. This event is also an opportunity to increase your company's exposure to a targeted audience of industry leaders!
Approved for 0.5 GBCI CE
About Hotel Congress
The historic Hotel Congress is recognized as a Gold Level Green Leader on TripAdvisor and has recently been named as America's Greenest Workplace of 2016 in Mrs. Green's World's AZ Greenest Workplace Challenge. With the hotel's solar-powered water heater, stance against abundant plastic usage, composting efforts and determined approach to using local products as often as possible, the hotel has a passion for the future. Employees are also engaged from the get-go as the hotel's employee orientation informs staff of hotel's green initiatives, and employees participate in regular trainings on new programs and refresher trainings on current programs. Sustainable initiatives the hotel has incorporated include:


• Sourcing local and sustainable ingredients for the hotel's restaurant
• Using upcycled wine bottles from Refresh Glass
• Eliminating as many straws as possible as a part of the One Less Straw campaign with One More Generation
• Switching to 100% recycled and compostable paper coasters
• Switching to compostable drink cups
• Providing guests with solar-heated water
• Installing energy efficient cooling systems in hotel rooms
• Using water efficient urinals from Ecoblue


Learning Objectives

Learn what inspired the historic Hotel Congress to incorporate sustainable initiatives and stand out as a green leader in the heart of Tucson

Identify the benefits of utilizing a solar-powered water heater and other water and energy efficient systems

Identify the benefits of composting, recycling, and upcycling

Identify the impact of abundant plastic usage on the environment
Agenda:
Networking Reception: 5:30-6:00pm
Local presentations facilitated by Gina Murphy Darling of Mrs. Green's World: 6:00-6:30pm
Tour of Hotel Congress and Networking Reception: 6:30-7:30pm
About the Tour Leader
Rita Dorsey Boutwell is the Director of Training and Development for Hotel Congress and Maynards Market & Kitchen and has been with the organization for over four years. She oversees the development of all employees to enhance skills, workplace equanimity, performance, productivity and quality of work. Her prior experience includes director of operations roles at international fashion and beauty organizations based in New York City, where she lived for nine years. When she's not at work, Rita can be found volunteering at Sister Jose Women's Center or teaching English to newly resettled refugees.
For more information about the event and Tucson Emerging 2030 District, contact Michael Peel at mpeel@pima.edu.
Sponsorship opportunities are available including registration packages and increased recognition at the event. Interested in becoming a sponsor? Contact Cindy Zork at czork@usgbc.org and partner with us today!
Thank you to Hotel Congress and our other event partners for their support of this event!