Description
Join us for an internship fair with student companies who are looking to hire interns!
Student Innovation Incubator (SII) companies are looking to fill a variety of internship positions including marketing/sales, graphic design, software/program development, educational content development, editors, etc. Internships are unpaid.
NOTE TO INTERNATIONAL STUDENTS: Internships are provided by individual companies, not by USF. Please contact the Office of International Services to check visa restrictions, if applicable.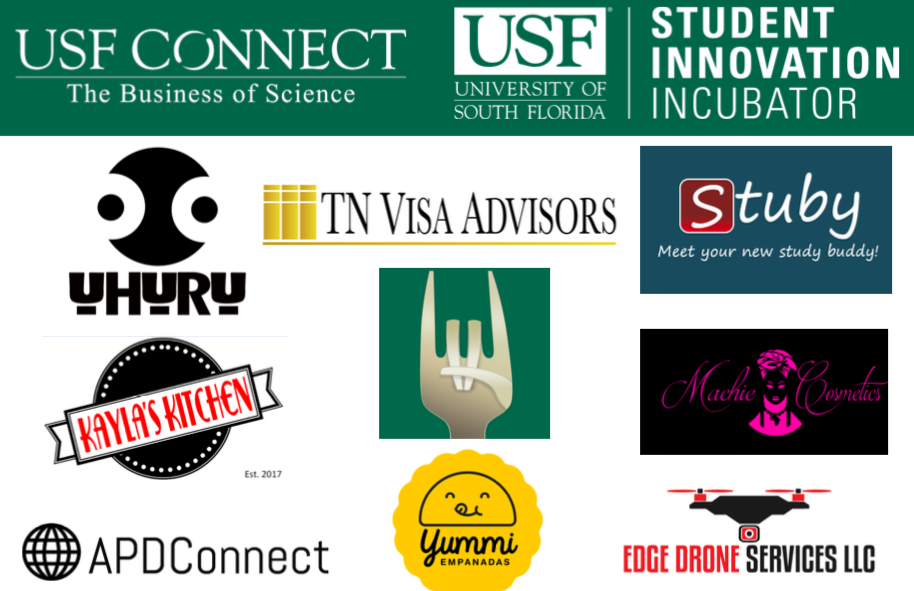 A new platform for artists, musicians, instrumental producers, and DJs. Upload your content for free, get discovered, and connect with fans.

APDConnect is looking for an Advanced Website Developer & Maintenance intern (15 - 20 hours a week), who will be helping to develop and manage the website as well as help with improving SEO. Aim to help improve user ability and simplicity.
We are looking for driven, self-motivated, flexible, good in communication, and hardworking students who work well with others and can meet deadlines. The right candidate will possess an eagerness to identify, learn, and use new and emerging technologies.
This will be an unpaid internship but you will be able to get college credit for that.
Aerial Photography company that utilizes high end drones. We provide only the highest of quality work to our customers and we are constantly looking to enhance our company.

Edge Drone Services is looking for highly motivated individuals to make a direct impact on a start up company. We are currently looking for four part time positions (7 - 10 hours a week) to fill:
- Engineer Intern (any experience with building drones is a major plus).
- Marketing Intern (any experience managing social media accounts as well as the use of strategic ads is a plus),
- Diversification Intern (this person should be an out of the box thinker that will help diversify the company to increase revenue and profits).
- Editing Intern (this person should have incredible editing skills including Photoshop and movie maker as well as any other editing software).
We are looking to build up this company with strong minded young men and women who have a passion for innovation and an entrepreneurial spirit.
The internships are unpaid with the possibility of turning into a paid internship.
A student run company striving to turn ideas into powerful yet easy to use applications with the main project being a student involvement app called EdiBull.
Ideas Worth Coding is looking for part-time interns (10 - 25 hours a week) majoring in computer science or engineering, who will be able to help with app development and automation. Upon completion of the internship, the student will gain exposure to mobile development, database design, APIs, and web automation in a fast pace but helpful and collaborative team environment.
The internship will be unpaid with an opportunity of moving up in the company.
Kayla's Kitchen
The Couplet is a two-in-one cake decorating tool that makes decorating "a piece of cake". The Couplet eliminates the frustration that cake decorators have when going from a large tip to a small tip, without having to start a new piping bag. Combining the two sizes of couplers allows the customer to purchase one coupler for any size tips offered by manufactures.

Kayla's Kitchen is looking for a part-time social media intern. Needs to be willing to put in 2-3 hours of work each week depending on what's needed. This is an unpaid internship.
These are unpaid internships with the possibility of turning into paid internships.

Machie is derived from the word Mmachi which means "Beauty Of God" in the Igbo tribe located in Nigeria. Machie Cosmetics purpose is to promote the African culture among beauty for all shades of women. Our slogan is beauty from above.
Machie Cosmetics is looking for a part-time (8 - 10 hours a week) graphic designer. The ideal candidate will have experience with the entire CC Adobe Creative Suite products. The candidate should also have experience in web developing as this position will overlap with web developing and creating graphic content for the web as well as other social media.
Intern will gain more knowledge of developing graphic elements for various web, and multimedia formats, including campaign concepting, banner ads, collateral pieces emails, tradeshow materials, presentations, website content and layout.
This is an unpaid internship.
The Stuby is an innovative studying app that allows students near each other to connect through a tinder-like selection process. The student are matched through a compatibility algorithm based off their strengths and weaknesses in each of their courses.
The Stuby is looking for part-time (10 hours a week) interns. The internship requirements include basic experience with marketing or business management. Interns can expect full involvement in the companies daily business activities in addition to the development of the marketing plan. We are also looking for interns with basic software or app development skills.
This is an unpaid internship.
TN Visa Advisors is a work permit consulting company focused in obtaining a work authorization permit for Mexican and Canadian citizens. Different from an immigration firm, we guarantee our services, provide lower costs, and can obtain the work visa within one or two weeks.
TN Visa Advisors is looking for an Account Manager Intern (10 to 25 hours a week), with experience in Advertising/Marketing/International Business. The intern must have strong written and verbal communication skills, editing, self-motivated, strong leadership skills, team-oriented, goal oriented, strong attention to detail, content management. We are looking for an eager and energetic individual who is able to obtain leads using social media and other strategies. The candidate must understand the business process in order to advise possible leads. Spanish speaking is a plus. Experience in F1 visa/OPT is a plus or a student under this status is a plus. If your program/university allows it, we can help towards CPT credit.
The intern will gain experience in implementing marketing strategies through social media and others means, gain understanding in SEO and PPC Strategies, able to develop digital and social media presence. Also, the intern will have exposure to presentations and marketing campaigns while gaining understanding in the immigration process for international talent. The internship will build confidence and initiative attitudes.
TN Visa Advisors will provide a 10% of the gains generated for every lead obtained.
Uhuru is an African inspired apparel company. Think of us as the "Ralph Lauren" of African fashion. We create unique pieces by infusing African prints with modern contemporary trends.
Uhuru Designz is looking for part-time (5 - 10 hours a week) interns. The ideal candidate will have experience with the budgeting, record keeping, social media management, PR and communication skills, multimedia design, analytical and problem-solving skills.
By the end of the internship, student will gain proper design and layout skills, knowledge of production/ manufacturing process, etc.
This is an unpaid internship.
At Yummi Foods we make appetizers fun again. We love to cook and bring food that will give you a new experience that you'll never want to go back from is our passion.
Yummi Foods is looking for part-time (5 - 10 hours a week) marketing interns to assist with advertising activities of the company. Knowledge in digital and social media marketing; as well as accounting background are preferred. Knowledge in nutrition for the development of our products is a plus. Individuals that are willing to go an extra mile and have a smile on their face are perfect for the company!
The internship will be unpaid with an opportunity to move up in company.
---
USF is an Equal opportunity/ Equal Access/ Affirmative Action Institution. Please notify USF CONNECT, 3802 Spectrum Blvd., Suite 100, Tampa, FL, 33612, call 813-974-1082, or email Laurie Sullivan at laura75@usf.edu, a minimum of five (5) working days in advance, if an accommodation for a disability is required.
Disclaimer: The University of South Florida and USF Research Foundation, Inc. are committed to the free exchange of ideas, reasoned debate and intellectual dialogue. Speakers and scholars with a diversity of opinions, perspectives and professional experiences are invited to the campus to provide the community with important or differing points of view, some of which may be deemed controversial. The views, opinions and conclusions of those invited to speak on the campus do not necessarily reflect the views of the university administration or any other segment of the university community. Nor are those invited to speak on campus necessarily authorized agents or representatives of the University or Research Foundation. The use of University or Research Foundation facilities for an event or presentation does not constitute an endorsement by the University or Research Foundation of the views, opinions and conclusions of those invited to speak.