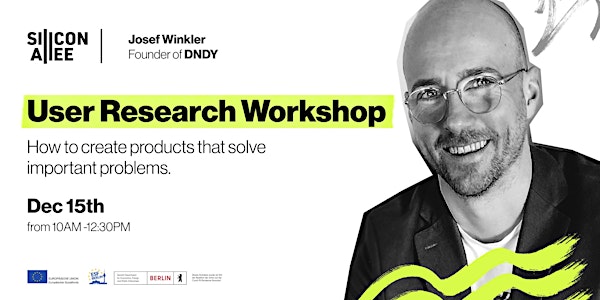 User Research Workshop
How to create products that solve important problems
About this event
2 hours 30 minutes

Mobile eTicket
When building a product, it's easy to get caught up in the nitty gritty.. To develop something that really hits the spot it's imperative to see from the customer perspective, who are you solving the problem for and which problems are important to them? It's great to have ideas, but it's also important to step outside and look in, and to see what potential threats you might face.
👁️ During this human-centred design workshop, you'll learn specific techniques that put real people at the centre of your product development process, enabling you to create products and services that are tailored to your audience's needs.
We'll be focusing on the ✨research✨stage of product development, as Josef takes us through the *Double Diamond* design process model and how he recommends to use this, plus the other tools and methods required for acing the research stage.
Starting with your problem statement, we'll delve into how to learn as much 'context' as possible, about your company, your market and your product. We'll solves challenges like, how you approach potential clients for interviews, how to collect assumptions, how to ask the right questions.
🧠 By the end of this workshop, you'll have:
An understanding of your customers, their needs, desires and wants - and the market environment you're in
An understanding of why it's important to do your user research first (and come back to it time and again)
Tools and methods for the research stage to build your own research landscape
More questions than answers (hopefully), and project-related hypotheses you'd like to validate
A good starting point for your own project-related user research
📝 Bring your own topic or challenge to solve.
We invite you to bring your own problem statement or topic to the workshop, we'll then form topic-related teams and breakout into rooms to solve as a team, with Josef's help.
Format:
2 hr 30 hour session
Interactive and co-creative workshop session
Part I: Check-In & Intro to a human-centred design approach
Part II: The Double diamond (4 stages)
Part III:Pitching and discussing your current project challenges and problem statements.
Part IV: Developing your individual research approach [ Breakout Room ]
Part V: Peer Feedback
Part VI: Wrap-Up & Check-Out
(This workshop will be limited to 4 teams with 4 per team. Teams will be chosen together during the event).
This workshop is meant for:
Founders and startup employees in the ideation or build stage
Product and Marketing Managers (in short: Anyone building a product or service)
UX + UI professionals
This masterclass will be recorded and the content and resources will be released afterwards.
The Berlin Founders Fund is financed through funds from the European Union (European Social Fund) and the State of Berlin.
See you there! 💚