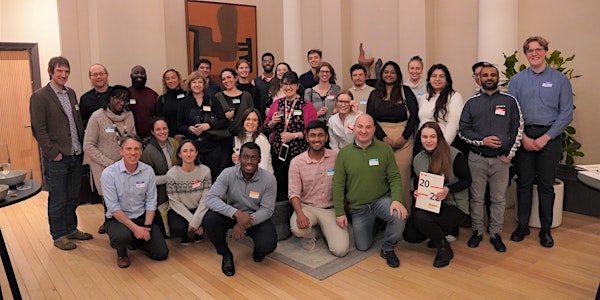 Useful MaD Drinks (Make a Difference) at Hamilton House - RESCHEDULED 20/06
Your friendly networking event with inspiring and like-minded professionals!
Date and time
Tuesday, June 20 · 6 - 9pm BST
Location
Hamilton House 1 Temple Avenue London EC4Y 0HA United Kingdom
About this event
Intro by your MaD founder
Hi MaDders, please join us for our next Make a Difference (MaD) networking drinks!
The Useful Simple Trust will be sponsoring and co-hosting this event at Hamilton House, allowing us to bring together a greater range of professionals who are driven to make a difference!
The Useful Simple Trust is a family of professional design practices that includes engineers, architects, designers, and strategists working side by side. The Trust is a B Corp™, social enterprise, and employee-owned organisation that champions good design with positive impact. To find out more about the Useful Simple Trust, click here.
What should I expect at the event?
This is a friendly and free-flowing meeting of like-minded professionals. Please arrive anytime from 6pm. Either Edith or Kate will be there to greet you and sign you in. Light snacks and drinks will be provided.
What is MaD (Make a Difference)?
MaD is a friendly networking group with a mix of people from different backgrounds who have in common the goal of making a difference! The purpose of MaD is to connect individuals passionate about sustainability.
We are now a group of 750, running events in London and Birmingham. We have monthly drinks, talks, mentorship exchanges, and many other surprises! MaD drinks are chilled out post-work drink with like-minded people, in which you will make both work connections and new friends.
Follow MaD and Useful Simple Trust on social media
MaD website and email subscription www.madnetwork.net
MaD Linkedin page www.linkedin.com/company/mad-networking
UST Linkedin page www.linkedin.com/company/usefulsimpletrust
Feel free to share with peers and colleagues 😊
We look forward to seeing you there!Kate & EdithYour Useful MaD hosts
About the organizer
MaD is a not-for-profit organisation aiming to connect and support professionals in the areas of sustainability, social impact, health & wellbeing and, more in general, any individual interested in producing positive impact in society and the environment.
Live and online events currently happening in London and Birmingham.
Edith Colomba, MaD's founder, is an architect and sustainability consultant working at the Useful Simple Trust, London.