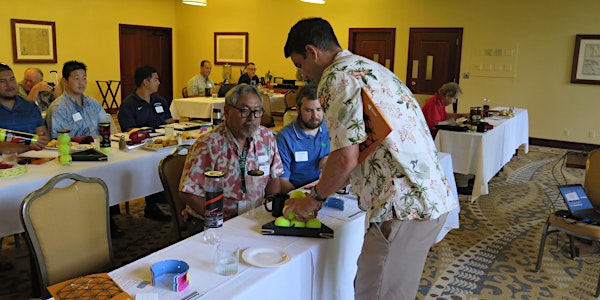 Use of Geosynthetics - Kauai 2022
Use of Geosynthetics for Asphalt Pavements, Construction Platforms, Crane Pads, Drainage Layers and Foundations under Structures
When and where
Location
Kauai Beach Resort and Spa 4331 Kauai Beach Drive Jasmine Room Lihue, HI 96766
About this event
Title: Use of Geosynthetics
Speakers:
• Troy Ogasawara, President, Geotech Solutions, Inc.
• Garrett Fountain, PE, GE, West Area Director of Engineering, Tensar International Corp.
• Lars Nelson, PE, Pacific South Manager, Tensar International Corp.
• Dennis Rogers, Pavement Maintenance Manager-West, Tensar International Corp.
• Dan Winkle, West Area Director, Tensar International Corp.
Takeaways:
• Become familiar with geosynthetics and Tensar's new InterAx geogrid.
• Learn how geosynthetics can benefit (reduce cost or extend the life) in the design of an asphalt pavement section.
• Learn how to improve the bearing capacity for concentrated high loads (crane pads).
• Solutions for drainage and filtration.
• Options to mitigate liquefaction induced settlements under lightly loaded structures.
• Solutions for construction platform over soft subgrades.
• Review of the award winning Tensar + cloud based design software. Download at: https://www.tensarplus.com/
Who Should Attend: Government agencies, contractors, engineers, and construction managers wanting to gain an understanding the use of geosynthetics in asphalt pavements.
Time: Breakfast starting at 8:00 a.m.; session is from 8:30 a.m. to 11:30 a.m. (approximate)
Cost: $0 includes breakfast. Parking is not included.
Certificate Provided: 3.0 PDHs are available for attending this workshop