About this Event
This workshop is designed for civic, business and community leaders working to improve economic opportunities in rural areas. Attendees will learn about broadband project funding opportunities associated with the USDA Rural Development's ReConnect program.
The WVEDC has certified this event for 6 LED credit hours.
The $15 registration fee covers the cost of lunch.
Presented By: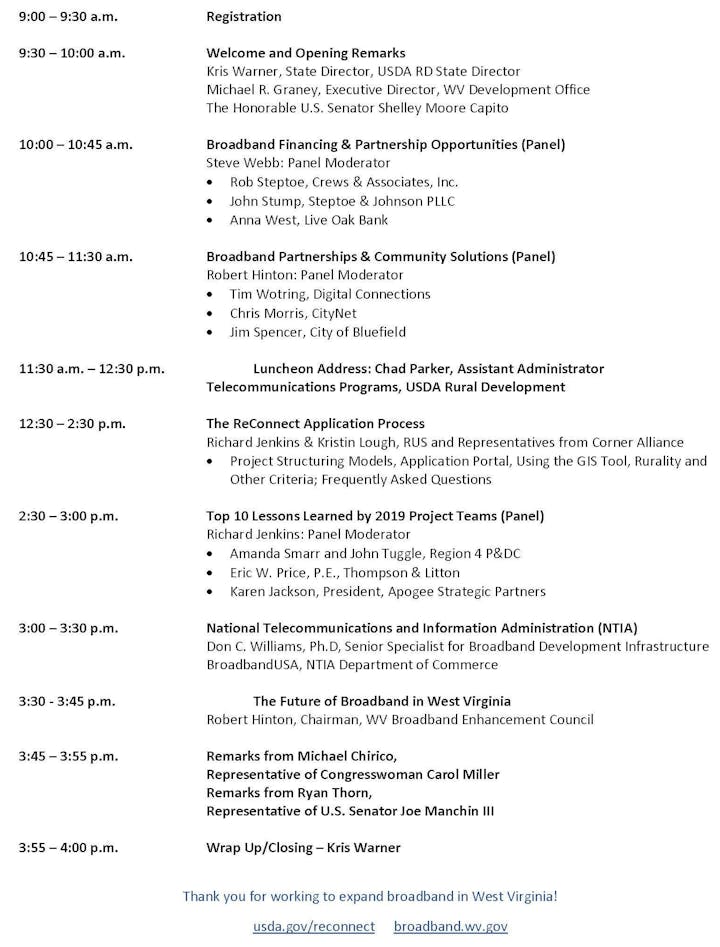 About USDA Rural Development:
USDA Rural Development is a federal agency committed to helping improve the economy and quality of life in rural America. Through our programs, we help rural Americans in many ways. We offer loans, grant and loan guarantees to help create jobs and support economic development and essential services such as housing, health care, first responder services and equipment, and water, electric and communications infrastructure.
The USDA promotes economic development by supporting loans to businesses through banks, credit unions and community-managed lending pools, offering technical assistance and information to help agricultural producers and cooperatives get started and improve operations. We provide technical assistance to help communities undertake community empowerment programs. We help rural residents buy or rent safe, affordable housing and make health and safety repairs to their homes.
About ReConnect:
On March 23, 2018, Congress passed the Consolidated Appropriations Act, 2018 (the Act), which established a new broadband loan and grant pilot program, now called the Rural eConnectivity Pilot Program (ReConnect Program). One of the essential goals of the ReConnect Program is to expand broadband service to rural areas without sufficient broadband access, defined as 10 megabits per second (Mbps) downstream and 1 Mbps upstream. This pilot program will generate private sector investment to deploy broadband infrastructure to provide high-speed internet e-Connectivity to as many rural premises as possible, including homes, community facilities for healthcare and public safety, schools, libraries, farms, ranches, factories, and other production sites.