Description
USC Sixth International Conference on Business Analytics
University of Southern California, Marshall School of Business
Department of Data Sciences and Operations and M.S. in Business Analytics Program
Friday, October 20, 2017
Radisson Hotel, 3540 South Figueroa Street, Los Angeles, CA 90007
Theme: "Entertainment Analytics"
The University of Southern California Marshall School of Business is hosting the Sixth International Conference on Business Analytics. This conference provides a forum for leaders from industry, academia, and government to gather to discuss topics related to the research, development, and application of business analytics. Everyone is welcome to attend including industry, faculty, students, and government.
Program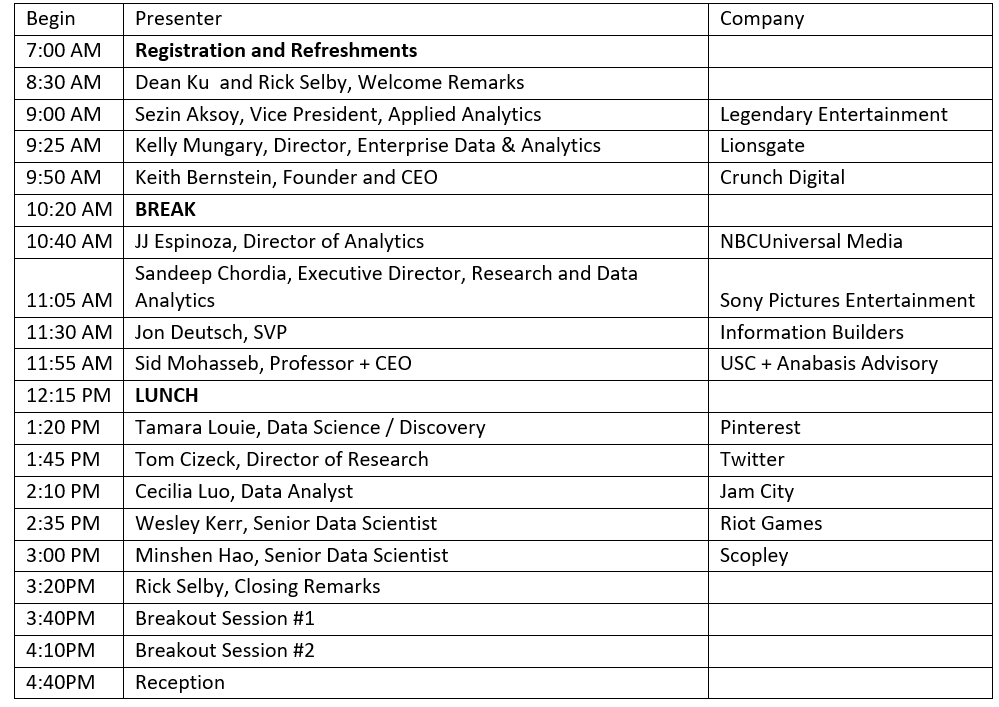 Lunch and Parking
Lunch and refreshments are provided to all attendees. The conference location is the Radisson Hotel, 3540 South Figueroa Street, Los Angeles, CA 90007. The Radisson Hotel is adjacent to USC, and parking is available at the hotel.
Key Contacts
For any questions about registration or administrative issues, please email Hilary Primack (MS.Analytics@marshall.usc.edu). For any questions about the overall conference or presentations, please email the Conference Chair Prof. Rick Selby (rselby@marshall.usc.edu) or call him (949-400-8941, cell). This conference is sponsored by the Department of Data Sciences and Operations and M.S. in Business Analytics Program in the USC Marshall School of Business.