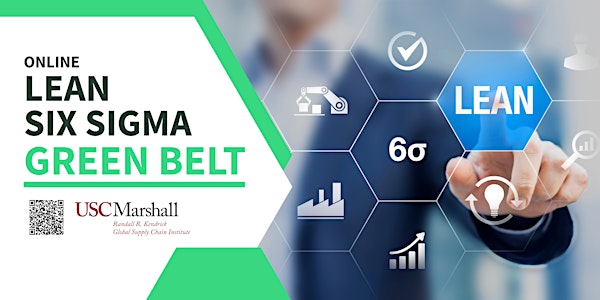 USC Online Lean Six Sigma Green Belt Certification Course
USC Online Lean Six Sigma Certification Course
By USC Kendrick Global Supply Chain Institute
Date and time
April 26 · 6pm - June 14 · 9pm PDT
About this event
49 days 3 hours

Mobile eTicket
University of Southern California
Marshall School of Business
Presented by Randall R. Kendrick Global Supply Chain Institute
Lean Six Sigma Green Belt
Commencing on April 26, 2023
06:00 PM - 09:00 PM (PST)
Join the USC Marshall School of Business and Randall R. Kendrick Global Supply Chain Institute for a simulated virtual class on Lean Six Sigma Green Belt, Professional Development Certification Programs.
This Lean Six Sigma Green Belt course will give you the tools to use the process improvement methodologies of lead six sigma, with both theoretical and practical components. This is the second of the three-part USC Marshall Lean Six Sigma certification program. Yellow Belt certification is not required for this Green Belt certification course. This course will be conducted online. A link to the meeting will the provided after registration by email.
Lean Six Sigma is a widely used methodical approach to improve business performance by reducing waste and increasing efficiency. With today's companies facing continually rising costs and increasing competition, Lean Six Sigma certified professionals have become increasingly desirable in Operations/ Supply Chain Management and Consulting roles.
Course Overview:
This Lean Six Sigma Green Belt course will dive deeply into the universally practiced process improvement methodologies of Lean Six Sigma, with both theoretical and practical components. This course will first teach participants the Lean Six Sigma methodologies, then have the participants successfully implement process improvement on live projects they bring to the course. With the instructors' guidance, students will use data collection and analysis skills and enact quantifiable improvements for their chosen projects.
Who Should Attend:
- Managers/supervisors of business units
- Members of a quality team of the organizations
- Quality management consultants/advisors
- Engineers/scientists working in laboratories or in R&D units
- Individuals who want to become Six Sigma champion/influencer
- Individuals who want to sharpen practical knowledge on methods and tools in Six Sigma
Expected Outcomes
- Participants will be equipped with tools and techniques
- Cases studies on applications in various industries
- Real-life solutions gained from consultative problem-solving sessions
Instructor:
This Lean Six Sigma Green Belt will be taught by world-class Master Black Belt faculty who has led corporate transformation; our Lean Six Sigma certificate courses are designed for professionals seeking to standardize high performance in their organizations.
Course Schedule:
Wednesday at 6 pm - 9 pm PST – Synchronous, Live Session, Discussion
Saturday, Asynchronous recording will be available
Week 0: Introduction to Course & Introduction to Lean
Week 1: Define Phase, Managing the Project
Week 2: Measure Phase
Week 3: Analyze Phase
Week 4: Improve Phase
Week 5: Control Phase
• On Wednesday, each week discussion sessions will be held (approximately 1.5 hours to 2 hours). During these sessions, a high level content review for people to ask questions and then will review the case study for that week, answer questions on the homework, and have opportunities to see the tools being used.
Participants will receive a Lean Six Sigma Green Belt Certification from USC, Marshall School of Business in partnership with Randall R. Kendrick Global Supply Chain Institute upon successful completion of this course.
What the certification course will teach you:
• Actual models and strategies to implement lean six sigma into any real-world situation.
• How to organize and lead a Six Sigma project.
• How to use the DMAIC (Define, Measure, Analyze, Improve, Control) methodology in practice.
What will you be able to do upon certification completion?
• Apply the rigorous valuable methodology in a real-world situation.
• Create tangible value for your company by increasing efficiencies.
• Improve business acumen in logistics and efficiencies, and stand out from your industry competition
Should you require further information, please do not hesitate to contact Ms. Zin Mar Soe @ Yuki.
University of Southern California | Marshall School of Business
Randall R. Kendrick Global Supply Chain Institute
Contact Us: +1 (213) 821 6718 | Email: zinmarso@marshall.usc.edu
Website: https://uscsupplychain.com/ | https://globalsummit.uscsupplychain.com/