Description
USA Obstacle Course Racing (USAOCR) is excited to announce the 2019 US National Championships of Obstacle Course Racing on Sunday, October 27th in Columbus, Ohio. It will be held at the Black Diamond Obstacle Course on the grounds of the Columbus Jewish Community Center, a pre-existing obstacle course and fitness trail usually only open to members of the facility.
This race will be open to the public with athletes of all backgrounds and experiences invited to participate in the Elite Men's and Women's, Age Group National Championships, and the Open division. The event will feature the International Distance (3+ miles) and include more than 20 obstacles.
The event is open to all athletes.
Elite athletes will compete to become a member of Team USA, Elite Division. (Top 5 Male, Top 5 Female)
Age Group athletes will compete to represent Team USA as Age Group National Champions in International Age Group competitions. (Top 3 Male and Top 3 Female per Age Group)
Open athletes will compete and challenge themselves on the same course as the Team USA hopefuls.
Age group divisions will be in five year increments.
Schedule: *SUBJECT TO CHANGE*
7:30am - Check In Opens

8:30am-12:15pm - Age Group Divisions (15 min increments)

1:00pm - Elite Men's Division Start

1:30pm - Elite Women's Division Start

2:00pm - Open Division Start

4:00pm - Event Concludes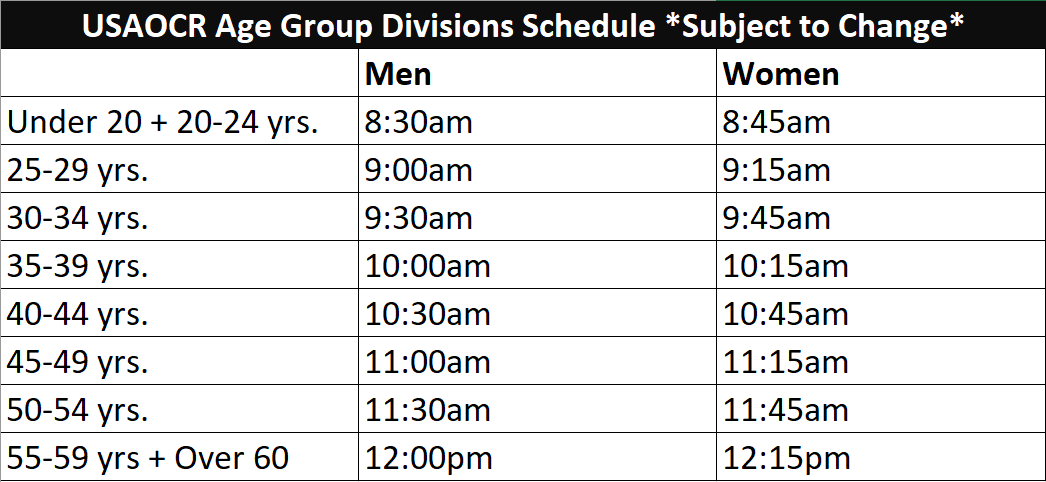 All particpants will receive a finisher medal and T-shirt.
*One day USAOCR Membership included with registration fees. No annual USAOCR Membership fee required.
This event is open to all athletes!