USAJOBS: 501 (OPM) *FREE WEBINAR

Wednesday, January 18, 2017 from 8:00 PM to 9:00 PM (EST)
Event Details
USAJOBS: 501
"Incorporating OPM Guidance into your Resume"

1-hr Webinar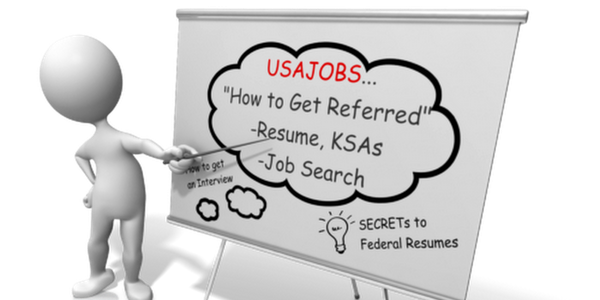 *What You Will Learn: Learn how to search OPM.Gov and incorporate OPM classification guidance into your USAJOBS resume. Understanding how this process works will determine what GS pay grade level you will be evaluated at. Learn how to strategically incorporate OPM's guidance and keywords into your resume.
View Webinar on YouTube Live: https://www.youtube.com/watch?v=irW5hEc86KU

Guest Speaker: Bruce Benedict - President, Battlefield Resumes, LLC, a Nationally Renowned Military Transition Advisor, BRM-Certified Federal & Corporate Resume Writer, Motivational Speaker and Employment Coach.  Bruce will explain how the FEDERAL resume process works, what to expect, and how best to prepare.

Get Motivated and Excited about Applying for a FEDERAL Job! Our webinars have reached hundreds of people over the past 5 years. Visit the Battlefield Resumes website to find additional assistance in Resume Writing, Networking, Job Searching and Interviewing for Corporate, Private Sector, Federal, and Defense Contracting Jobs. www.BATTLEFIELDRESUMES.com

Battlefield Resumes' events are fast-paced, energetic, entertaining and the most informative employment training event that you will attend.

Our goal is to teach you how to GET THE JOB YOU WANT AT THE HIGHEST SALARY POSSIBLE.

ONE WEBINAR WILL CHANGE YOUR LIFE FOREVER!



FACEBOOK: https://www.facebook.com/battlefieldresumesLLC/
LINKEDIN: https://www.linkedin.com/in/battlefieldresumes/




When & Where

YouTube Live

Stafford, VA 22554


Wednesday, January 18, 2017 from 8:00 PM to 9:00 PM (EST)
Add to my calendar
Organizer
Bruce Benedict, the owner of Battlefield Résumés, LLC developed the Battlefield Résumé Methodology (BRM) to help veterans and transitioning military, as well as those who help them, easily translate military experience (aka: Battlefield Résumé) into civilian language. Bruce, like you, is a veteran and knows that veterans have the drive, motivation, and energy to transition successfully and obtain civilian employment. The BRM helps veterans, employers, and career counselors tailor and target the veteran's Battlefield Résumé (military experience) in an efficient and effective way to ensure their time is productively spent. By using the BRM, Bruce has deciphered the military language and cracked the code on military-to-civilian employment. By leverages military doctrine and strategy, he has created an easily understandable and relatable system that will help lessen the anxiety and stress when transitioning Battlefield Résumés into the civilian workforce.
Bruce is a retired US Army Major with a commission from OCS. He also served over 6 yrs as a DoD GS-15 Hiring Manager. He is a Certified Résumé Writer and a Certified Coach, Speaker, and Trainer with the John Maxwell Team. As a Retired U.S. Army Major, Defense Contractor, and a previous Federal Government GS15, he collectively has over 27 years of military, the federal government and defense contracting experience. 
Bruce was born to serve. Always knowing military service was his calling, Bruce initially signed up for military service via the Delayed Entry Program in his Junior year of High School. Two days after graduating High School, Bruce entered the U.S. Army as a Private/E1. In 1996, as a SSG (E6), he graduated from Officer Candidate School (OCS), Fort Benning, GA, where he was commissioned as a 2LT/01 and retired as a MAJOR/O4 after 21 years of proud military service. Throughout his 21-year career, he served in Germany, Panama, Japan and numerous locations throughout the U.S. He deployed four times to the Middle East, proudly serving in Bahrain, Qatar, Afghanistan, and Iraq where he received the Bronze Star Medal. In 2007, he retired from Active Duty as a MAJOR/O4 and transitioned to a senior intelligence consultant with Booz Allen Hamilton. 
In 2009, he transitioned to the Federal Government, becoming a GS14 Supervisor and Hiring Manager. From Nov 2011 to Nov 2016, he was promoted to a GS15 Supervisor and Hiring Manager position with the Joint Counterintelligence Training Academy (JCITA), managing advanced training for all Counterintelligence Special Agents throughout the Department of Defense (DoD). In this position, Bruce became the Hiring Manager for the entire organization, where he wrote Federal Government position descriptions and vacancy announcements for all positions while leading hundreds of interview panels and hiring hundreds of Federal Government employees. Similarly, he reviewed thousands of defense contractor resumes against multiple defense contract statements of work (SOW), ensuring that only the highest qualified employees were hired.  
Since 2011, Bruce has conducted hundreds of Job Searching, Resume Writing, Interviewing, Job Fair preparation seminars, workshops, and webinars for DeVry University, TECHEXPO, Corporate Gray, Vet2Vet, Value of a Veteran, AUSA Expo, The Freedom Foundation, etc.
In Sep 2017, Bruce was elected as the Education Chair for the National Resume Writers' Association (NRWA).
Bruce knows how it feels to transition out of the military and into the Civilian Workforce. Learn from his mistakes so you don't make the same mistakes as he did. Save time and focus your time productively by learning from Bruce's experiences.
Bruce Benedict, CBRW, CPRW
Founder, Owner, Battlefield Résumés, LLC
Certified Speaker, Trainer, Coach, and Resume Writer
Certified Battlefield Resume Writer (CBRW)
Certified Professional Resume Writer (CPRW)
Certified Executive Coach (ACT, Inc)
Certified Executive Coach (DIA)
Certified Coach, Teacher, Speaker (John Maxwell Team)
Member, National Resume Writers' Association (NRWA)
Member, Professional Association of Resume Writers & Career Coaches (PARW)
Member, Society for Resource Management (SHRM)
Service-Disabled Veteran-Owned Small Business (SDVOSB)
info@BattlefieldResumes.com
www.BATTLEFIELDRESUMES.com
FACEBOOK:  https://business.facebook.com/battlefieldresumesLLC
LINKEDIN: https://www.linkedin.com/in/battlefieldresumes/
TWITTER:  @BfResumesLLC
RALLYPOINT: https://www.rallypoint.com/profiles/337735-maj-bruce-benedict