USAJOBS: 301 (Keywords) *FREE WEBINAR

Thursday, January 5, 2017 from 8:00 PM to 9:00 PM (EST)
Event Details
USAJOBS: 301
"Job Announcement Keywords"
1-hr Webinar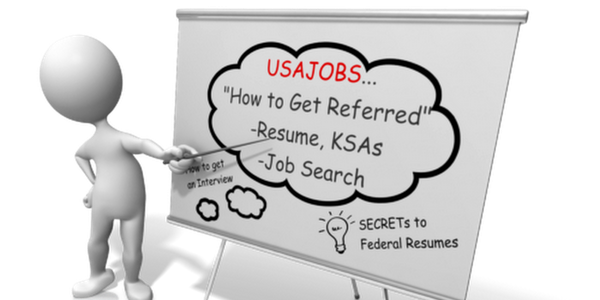 *What You Will Learn: Learn how to identify and separate the job announcement keywords on USAJOBS.Gov. Learn how you should translate and tailor your experience so it supports the keyword requirements, as well as how to use the keywords within your resume.

Guest Speaker: Bruce Benedict - President, Battlefield Resumes, LLC, a Nationally Renowned Military Transition Advisor, BRM-Certified Federal & Corporate Resume Writer, Motivational Speaker and Employment Coach.  Bruce will explain how the FEDERAL resume process works, what to expect, and how best to prepare.

Get Motivated and Excited about Applying for a FEDERAL Job! Our webinars have reached hundreds of people over the past 5 years. Visit the Battlefield Resumes website to find additional assistance in Resume Writing, Networking, Job Searching and Interviewing for Corporate, Private Sector, Federal, and Defense Contracting Jobs. www.BATTLEFIELDRESUMES.com

Battlefield Resumes' events are fast-paced, energetic, entertaining and the most informative employment training event that you will attend.

Our goal is to teach you how to GET THE JOB YOU WANT AT THE HIGHEST SALARY POSSIBLE.

ONE WEBINAR WILL CHANGE YOUR LIFE FOREVER!



FACEBOOK: https://www.facebook.com/battlefieldresumesLLC/
LINKEDIN: https://www.linkedin.com/in/battlefieldresumes/




Organizer
Bruce Benedict
Bruce is the owner of Battlefield Resumes, LLC.  He is a retired US Army Major (OCS Commission) and is a Certified-Battlefield Resume Writer (CBRW), Federal Resume Writer, a Certified Professional Resume Writer (CPRW) through the Professional Association of Resume Writers and Career Coaches (PARW-CC). Bruce was a Federal Government GG15 and Hiring Manager from 2011 to 2016, writing federal position descriptions and federal vacancy announcements for all federal government positions within his office. He led hundreds of interview panels, evaluated thousands of federal resumes, and hired countless federal government employees as the Hiring Manager/Selecting Official. Bruce was a Military Transition Employment Advisor for The Value of a Veteran in 2013 and 2014, providing monthly Federal and Defense Contractor resume writing webinars. Bruce was a Federal Resume Writing guest speaker during the NRWA's 2015 Annual Conference in Charlotte, NC. He also conducted several Federal and Civilian résumé classes for the American Freedom Foundation/AUSA from 2013 to 2016. Bruce has been the exclusive Federal Resume Advisor for TECHEXPOUSA Hiring Events since 2014 and Corporate Gray since 2015. Bruce's methods have also been published in the September 2015 edition of Corporate Gray's Military Transition book. Bruce is the Author of three workbooks titled "Operation: Job Search," "Operation: Federal Resume," and "Operation: Civilian Resume," as well as three self-paced video training courses on Udemy.com.
Bruce Benedict is a Certified Coach, Trainer, and Speaker with the John Maxwell Team.
Bruce Benedict, CBRW, CPRW
Founder, Owner, Author, Battlefield Résumés, LLC
Certified Battlefield Resume Writer (CBRW)
Certified Professional Resume Writer (CPRW)
Certified-BRM-Federal Resume Writer (C-BRM-FRW)
Member, National Resume Writers' Association (NRWA)
Service-Disabled Veteran-Owned Small Business (SDVOSB)
Member, Professional Association of Resume Writers and Career Coaches (PARW/CC)
info@BattlefieldResumes.com