Description
So you finally built out your MVP for your Virtual Reality project, and now it's time to test some users. The big question: how do we run air-tight usability tests, specific to Virtual Reality, so we can make data-driven design decisions?
VR usability testing expert Olga Ivanova is here to teach us how.
In one day, you will learn about the top tools and techniques for usability testing VR applications, how to plan and execute a VR usability study, tips on recruiting candidates, which elements of a VR experience to watch closely, and other critical learnings.
This workshop is taught by VR Product Designer, Entrepreneur, and professional usability tester, Olga Ivanova.
Why usability testing, and why this workshop?
As Designers and Developers, you need to discover how to change and improve your product as soon as possible. This means that usability testing should be implemented as early as possible.
Enough with the anecdotal assumptions; let's focus on the real truth from our users!
You will learn how to design and conduct usability tests on different types of VR experiences, so you can continue to iterate and improve your product based on real data. We will show you how to make your VR products comfortable, delightful, and rememberable.
What is Usability Testing?
Usability Testing is the process of evaluating your project based on a series of tests and experiments on a select group of people. Usability Testing, in general, revolves around the Why, When, Where, What and With Whom to test, Heuristic Evaluations, Guerrilla Tests, In-person and remote user tests, analyses (Methods and processes), Tools (Software and Hardware), and specific documentation to conduct testing safely and consensually.
Who this is for:
We're looking for Designers, Developers, Project Managers, Researchers, Producers, Entrepreneurs, and anyone else passionate about building beautiful Virtual Reality products.
What's Included:
1 day of intensive skill training and networking
HP Computers for project testing
Access to HTC Vives, Oculus Rifts, Google Daydream and other VR devices.
2 week pass to Upload SF or Upload LA
The Weekend Schedule: Saturday, March 17 (10:00am - 6:00pm)
10:00am: Arrive for coffee.
10:30am: Industry overview, history, and key terms
11:00am: Top tools/ techniques for each device type (Mobile vs Oculus vs Vive), planning a usability test, and tips for recruiting
12:30pm: Lunch
1:30pm: Breakout Groups with HMDs: testing the good, the bad, and the ugly
3:00pm: Breakout Groups with Mobile: testing the good, the bad, and the ugly
4:00pm: Evaluating our findings
5:00pm: Market Opportunity and Continued Learning
6:00pm: Networking and snacks
About Olga: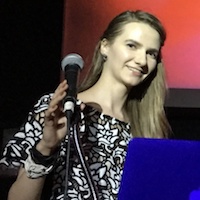 Leading the virtual reality company to create and deliver meaningful experiences to enhance people's everyday life. Olga works on human-centered VR experience design and also researches, evaluates and tests various VR solutions.
Olga has Master's Degree in Communication design, during her journey as a creative professional, she has developed brands and successfully launched products always focusing on people, user-centered experiences and business goals.
She worked with different platforms, tools, and technologies such as P2P blockchain applications and, of course, VR.
Olga's varied skills were a great asset to start working on VR. Olga is fascinated by the constant VR discovery process and keeps learning new tools and skills every day.
Personal:
website: https://ol-iva.com
LinkedIn: https://www.linkedin.com/in/olgaoliva/
VR Oxygen:
website: https://vroxygen.com
Twitter: https://twitter.com/VRoxygen
Instagram: https://www.instagram.com/vroxygen/
Facebook: https://www.facebook.com/vroxygen/