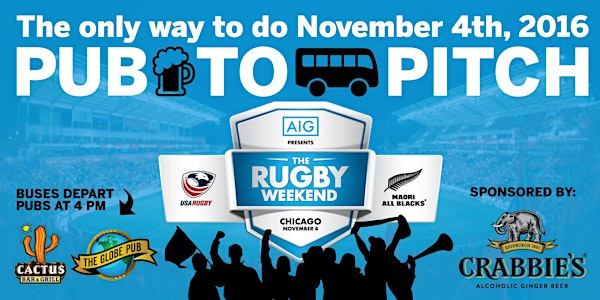 When and where
Location
The Globe Pub/Cactus Bar & Grill Chicago, IL
Description
Avoid the hassle of driving to see USA v Maori All Blacks this November and take the Pub to Pitch bus sponsored by Crabbies alcoholic ginger beer! Watch past USA Rugby matches and enjoy a pre-game pint with your friends before hopping on the bus to Toyota Park.
Participating Bars:
The Globe Pub: 1934 W Irving Park Rd. Chicago, IL 60613
Cactus Bar & Grill: 404 S Wells St. Chicago, IL 60607
Additional Informaiton:
Pubs will offer Crabbies drink specials all day while playing past USA Rugby matches
Pub to Pitch buses leave respective bar at 4pm CT on November 4th
Beverages available on the bus to patrons 21+ years old
Gates for USA v Maori open at 5pm CT with kick-off at 7pm CT
Buses will leave 30 minutes after the final whistle to return to respective bar
Official terms of the USA v Maori Pub to Pitch
When you purchase a ticket to ride the Pub to Pitch Bus, you understand and agree to the following:
1. Consumption of Alcohol & Minors. No glass containers are allowed. If you are under 21 years old, you may not drink any alcoholic beverage on the bus. Nobody can provide alcoholic beverages to anyone who is under 21 years old. Violation of either Rule may lead to immediate removal.
2. Release and Waiver of Liability. You agree to release and waive USA Rugby, and its respective members, owners, officers, directors, employees, representatives, agents and contractors from all injuries that you may receive while riding, entering or disembarking the Pub to Pitch Bus.
3. Indemnification. You agree to reimburse and/or indemnify USA Rugby for (a) any property damage that you may cause to the bus and (b) any injuries that you may cause to others while riding, entering or disembarking the bus.
4. Authorization to Use Images.You will be granting USA Rugby permission to use still or video image(s) of you riding, entering or disembarking the bus for any commercial or non-commercial purposes without payment to you.