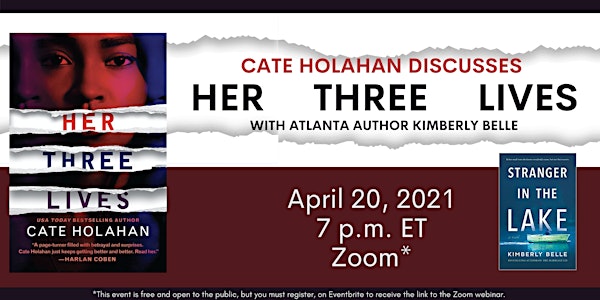 USA Today Bestsellers Cate Holahan and Kimberly Belle in conversation!
A family must determine who the real enemy is after a brutal home invasion in author Cate Holahan"s new standalone thriller HER THREE LIVES
By Georgia Center for the Book
Date and time
Tuesday, April 20, 2021 · 4 - 5pm PDT
About this event
Join us for an evening with author Cate Holahan as she discusses her new standalone thriller Her Three Lives, in which a family must determine who the real enemy is after a brutal home invasion breaks their trust in each other. This virtual event is free and open to the public, but you must register on Eventbrite to receive the link to the Zoom webinar. To purchase a copy of the book from Eagle Eye Book Shop, click here: PURCHASE.
Her Three Lives:
Her public life
Jade Thompson has it all. She's an up-and-coming social media influencer, and she has a beautiful new home and a successful architect for a fiancé. But there's trouble behind the scenes. To Greg's children, his divorce from their mother and his new life can only mean a big mid-life crisis. To Jade, his suburban Connecticut upbringing isn't an easy match with her Caribbean roots.
Her private life
A savage home invasion leaves Greg house-bound with a traumatic brain injury and glued to the live feeds from his ubiquitous security cameras. As the police investigate the crime and Greg's frustration and rage grows, Jade begins to wonder what he may know about their attackers. And whether they are coming back.
Her secret life
As Greg watches Jade's comings and goings, he becomes convinced that her behavior is suspicious and that she's hiding a big secret. The more he sees, the more he wonders whether the break-in was really a random burglary. And whether he's worth more to Jade if he were dead than alive.
Cate Holahan is the USA Today bestselling author of domestic suspense novels The Widower's Wife, One Little Secret, Lies She Told, and Dark Turns. In a former life, she was an award-winning journalist, writing for The Record, The Boston Globe, and BusinessWeek, among others. She was also the lead singer of Leaving Kinzley, an original rock band in NYC. She lives in NJ with her husband, two daughters, and food-obsessed dog, and spends a disturbing amount of time highly-caffeinated, mining her own anxieties for material.
In Stranger in the Lake, Charlotte knows everybody's name in her small town, but not their secrets.
When Charlotte married older and wealthy widower Paul, it caused a ripple of gossip in their small lakeside town. They have a charmed life together, despite the cruel whispers about her trailer-park past and his first marriage. But everything starts to unravel when she discovers a young woman's body floating in the exact same spot where Paul's first wife tragically drowned.
At first, her death seems like a horrific coincidence, but the stranger in the lake is no stranger. Charlotte saw Paul talking to her the day before, even though Paul tells the police he's never met the woman. His lie exposes cracks in their fragile new marriage, cracks Charlotte is determined to keep from breaking them in two.
But as secrets and people from Paul's past begin to surface, Charlotte uncovers dark mysteries that have been simmering under the lake's waters for years. She doesn't know what to trust—her heart, which knows Paul to be a good man, or her growing suspicion that there's something he's desperate to hide.
Kimberly Belle is the USA Today and internationally bestselling author of six novels, including her latest, Stranger in the Lake and The Marriage Lie, a Goodreads Choice Awards semifinalist for Best Mystery & Thriller. Her books have been published in more than in a dozen languages and have been optioned for film and television. A graduate of Agnes Scott College, Belle divides her time between Atlanta and Amsterdam.
About the organizer
The Georgia Center for the Book (GCB) has become the largest non-profit literary presenting organization in the Southeast and one of the largest in the nation. The Center's mission is to support libraries, promote literacy and the literary arts, and preserve the literary heritage of Georgia.The GCB hosts monthly author events and Poetry readings; coordinates the Georgia River of Words, and the Georgia Letters About Literature student writing competitions; co-sponsors the Book As Art Exhibition, the Lillian Smith Book Awards, The Townsend Prize for Fiction, The SCBWI Gallery Show; and compiles the Books All Georgians and Young Georgians Should Read lists, annually.