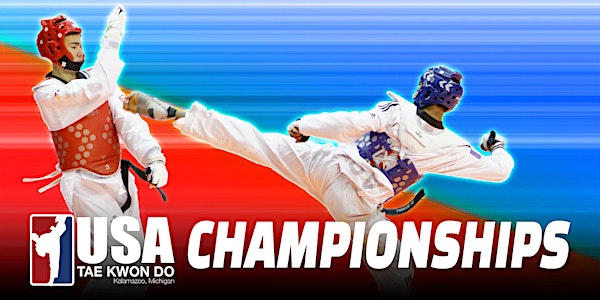 USA Tae Kwon Do Championships 2023
Open martial arts tournament with World Taekwondo rules Sparring and Poomse.
By Grand Master M'Hammed Bouabdellaoui
Date and time
Starts on Saturday, April 29 · 8:30am EDT
Location
1916 E G Ave 1916 East G Avenue Parchment, MI 49004
About this event
OPEN MARTIAL ARTS TOURNAMENT
Join us at Parchment High School in Parchment, MI on April 29 for the 2023 USA Tae Kwon Do Championships! All ages and ranks welcome. Doors open at 8:30am, competition begins at 10am.
Pre-registration only!
Competitors may register online through April 24. Registrations may also be mailed (no personal checks; money order or certified check must be postmarked by April 19) to USA Tae Kwon Do, 125 Peekstock Rd, Kalamazoo, MI 49001.
Sparring and poomse events!
Must have mouthguard, headgear, groin cup, and pads to spar. All divisions will use the Daedo electronic scoring system. Daedo equipment may be rented for $10 at the event. World Taekwondo rules sparring for all ages. Double-elimination black belt sparring for ages 12 and up.
Age Groups
5 and Under
6–7 Years Old
8–9 Years Old
10–11 Years Old
12–14 Years Old
15–17 Years Old
18–32 Years Old
33 and Over
Divisions
Black Belt—1st Dan & up
Brown Belt—2nd & 1st Gup
Blue Belt—4th & 3rd Gup
Green Belt—6th & 5th Gup
White-Yellow—10th–7th Gup
Divisions are broken down by gup – not belt color – and may be combined or expanded.
About the organizer
Grand Master M'Hammed Bouabdellaoui (7th dan) is the owner and founder of USA Tae Kwon Do (est. 1994). A certified personal trainer and Michigan State University Hall of Fame Inductee, Master M'Hammed served as Vice President of the Michigan Tae Kwon Do Association and Chairman of the Senior National Coaching Science Committee (2002-2004). In competition he achieved merit as a State of Michigan gold medalist 1991–1995. Master M'Hammed currently works as a Tae Kwon Do Ambassador between his home here in the United States and Morocco.