USA-EU Webinar on Smart Cities & Regions for International Collaboration
A Webinar organised by NIST (USA) and NGI Explorers (EU) for the International Smart Cities and Regions Community Collaboration.
About this event
The webinar is organised by NIST (USA) and NGI Explorers (EU) for the international smart cities and regions community. In this webinar we are going to briefly discuss the future for Smart Cities in Europe and USA and introduce an initiative funded by NGI Explorers (EU Fellowships to the US) on how technologies like IoT, AI, Big Data and others can be used for smart city innovation. A focus part on this webinar is an introduction of innovative results in the field of Smart City KPI Methods for Measuring the impact of the technology in cities and also as a Self-Assessment method for evaluating community impact or digital inclusion. We will briefly discuss a roadmap for this innovation and finally how a smart city in Ireland (as an example) is following the methodology to advance in their Smart City development strategy.
On December 11th, 2020 at 14:00 Hrs UTC, please use this link to connect to the webinar: https://global.gotomeeting.com/join/739927781
Note: Due to the high number of participants registered already the Webinar Channel will be activated 10 minutes before 14:00 hrs UTC allowing people to connect in time, we will start the Webinar at 14:00 UTC sharp! - If you can not join earlier please ensure your microphone is in muted mode when connecting to the webinar.
The Final Agenda for the Event is as follow:
This event will bring together different stakeholders and communities participation and by following the format of short interventions, representative smart city organisations will have a time slot for explaining their current needs in order to understand requirements and also their approaches and experiences looking for alternatives on implementing an assessment method that satisfy those needs. As a Distinguish group of Experts they will be addressing most of the challenges on KPIs measuring for Smart Cities and Regions and contextualise them in how an Holistic KPI approach can be used to improve self-assessments methods in cities and regions.
A list of short Bios from our Distinguish Experts is presented as follow: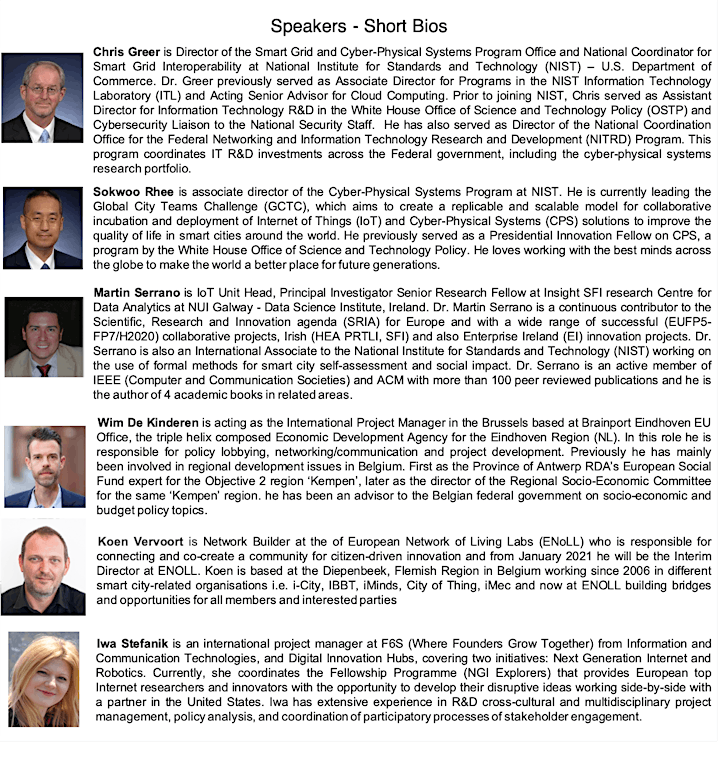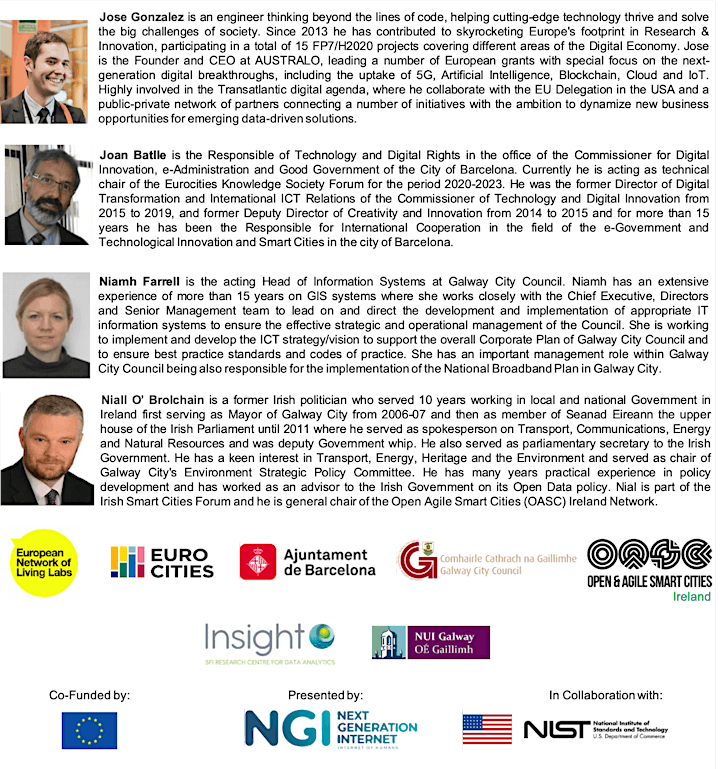 Organizer of USA-EU Webinar on Smart Cities & Regions for International Collaboration