Description
Event Dates & Times
Fri, August 2nd - 12:00 - 5:00pm B2B Only
Sat, August 3rd - 12:00 - 3:00pm B2B Only
Sat, August 3rd - 3:00 - 7:00pm B2B/B2C
Sun, August 4th - 12:00 - 7:00pm B2B/B2C
Introducing USA CBD Expo 2019
Join us at USA CBD Expo 2019 in Miami Beach, Florida. This years CBD expo will feature an endless number of different CBD brands and products from Vape Manufacturers, holistic and health food producers, pet care brands and a wide variety of other companies from around the world. The event is a great place to meet new customers and make business connections. We will also have business-only (B2B) hours, giving attendees the chance to meet one on one with CBD vendors and suppliers to discuss doing business with each other. Check our USA CBD Expo website for specific business-only times and other details.
This Years Largest Hemp & CBD Expo
Our upcoming USA CBD Expo 2019 is expected to be the best CBD, hemp and cannabis-related expo/conference of 2019. We are planning to organize business meetings between exhibitors and business owners. You can also learn about current market trends, regulations, new manufacturing processes at educational seminars and keynotes organized by us. They will be lead by CBD and cannabis industry professionals, and is great for business owners looking to grow. USA CBD Expo will give you and your company a unique opportunity to gain new insights into today's ever-changing market and help your business get on the track to success.
Reasons to Attend CBD Expo 2019
Below are a few of the reasons that consumers and businesses should come to our event:
Sample New CBD Products
Try CBD, Hemp and many other types of products from upcoming brands, and established brands looking to promote their business.
Over 700 CBD & Hemp Companies
USA CBD Expo will feature more than 700 CBD, Hemp and Cannabis vendors & services, CBD websites that operate within the Industry.
Meet Customers & Suppliers
Exhibiting or attending our B2B hours is a great opportunity to meet new wholesale customers, and suppliers to order from.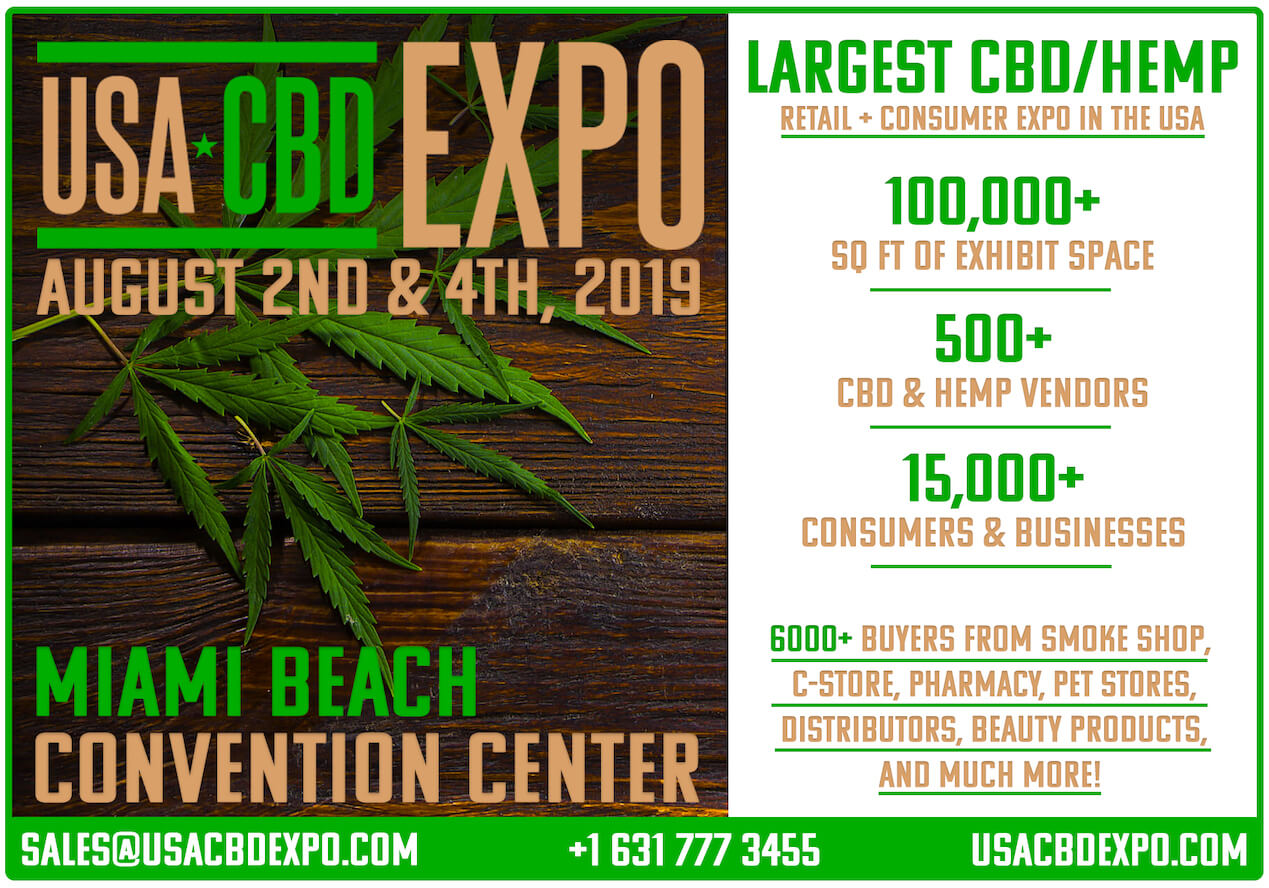 Website: USA CBD Expo 2019
Event Floor Plan: USA CBD Expo Floor Plan
Exhibitors & Sponsors: USA CBD Expo Directory
Steve Danyluk, LtCol (ret.)

WarFighter Hemp Founder

Khadijah Adams

C.E. Hutton Vice President

Dan Anglin

CannAmerica Brands Corp. CEO

Jessica Arent

Hailey's Hemp Co. COO

Charles E. Hutton

C.E. Hutton CEO

Shelby Isaacson

Second and Seed Director of Operations

Rod Kight

Kight Law Office PC Attorney

Maruchy Lachance

Boulder Botanical & Bioscience Laboratory COO

Robert Di Marco

Boulder Botanical & Bioscience Laboratory Co-Founder

Jared Mirsky

Wick & Mortar CEO

Tim Phillips

CBD-Intel Managing Director

David Postolski

Gearhart Law Partner

Pelin Thorogood

Wholistic Research and Education Foundation President

Loren Weisman

Create Wealth Communities Strategist

Dr. Jenny P. Wilkins

AgeVital Pharmacy CEO