Description
Are you a future college-athlete?

Find out how Australian athletes from all backgrounds can use their sporting ability to get recruited, secure scholarship funding and gain admission to US universities. Competing in a professional environment, in front of thousands of fans, all whilst earning a world-class degree.
At Crimson, we're focused on supporting students through their recruitment journey, helping thousands of athletes gain admission to some of the world's top universities, like Claudia from Sydney who is off to Princeton!
Key Event Topics:
The advantages of a US college undergraduate degree

A detailed breakdown of the US Athletic Recruitment process

Academic and athletic benchmarks

Navigating NCAA Eligibility requirements

How to secure scholarship funding

Common recruitment mistakes to avoid

How to start your journey
Event Host:
Tessa Berger
Director of Crimson Athletics

Tessa (pictured right) attended Florida Gulf Coast University on an NCAA Division I full scholarship, majoring in Business Management and Accounting with a concentration in Entrepreneurship. She earned a perfect 4.0 Grade Point Average (A+) whilst also gaining prestigious Presidents List Honours.

A New Zealand Football representative, Tessa has successfully competed on the international stage over the last decade. Most notably, attending the FIFA Women's World Cup and being listed for the 2012 London Olympic Games.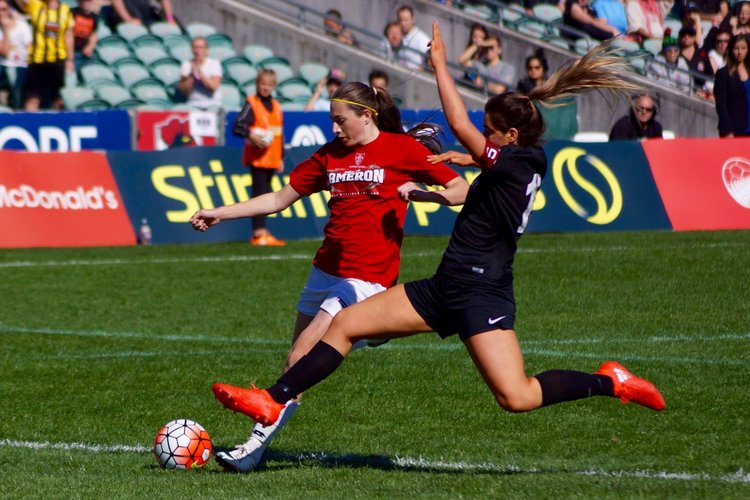 After the presentation Tessa and our Crimson staff will be on-hand to discuss your goals, so do not miss out on this amazing opportunity to kick-start your collegiate career!

Want more info before the event? Have a read of this blog entitled 'Become a Student-Athlete: Score a Sports Scholarship to a Top US College'.

Have a question? Email us at athletics@crimsoneducation.org