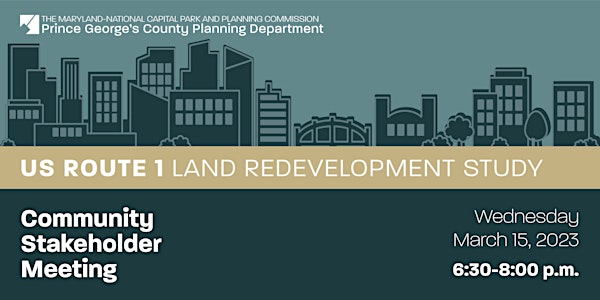 US Route 1 Land Redevelopment Study: Community Stakeholder Meeting
Join the Prince George's County Planning Department for an in-person stakeholder meeting on the US Route 1 Land Redevelopment Study.
By Prince George's County Planning Department
When and where
Date and time
Wednesday, March 15 · 6:30 - 8pm EDT
Location
Beltsville Community Center 3900 Sellman Road Beltsville, MD 20705
About this event
Join us in-person at the Open House and/or the Community Meeting to learn more about the Route 1 Land Redevelopment Study.
Open House Informational Session: 4:00-5:30 p.m.
Community Meeting and Presentation: 6:30-8:00 p.m.
Location: Beltsville Community Center, 3900 Sellman Rd. Beltsville, Maryland 20705
The goal of the Open House and Community Meeting is to allow every opportunity to engage the community and share information about the study, receive feedback, share a survey for the project, answer questions, and discuss challenges and opportunities for future development in the corridor.
Light refreshments • Translation services available
Project Background
The study will bring together experts across various disciplines to focus on neighborhood revitalization, real estate development, complete streets, and design as well as local stakeholders to create recommendations for future development that align with the Approved Masterplan and Sectional Map Amendment for Subregion 1.
Study Area
This study looks at the Subregion 1 Plan area along the Route 1 Corridor boundary from Quimby Avenue to Sunnyside Avenue, adjacent to the Beltsville Agricultural Research Center and the immediate surrounding neighborhoods.
Please visit the project website for additional information about the project and take the survey at: https://pgplan.org/Rte1LRStudy
Special Assistance
M-NCPPC encourages the participation of persons with disabilities in all of its programs and services. For special assistance (i.e. large print materials, assistive listening devices, sign language interpretation, etc.) call the Public Affairs Office at 301-952-3038.