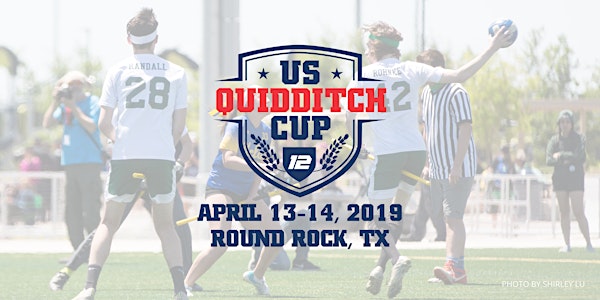 When and where
Location
Round Rock Multipurpose Complex - North Entrance 2001 Kenney Fort Boulevard Round Rock, TX 78665
Description
On April 13 and 14, 2019, the top 84 quidditch teams from around the country will compete in Round Rock, Texas to determine the sport's national champion. The defending champions are Texas Cavalry in the community division and University of Rochester Thestrals in the collegiate division.
In response to the weather forecast, we have made some changes to the schedule for Saturday and Sunday. Read more here.
WHY ATTEND US QUIDDITCH CUP?
Cheer for 60 collegiate and 24 community teams from across the nation.

Witness over 1,800 uniformed, broom-riding athletes playing a mixed gender, full-contact sport.

Enjoy a fan festival, learn about the history of the sport, and more.

Learn to play quidditch with our youth programs, available for elementary, middle, and high school students!

Hear live commentary from experienced quidditch commentators!

Snack on a wide array of food and drinks, from healthy options to traditional sporting fare.

Shop for a wide variety of merchandise, sporting gear and other unique items, including jerseys, trading cards, brooms, and more!
BUY YOUR TICKETS NOW!
Early bird tickets available through December 24, 2018.
Pre-sale for returning VIPs runs through Wednesday, December 5, 2018. If you had VIP tickets at US Quidditch Cup 11, check your email for the special ticket code! Early bird VIP tickets will go on sale on Wednesday, December 6.
Online pre-sale tickets available December 25, 2018-April 6, 2019.
General admission tickets available April 7-14, 2019 online, and at the door.
TICKET TYPES
One Day Pass - Grants access to a full day of games and the fan festival on either Saturday OR Sunday, including the semifinals and finals matches on Sunday.
Weekend Pass - Grants access to more than 150 exciting games of quidditch over Saturday and Sunday, including the semifinals and finals matches on Sunday.
VIP Weekend Pass - VIP ticket holders receive access to the VIP area, free food and drinks (breakfast, lunch and dinner each day, plus snacks), a swag bag with an event t-shirt, individualized attention from our VIP experience staff, and more!
Children 2 and under enter for free.
Youth passes are applicable for those aged 3-17.
Student passes are applicable for those with a valid student ID. The student ID must be presented at time of entrance. A $3 upgrade fee will be imposed on student pass holders who cannot produce a valid student ID.
ACCOMMODATIONS
Looking for where to stay in Round Rock? We have a special deal available at the Holiday Inn Austin Round Rock for $119 a night. Information on how to book is available here.
Note: per the Stay and Play policy, teams will be required to stay in the USQ-approved accommodations.
FREQUENTLY ASKED QUESTIONS
Will tickets be sold on-site at the event?
Yes! However, for the best prices on tickets, we encourage you to purchase your tickets in advance.
Do I have to bring my printed ticket to the event?
All ticket-holders must bring a copy of their ticket, either printed or using an e-ticket on your smartphone or tablet.
What is the refund policy?
All ticket purchases are non-refundable.
What is the ticket transfer policy?
We allow ticket transfers up to 48 hours before the event.
Where can I learn more about the event?
Visit our website here!
How can I volunteer?
The sign-up form is available here. People who work at least 3 hours each day get free admission for that day. For questions, email eventvolunteers@usquidditch.org.
Questions about the event? Email us at events@usquidditch.org!
In partnership with the City of Round Rock.
Photo by Shirley Lu.