US Premiere of "Frances Xavier Cabrini: The People's Saint"
Description
Cabrini University is proud to present the US premiere of the new documentary "Frances Xavier Cabrini: The People's Saint."
Filmmaker Lucia Mauro will join us to introduce the film and for a brief talkback afterwards. She will also be available for a VIP reception before the screening, hosted by Cabrini University's president, Dr. Donald Taylor.
"Frances Xavier Cabrini: The People's Saint"
Documentary Premiere
Tuesday, December 5, 2017
6:00pm VIP Reception with the Filmmakers
7:00 Screening in Theater 2
Bryn Mawr Film Institute
824 Lancaster Avenue
Bryn Mawr, PA 19010
General Admission tickets include popcorn and soda.
VIP ticket holders are invited to a wine and lite bites reception with the filmmakers before the film, and coffee and cookies following.
All proceeds will benefit Cabrini University.
For more information, contact Tom Southard at 610-902-8122 or ts849@cabrini.edu.
More information on the film can be found at https://www.mothercabrinifilm.com/.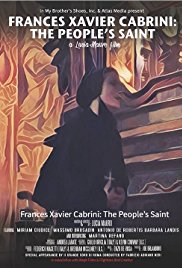 This sensitive and topical new documentary, titled Frances Xavier Cabrini: The People's Saint, is now in post-production with filming completed in Italy and in Chicago over the summer 2017. The film explores the environment and deep spirituality that shaped Mother Cabrini – the Patron Saint of Immigrants and Hospital Administrators -- in honor of the Centenary of her passing. It reintroduces audiences to the first American citizen saint and addresses her relevance today for refugees and immigrants around the world. Mother Cabrini -- despite frail health and a fear of water -- crossed the ocean many times to administer to the poor, the sick and children and established schools, hospitals, and safe havens across Europe and the Americas. The film begins in her birthplace of Sant'Angelo Lodigiano, Italy and takes viewers through her brave, tireless commitment to serve those in need in the United States, as well as her global reach. Mother Cabrini spent her final days at Chicago's former Columbus Hospital in Lincoln Park. In 2012, it reopened as The National Shrine of St. Frances Xavier Cabrini and consists of the beautifully restored chapel, a replica of the saint's room and original artifacts. She embraced and overcame great challenges in her mission and is the founder of the Missionary Sisters of the Sacred Heart of Jesus. The film includes enlightening interviews with author-scholar Achille Mascheroni, Sister Bridget Zanin, Father Richard Fragomeni, artist Meo Carbone, architect Christopher Payne, Sister Maria Regina Canale, Youth Ministers from the Archdiocese of Chicago, and more. With a special appearance by Il Grande Coro di Roma, conducted by Fabrizio Adriano Neri and filmed live in Rome performing an original hymn composed by Enzo De Rosa exclusively for this film.