Description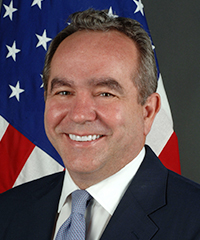 "U.S. Pivot to Asia: What Does it Mean
for the U.S.-China Relations?"
A Conversation Between Kurt Campbell and Susan Shirk


Date: Friday, June 7, 2013
Time: 4:30 - 6:00pm
Location: UC San Diego Campus, Institute of the Americas, Hojel Hall Auditorium
Open to: Public

Speaker: Kurt Campbell, Former Assistant Secretary of State for East Asian and Pacific Affairs, U.S. State Department and UC San Diego Alumnus

In this public talk, moderated by Professor Susan Shirk, Chair of the 21st Century China Program, Asian foreign policy consultant and UC San Diego alumnus Kurt Campbell will discuss U.S.-China relations and America's economic engagement with the Asia-Pacific. His role as former Assistant Secretary of State for East Asian and Pacific Affairs at the U.S. State Department took him to every corner of the region advocating for American interests and promoting trade and investment. He was widely credited as one of the key architects of "Pivot to Asia," a comprehensive strategy under the Obama administration aimed at advancing U.S. national interest in Asia.
Kurt Campbell currently heads The Asia Group, a strategic advisory firm he founded earlier this year. He sits as co-chairman of the board at the Center for a New American Security, a think tank he helped found in 2008. He is also a senior advisor to the 100,000 Strong Foundation, which seeks to strengthen U.S.-China ties through study abroad programs. He received his B.A. from UC San Diego and his Ph.D. in international relations from Oxford University, where he was a Distinguished Marshall Scholar.
In addition to the public talk, Campbell will also be honored as a distinguished alumnus during Alumni Weekend, June 6-9 on the UC San Diego campus.
A reception will be held at the conclusion of the lecture. Please contact Portia Bibb for event information.