US Legal System Explained
When and where
Location
Pasadena Convention Center (Rm #207) 300 E Green St Pasadena, CA 91101
Refund Policy
Contact the organizer to request a refund.
Description
US Legal System Explained
By Professor Raul C. Sabado, J.D.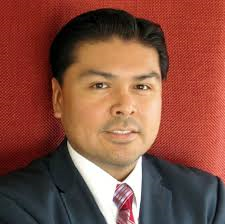 Whether you are a court interpreter, a legal translator or are simply interested in our legal system, you will not want to miss this great opportunity to learn from this experienced practitioner and educator!
*Please note – this workshop will be language neutral
About the workshop
In this intermediate to advanced level workshop Professor Sabado will explain the US Legal System with a special emphasis on the areas of trials and the structures of criminal, administrative and civil courts. Participants will be introduced to sources of American law and the systems by which the law is administered and enforced. Review the origins of law through the study of the U.S. Constitution and its development and adaptation into today's legal systems. Gain practical knowledge of the courts and their impact on everyday life.
As a participant, you will have ample opportunity to ask questions pertaining to information presented in this workshop as well as questions you may have from your own practice and/or studies.
Some key areas covered
I. Basic Information
a. Sources of American Law
b. Court Staff and Attorneys
II. Court Systems and Jurisdiction
a. Federal Courts
b. State Courts
c. Judicial Appointments
III. Types of Cases
a. Civil vs. Criminal
b. Purposes and Stages
c. Burdens of Proof
d. Motions and Constitutional protections
e. Trials and Appeals
IV. Administrative Hearings
a. Branches of Government
b. Administrative Law Judges
Continuing education credits
6 CIMCE CEUs (Court Interpreter Minimum Continuing Education)
6 ATA CE points (American Translators Association)
About the trainer
Raul C. Sabado – Biography
Raul C. Sabado is currently the president of the Law Offices of Sabado & Associates in Claremont, California. Sabado & Associates specializes in the fields of family, criminal, and business law. Mr. Sabado is also an arbitrator for the San Gabriel Valley Bar Association Lawyer Referral Service and teaches as an adjunct professor in the Political Science Department at Cal Poly University, Pomona. At Cal Poly he teaches courses such as Public Law, Trial Advocacy, and the American Judiciary.
As a lawyer, Mr. Sabado has personally represented thousands of clients throughout his nearly 10 years of legal practice. His experience includes having tried 50 jury and court trials to verdict. Prior to establishing his own firm, Mr. Sabado served as a trial attorney for the Los Angeles County Public Defender's Office for seven years. At the Public Defender's Office he represented a wide range of clients from those accused of simple traffic violations to clients who were faced with life sentences. Before working at the Public Defender's Office, he was an associate attorney at the Pasadena Law Offices of Guerrero & Chan, LLP, where he specialized in family law and civil litigation.
About the location
Pasadena Convention Center - Room #207
300 East Green St.
Pasadena, CA 91101
http://www.pasadenacenter.com/index.php/directions/location
From the 210 westbound Take the 210 freeway west to the Fair Oaks/Marengo exit. Turn left on Marengo and proceed 4 blocks to Green Street. Turn left onto Green Street, the Pasadena Convention Center is located on the right hand side at 300 E. Green.
From the 210 southbound Take the 210 freeway south to the Colorado Blvd exit on to St John Ave. Continue south on St John past Colorado Blvd and turn left onto Green Street. Travel five blocks east on Green Street. The Pasadena Convention Center is located on the right hand side at 300 E. Green.
From the 134 eastbound Take the 134 east to the 210 east and exit at Fair Oaks/Marengo. Turn right on Marengo and proceed 4 blocks to Green Street. Turn left onto Green Street. The Pasadena Convention Center is located on the right hand side at 300 E. Green.
From the 110 northbound Take the 110 freeway north to the end of the freeway. Proceed north on Arroyo Parkway. Turn right onto Green Street. The Pasadena Convention Center is located two blocks down on the right hand side at 300 E. Green.
On-site parking
$5 with voucher when parking at the Pasadena Convention Center Garage (regular price is $10). Workshop participants will be given a $5 voucher (courtesy of GlobalTradu Language Services) prior to the end of the workshop. Payment for parking is made when departing the parking garage.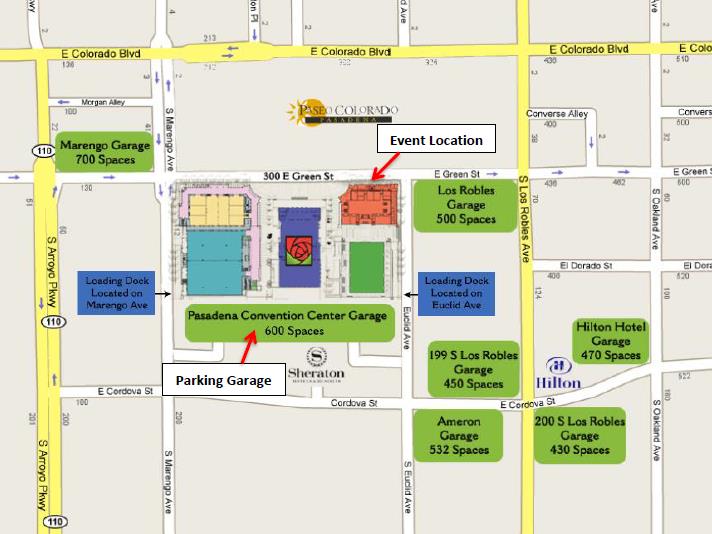 Additional event details
Check-in and late registration: 8:30 - 9:00am

Complimentary beverages

You may bring your own lunch or choose from the many eateries near the convention center
Alternative payment option
To pay by check, please contact GlobalTradu via telephone at
(909) 895-7400 or via email at info@globaltradu.com.
Cancellation policy
GlobalTradu LLC reserves the right to cancel any event due to lack of enrollment or other factors. In the event of a cancellation, registered participants will be notified by e-mail and will receive a complete refund. If a participant chooses to cancel their confirmed registration, or cannot or does not attend the workshop, the following refund criteria will apply:
Cancellations must be sent in writing to info@globaltradu.com

Cancellations received by Sept. 12th will be offered a 100% refund

Cancellations received by Sept. 16th will be offered a 50% refund

Cancellations received after Sept. 16th will not be offered a refund
We hope to see you there!
GlobalTradu Language Services