US JOBS Act and Crowdfunding: Reforming Capital Creation and Access with David Drake
When and where
Location
Sage Hall, Cornell University, Ithaca, NY, USA 114 East Avenue Ithaca, NY 14853
Description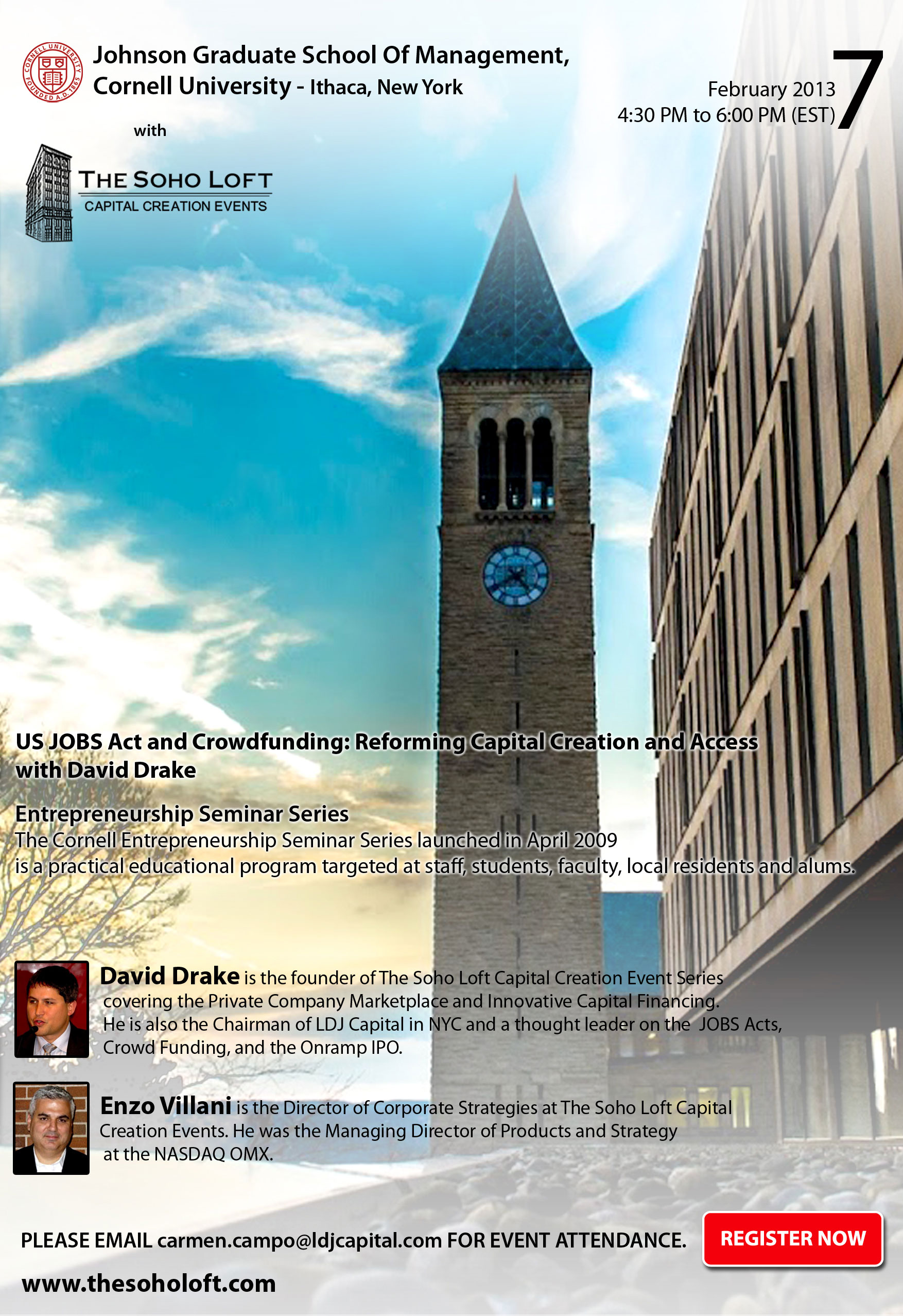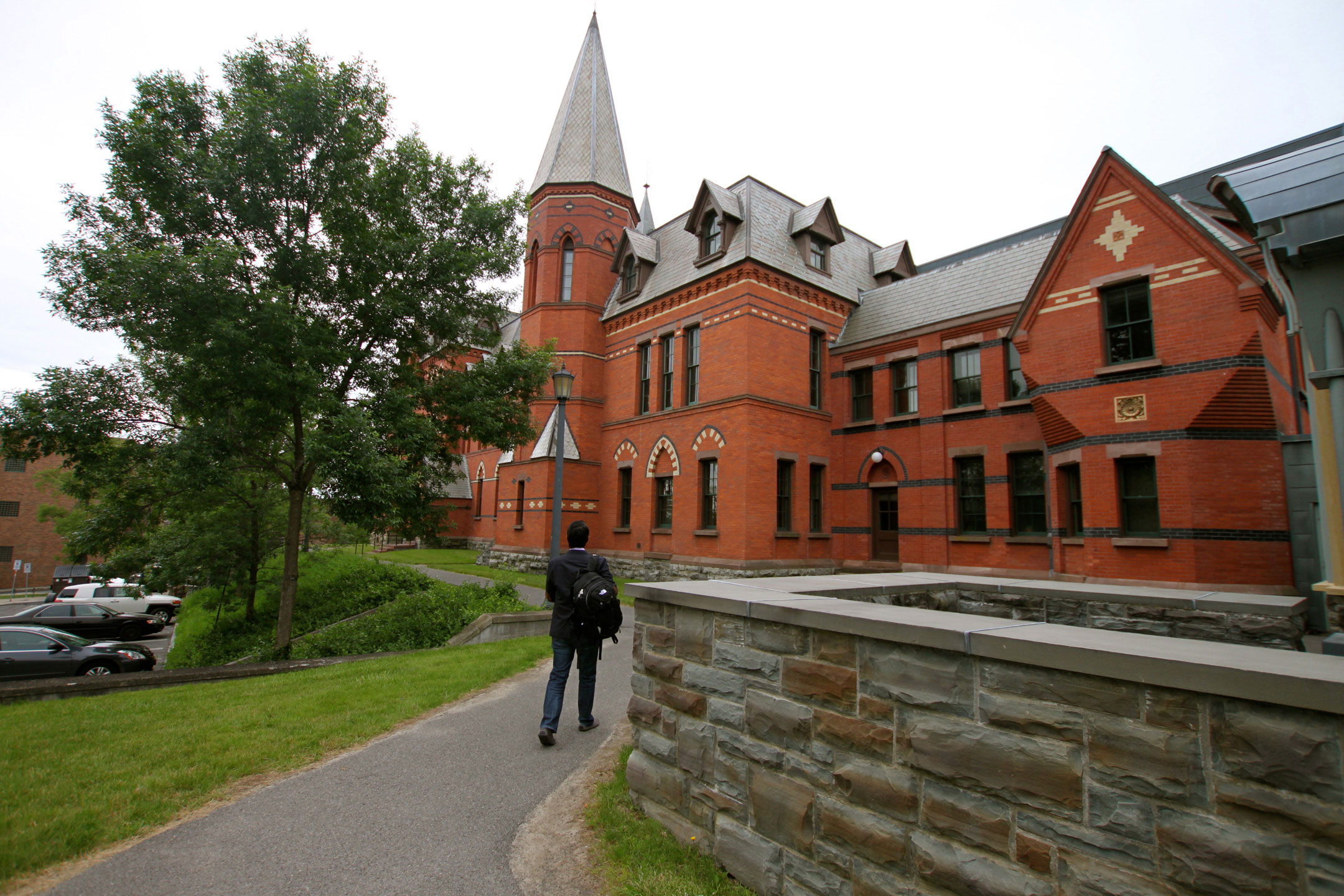 Image from http://www.mbamission.com
PLEASE EMAIL carmen.campo@ldjcapital.com FOR EVENT ATTENDANCE.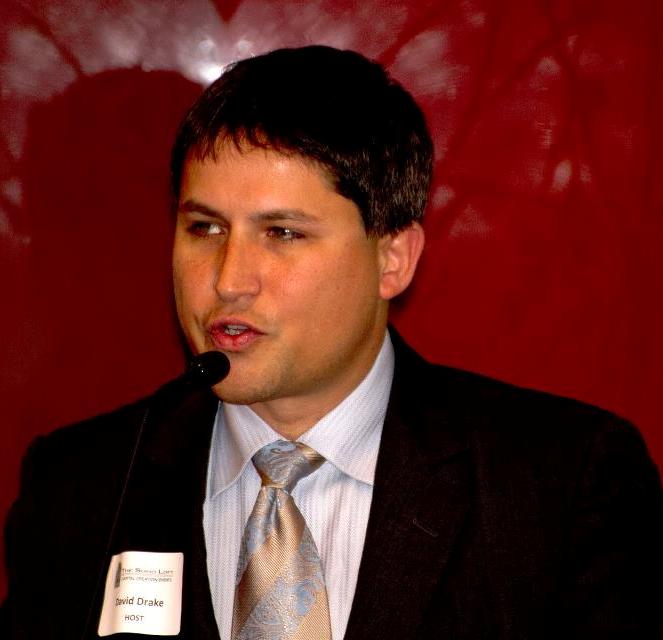 David Drake

David Drake is the founder and Chairman of LDJ Capital, a Private Equity firm in New York City, and of its subsidiary The Soho Loft Capital Creation Event Series ("TSL"), a global events and media company covering education and creation of financial innovation programs for the Private Company Marketplace.
His investment in The Soho Loft Capital Creation Events educates start-ups and Small & Medium-sized Enterprises in the areas of capital formation, capital access, crowd funding, angel capital including, but not limited to expertise on eb5 green card programs, micro finance, venture capital and private equity. His proclivity towards impact investments interleaves directly with the Private Company Marketplace and his TMT investment strategies and family office clients at his holding company LDJ Capital. His network extends across all continents and allows access to financing in the Private Company Marketplace from hedge funds, high net-worth investors, Sovereign Wealth Funds, private equity firms, family offices to institutional pension funds and fund of funds.
This geographical capital market access is in, but not limited to, US markets and London with exceptional relationships and focus supported by regular road shows to Amsterdam, Abu Dhabi, Dubai, Bahrain, Zurich, Geneva, Frankfurt, Hamburg and Hong Kong. LDJ Capital is headquartered in New York, with partner offices in Zurich, Stockholm, London, Abu Dhabi and Singapore.
Mr Drake is the founder and former Executive Board member of Crowdfund Intermediary Regulatory Advocates (CFIRA) and the Crowdfunding Professional Association (CfPA) which are the leading global organizations in this space. The nascent crowd funding phenomena is the largest new financial instrument SMEs and start-ups have ever seen. David was involved in lobbying Senators and Congressmen for the JOBS Act which President Obama signed into law April 5, 2012. The Securities and Exchange Commission and FINRA works with Mr. Drake through CFIRA to identify best practices in the Crowd Funding industry. He was a member of the U.S. Commerce Department's delegation to Brussels and Rome where he met with European Ministers and national legislators at the Transatlantic Economic Council forum last July 2012.
As a thought leader on the JOBS Act (Jumpstart Our Business Start-Ups Act) including Reg A+, Reg D 506, Crowd Funding Capital and Onramp IPO, he speaks and writes extensively on these topics all over the USA and globally. He presented on the JOBS Act and Dodd-Frank Act at the Thomas Reuters Buyout Conference in Dallas (alongside KKR, Carlyle, Texas Retirement Fund, Deutsche Bank), at the World Entrepreneurship Forum in Lyon, France, and at the Puerto Rico Venture Forum including other 150+ events globally in the last 18 months. He also writes extensively on these topics of his expertise and has editorials published in leading global industry websites such as:www.forbes.com, www.pehub.com, www.equities.com,www.crowdsourcing.org,www.cfira.org,www.globeforum.com, and www.sme-world.com, to name a few.
For charity, Mr. Drake hosted the Harvard Club and Boston Symphony performances at his home and sat on the advisory board of Best Buddies Charity for autistic kids. Mr. Drake has been behind raising money for charities through his participation in producing the Carnegie Hall concert series.
Mr. Drake speaks six languages and holds Bachelor's Degrees in both Chemistry and Marketing from the American University in Washington, D.C. He has an MBA in Finance and an MA in International Law and Economics from George Washington University where he was awarded the Wallenberg Scholarship for academic merit.
Enzo Villani
Mr. Enzo Villani joins The Soho Loft to head its Corporate Strategies. Previously Mr. Villani was the Managing Director of Products and Strategy at the NASDAQ OMX. He established NASDAQ Corporate Services through a series of alliances and acquisitions and in 2006 he lead the acquisition of Shareholder.com and Prime Zone Media Network (now GlobeNewswire). Corporate Services has developed into a growth business line in NASDAQ OMX and continues to develop new products and services for public companies.Since 2006, Mr. Villani has completed over $400 million in acquisitions focused on investor relations, corporate communications, financial technology, media, and trading exchange industries.
In 2010, Enzo became a member of the MZ Group Board of Directors as an independent director. He sold Ilios Partners to MZ Group in 2011 and then advised on the acquisition and integration of Hayden International (HCI). MZ Group North America was launched by combining Ilios and HCI under the MZ Group umbrella. MZ NA consults over 100 clients including Cisco, Under Armour, Lincoln Financial, and Prudential.
Before launching Villani Advisors, Mr. Villani was a founding member, EVP & Chief Strategy Officer of DF King Worldwide (formerly Sage Holdings). King Worldwide is the leading global Stakeholder Management and Financial Communications firm. Formed in 2007 as a private equity backed acquisition vehicle through The Riverside Company, the King Worldwide family now comprises of D. F. King & Co., M:Communications, Hallvarsson & Halvarsson, Capital Precision, Broadgate Consultants, Taylor Rafferty and Donlin Recano. D. F. King Worldwide employs over 900 professionals with offices in New York, London, Munich, Stockholm, Dubai, Hong Kong, Tokyo and Taipei.
In 1998, Mr. Villani co-founded Rivet Integrated Marketing. As CEO, Enzo developed a pioneering methodology for integrating traditional and interactive marketing. Rivet's clients included: NASDAQ, Citibank, R/GA, AOL Time Warner, Kx Systems, Track Data Securities, and The Ford Foundation. Prior to Rivet, he was Director of Internet Development at Integrated Office Solutions (IOS), a system integrator and Microsoft Gold Partner servicing the top 10 investment banks sold to Exodus Communications. Mr. Villani pioneered early web design and development for Modem Media, Byron Preiss Multimedia, MSNBC, and Intel. Mr. Villani holds a Masters in Business Administration from The Johnson School at Cornell University and completed his Bachelor of Arts from Iona College while working on the block equities desk for Lehman Brothers. He has studied at Pratt Institute and at The School of Visual Arts.
Entrepreneurship Seminar Series
The Cornell Entrepreneurship Seminar Series launched in April 2009 is a practical educational program targeted at staff, students, faculty, local residents and alums.


November 28, 2012
Minister Gligor Tashkovich talks about his entrepreneurial endeavors in Macedonia.


October 22, 2012
Pulakesh Mukherjee from BASF Ventures talks about corporate VC investing and strategy.


October 16, 2012
Elisa Miller-Out discusses the definition of a B corporation and the benefits of becoming one.


October 15, 2012
Jennifer Dulski from Google talks about lesson that she learned in founding and growing DealMap until its exit to Google.


September 13, 2012
Joshua Fox and Laura Schneider of Wilmer Hale LLP address key startup legal issues.


February 28, 2012
Elisa Miller-Out discusses the definition of a B corporation and the benefits of becoming one.


November 8, 2011
Eric Young, General Partner, Canaan Partners


October 24, 2011
A discussion between Jeremy Kroll and Kim Diamond moderated by 2003 Cornell Entrepreneur of the Year, Jules Kroll.


September 19, 2011
Gururaj Deshpande, Chairman of Sparta Group LLC, A123 Systems (AONE), Sycamore Networks (SCMR), Tejas Networks, Sandstone Capital and HiveFire.

April 1, 2011
Todd Glass, Partner, Wilson Sonsini Goodrich & Rosati


November 19, 2010
Richard Warshauer, Senior Managing Director, Colliers International


April 23, 2010
Nasir Ali, CEO and Co-founder, Upstate Venture Connect.
Upstate Venture Connect is a new web-based initiative built on the premise of increasing collaboration between existing institutions, resources and world class human assets in Upstate NY
November 20, 2009
Ted Julian, Entrepreneur


September 18, 2009
David Rickerby, Choate, Hall and Steward, LLP
Jonathan Schaffer, MBA Candidate, Johnson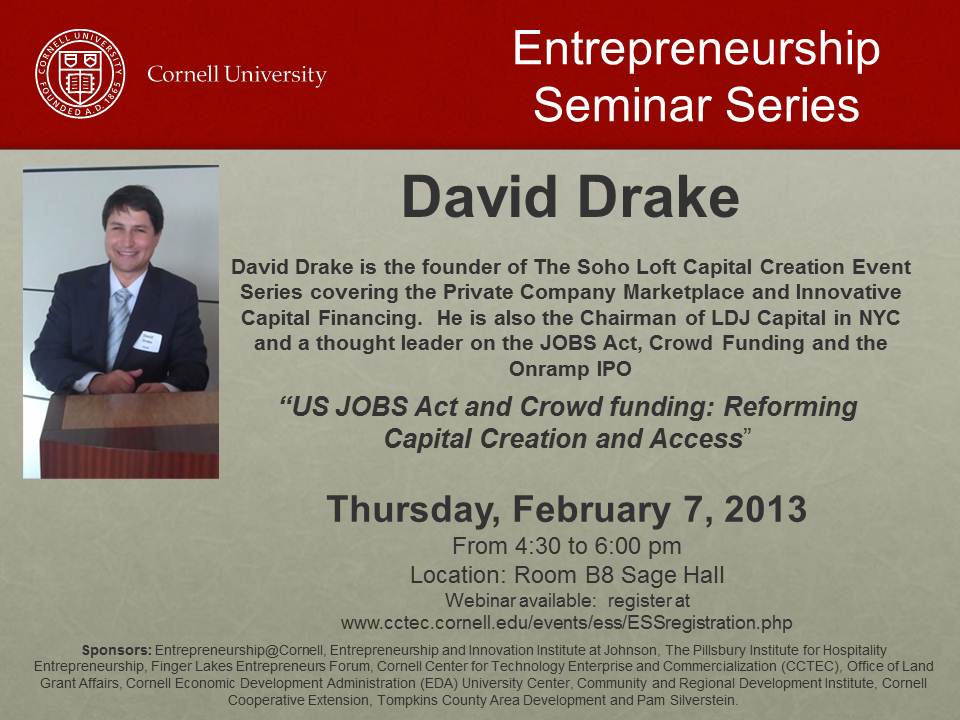 PLEASE EMAIL carmen.campo@ldjcapital.com FOR EVENT ATTENDANCE.