This event will help you understand the U.S. Immigration system relative to various opportunities for entrepreneurs or investors.
About this event
If you own one (or more) very successful and lucrative business(es) and want to expand your brand to the U.S., or if you are an investor - whether you know what business you want to invest in or not, this webinar is for you. The U.S. has a strong interest in foreign entrepreneurs or investors whose activities create jobs for Americans and contribute to the economic and social development of the nation. Through investment, you may not only get U.S. permanent residency for yourself and your spouse, but also for your children under 21 years of age who may become eligible for lower or free college/university tuition fees as U.S. residents.
We have seasoned investment resource providers with multiple brands that investors could buy into for immigration purposes and for long term wealth creation. The ultimate decision to invest rests on the investor.
The host of this event is Dr. Martins Imudia who is a U.S. immigrant himself, and has risen to become one of the best immigration attorneys in the U.S. He helps immigrants from all over the world to achieve their American dreams.
This event is powered by Center for U.S. Immigration Services (CFUIS). CFUIS provides U.S. immigration solutions to families, investors and businesses. It has exclusively focused on immigration law and relocation services with the attorneys' experience spanning over 20 years.
Registration: FREE
Event Venue: ONLINE
Event Date: 23rd September 2021
Event Time: 11am to 1pm Eastern Time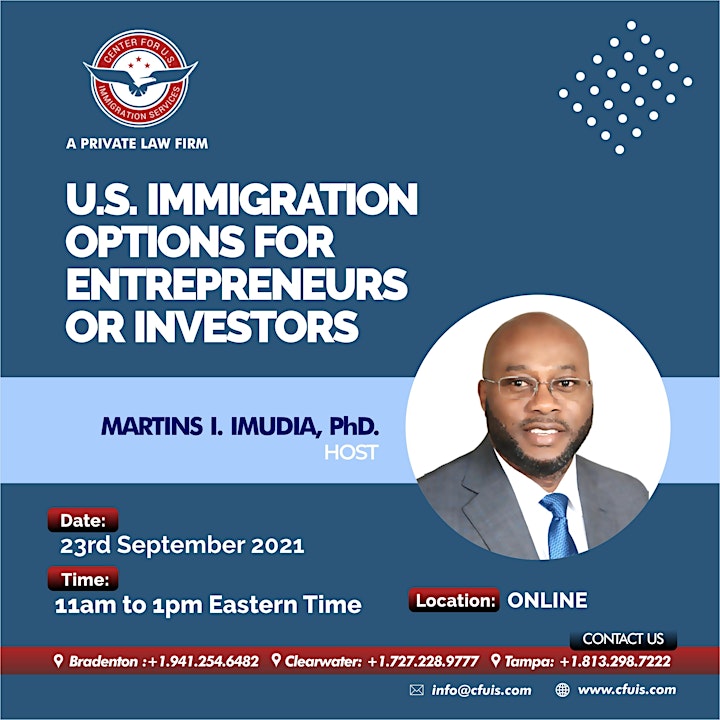 Organizer of U.S. Immigration Options for Entrepreneurs or Investors