Description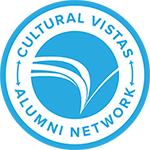 Cultural Vistas is very excited to invite you to our second alumni get-together in Tokyo, Japan as part of the Cultural Vistas Alumni Network! This is an opportunity to network with alumni from various programs and to reconnect as we reminisce about our international exchange experiences.
Come meet and catch up with other alumni, as well as our very own Sarah Bashaw, Assistant Program Director, Rachel Reed, Program Officer, and Richard Bobo, Alumni Relations Officer.
Appetizers will be provided.
Please RSVP by Tuesday, January 17 and email alumni@culturalvistas.org if you have any questions.
NOTE: Please note that the location for this event will be our initial meeting place. We will have a drink there and then may eventually move to another restaurant or bar location.
---
This event is offered as part of the Cultural Vistas Alumni Network and is open to alumni of Cultural Vistas' exchange programs. This includes but is not limited to the Japan IDYL, TOMODACHI, Kizuna, and more.
If you are no longer living in the region, please consider updating your contact information.