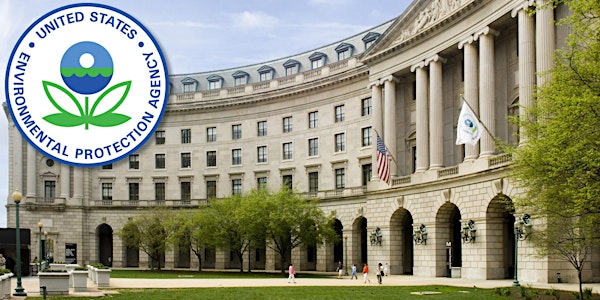 U.S. EPA: TSCA New Chemicals Program Public Meeting
Description
EPA will use your registration information solely for this event. We will not share your information with any third party. If you require special accommodations, please contact Emily Connor at (301) 347-5197 or emily_connor@abtassoc.com, preferably by at least 10 days prior to the meeting, to make arrangements.
EPA's Office of Chemical Safety and Pollution Prevention is hosting a public meeting to engage with interested stakeholders on the implementation of EPA's TSCA New Chemicals program. The meeting will be held on December 10, 2019 from 10 a.m. to 3 p.m. at 1201 Constitution Avenue, NW, Washington, DC, 20460 and via webinar. For information on visiting EPA headquarters, including identification requirements, visit https://www.epa.gov/aboutepa/visiting-epa-headquarters.
At the meeting, EPA will

provide an overview of EPA's updated "Working Approach" document,

demonstrate how EPA has used concepts in the Working Approach to reach conclusions and make determinations,

update confidential business information process improvements and clarifications, and

discuss its progress on transparency in the TSCA New Chemicals program.
Members of the public may register to speak at the meeting and share their views by selecting one of the "Attend and speak" options. Please register to speak by December 6, 2019. Attendees that do not wish to speak at the meeting can select one of the "Attend and listen-only" options. While on-site registration for both attendance and speaking will be permitted, priority will be given to those who pre-register by the deadline. Instructions for accessing the meeting via webinar will be sent to registered attendees prior to the meeting.

Read the Federal Register Notice announcing the meeting.
Organizer of U.S. EPA: TSCA New Chemicals Program Public Meeting
OPPT manages programs under the Toxic Substances Control Act and the Pollution Prevention Act. Under these laws, EPA evaluates new and existing chemicals and their risks, and finds ways to prevent or reduce pollution before it gets into the environment. We also manage a variety of environmental stewardship programs that encourage companies to reduce and prevent pollution. OPPT implements the Toxic Substances Control Act, the Pollution Prevention Act and Section 313 of the Emergency Planning and Community Right-to-Know Act.