Description
What do you DO at Bryce Canyon in the Fall? It's actually my favorite time of year to visit. The crowds are gone. The hoodoos are sometimes topped with sugary snow, the air is crisp and clean, the hiking, bikeriding, and sight seeing are GREAT! Being at Bryce during the Fall is the best!
Ask yourself…Have you invested much fun or focus into your relationship lately? We spend a lot of time, money, and energy keeping our bodies fed and healthy, kids busy and educated, homes comfortable and safe, minds entertained and stimulated. How about your most important partnership?
This workshop is truly one of the best investments you could make, and it's happening in one of the most beautiful places on earth.
As for the workshop, the Gottman 7 Principles workshop (see below for full schedule) is a find for couples at any stage in their relationship. It's based on decades of data and research regarding relationship satisfaction, and follows the outline of the groundbreaking book, 7 Principles for Making Marriage Work, by John Gottman.
Many people shy away from marriage workshops because they are worried about self-disclosure or embarrassment in a group. I can guarantee there will be none of that here. Fun, positivity, and time to make your life better together, offered in a place that begs you to connect. You will have time to enjoy the scenery and each other while developing skills to strengthen closeness and increase intimacy.
I love the atmosphere in Bryce Canyon. And the thought of a cozy retreat. I love the great information in a Gottman workshop. The two combined are like a great marriage! (Read more about the presenter HERE.)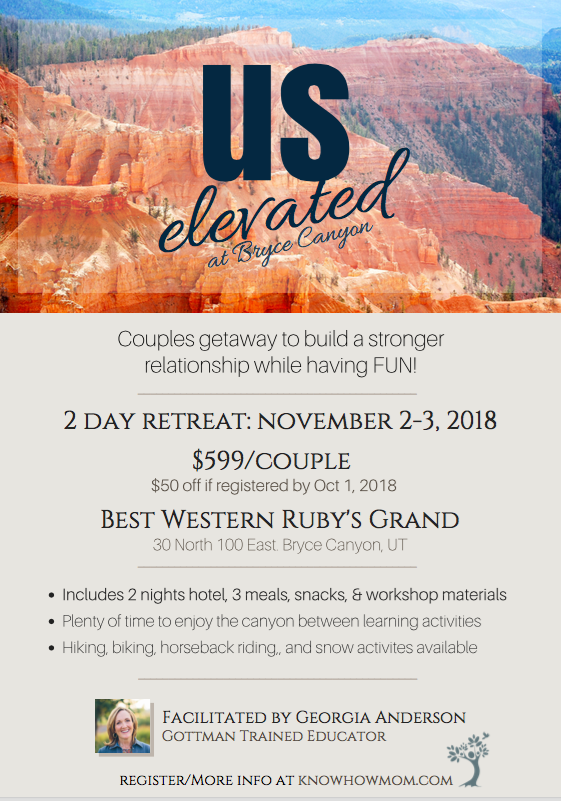 FAQs
Who is this workshop intended for?
The Seven Principles Program is appropriate for:
Couples contemplating engagement
Pre-marital couples
Newlyweds
Couples married for decades
The Seven Principles Program is Inappropriate for:
Couples in severe relationship distress
Significant emotional or physical abuse
Mental health problems
Relationships where one or both partners are addicted to drugs, alchochol, or other compulsive behavior.
What can/can't I bring to the event?
Babies under six months are welcome, as long as you exit workshop room if baby becomes disruptive.
If you want to enjoy activities in the park, bring good shoes and clothing for that purpose. Workshop: casual clothing.
Where can I contact the organizer with any questions?
Contact Georgia at knowhowmom@gmail.com
Is my registration/ticket transferrable?
Yes, to another couple. There are, however, no refunds.
Can I update my registration information?
No problem. Update away.
What does the workshop fee include?
Workshop fee includes:
Workshop
2 nights Hotel (1 king or 2 queens based on avaialbliltiy)
All materials needed for workshop
Snacks and drinks during workshop
2 breakfasts, Friday lunch
Free app for couples exercises to do prior to workshop, on the way there.
Workshop fee does not include:
Meals not listed
National Parks admission
Transportation
What is the workshop schedule?
SCHEDULE: (Subject to change based on interest of group)
FRIDAY:
8:00 am
Workshop Begins
Welcome
Overview of research
Love Maps, Fondness and Admiration
12:00 pm
Box lunch (provided)
How to have stress reducing conversations
Maintainting Positive Perspective
2:00 pm
Break for recreation, dinner on your own (optional group activity and dinner)
6:30 pm
Workshop resumes
Managing conflict, part 1
9:30 pm
Finish for the day
SATURDAY:
9:00 am
Managing conflict, part 2
Dreams, Plans, and Shared Meaning
12:30pm
Workshop concluded