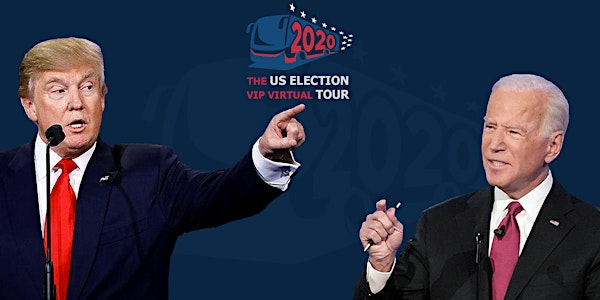 US ELECTIONS - THE VIP (VIRTUAL) TOUR
A VIP virtual tour that will give you an exclusive look into the 2020 US Elections from both Republican and Democrat candidates and parties.
About this event
ENGLISH
(Información en Español abajo)
A phenomenal VIP tour that will open an exclusive virtual window into one of the most important elections in U.S. history.  We will bring together the greatest American political professional pundits who will explain various aspects of the campaigns and candidates from the Democratic and Republican parties.
Our program will include:
Opportunities to volunteer for the Democratic or Republican presidential campaign.
Post presidential debate analysis with an expert in debate and public speaking. 
Keynote sessions that will analyze and explain the strategies used by both campaigns, as well as their digital efforts and methodology used to reach voters. 
Sessions on the strategies and tools that campaigns are using, their differences, and which strategies are working best. 
Panel discussion on the policies of each candidate and what they mean to Europe, Mexico and the rest of the world. 
Analysis of the most viral political ads with experts who are revolutionizing the way of advertising. 
The 2016 U.S. Election Tour was one of the most successful events we have had in the last decade, with 500+ attendees from 40+ countries. The 2020 U.S. Election Tour will be an exclusive first-level event that you simply cannot miss.
ESPAÑOL
Un recorrido VIP fenomenal que abrirá una ventana virtual exclusiva a una de las elecciones más importantes de la historia de Estados Unidos. Reuniremos a los más grandes expertos políticos estadounidenses que explicarán varios aspectos de las campañas y candidatos de los partidos demócrata y republicano.
Nuestro programa incluirá:
Oportunidades para ser voluntario para la campaña presidencial demócrata o republicana.
Análisis post debate presidencial con un experto en debate y oratoria.
Sesiones magistrales que analizarán y explicarán las estrategias utilizadas por ambas campañas, así como sus esfuerzos digitales y la metodología utilizada para llegar a los votantes.
Sesiones sobre las estrategias y herramientas que utilizan las campañas, sus diferencias y las estrategias que funcionaron mejor.
Paneles de discusión sobre las políticas de cada candidato y lo que significan para Europa, México y el resto del mundo.
Análisis de los anuncios políticos más virales con expertos que están revolucionando la forma de hacer publicidad.
Transmisiones y entrevistas exclusivas con corresponsales de varios centros de campaña y distritos electorales.
El US Election Tour 2016 fue uno de los eventos más exitosos que hemos tenido en la última década, con más de 500 asistentes de más de 40 países. El Tour Electoral de EE. UU. 2020 será un evento exclusivo de primer nivel que simplemente no te puedes perder.