US Election Results and Implications for Taiwan: A One Month Assessment
Sales Have Ended
Registrations are closed
Don't miss out on future Sigur Center events, so subscribe to our event newsletter https://signup.e2ma.net/signup/1899286/1892690/ or follow us on Twitter @GWUSigurCenter.
Sales Have Ended
Registrations are closed
Don't miss out on future Sigur Center events, so subscribe to our event newsletter https://signup.e2ma.net/signup/1899286/1892690/ or follow us on Twitter @GWUSigurCenter.
Don't miss our final fall Taiwan Roundtable!
About this event
What does a change of guard in Washington mean for the special US-Taiwan relationship? What issues are at stake and how are they likely to be impacted by a Biden administration versus a Trump administration?
Join the Sigur Center for Asian Studies for a discussion with influential experts in the US and Taiwan for their perspectives on what we can expect as we look ahead to the next four years on topics from cross-Strait relations, US-Taiwan free trade agreement, and post-pandemic recovery.
Welcome Remarks: Benjamin D. Hopkins, Director, Sigur Center for Asian Studies
Expert Panel:
Presidential Change in Washington: Continuity or Change in US-Taiwan Relations?: Robert Sutter, Professor of Practice of International Affairs, GW
A Congressional View on US-Taiwan Relations: Sarah Trister, Foreign Policy Advisor to Senator Ed Markey (D-MA)
Taiwan's Perspectives on Challenges and Opportunities in a Biden Era: Hung-jen Wang, Associate Professor at National Cheng Kung University in Tainan
Discussant: Lev Nachman, Visiting Scholar at National Taiwan University in Taipei
Moderator: Deepa M. Ollapally, Associate Director, Sigur Center for Asian Studies
The event will feature an extensive period for audience Q&A.
Registered guests will receive a confirmation email with details for joining the WebEx event 24 hours prior to the event. Guests will be able to join the event via a web browser, using the WebEx computer or mobile app, or by calling in. Please follow the instructions on the confirmation email for more details. Registration closes at 1pm EST on Tuesday, December 8.
This event is on the record, open to the public, and will be recorded. Advance questions are strongly encouraged due to the anticipated volume and limited Q&A time; please submit questions to gsigur@gwu.edu with subject "Taiwan Roundtable Q&A."
Media inquiries must be sent to gwmedia@gwu.edu. Accessibility requests must be sent to gsigur@gwu.edu at least 3 business days in advance.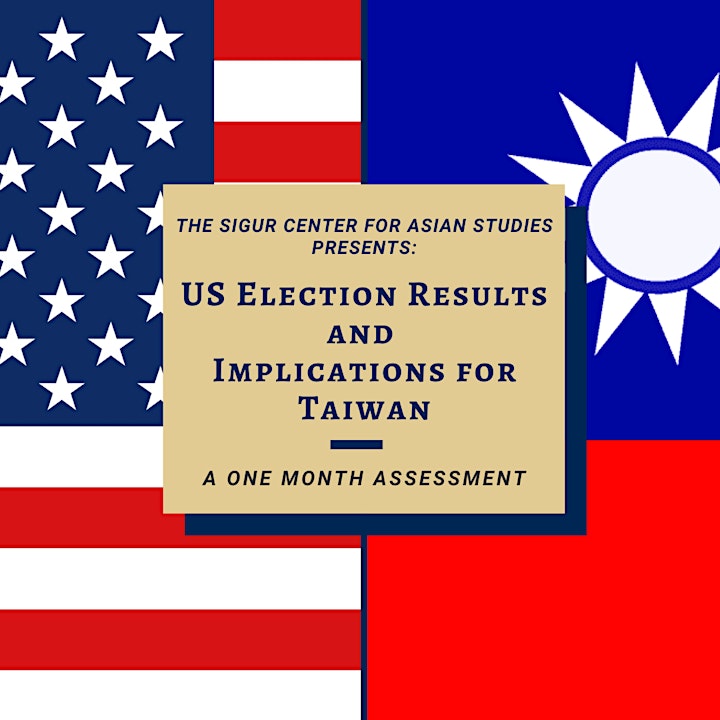 BENJAMIN D. HOPKINS is Director of the Sigur Center for Asian Studies. Hopkins is a historian of modern South Asia, specializing in the history of Afghanistan and British imperialism on the Indian subcontinent. He has authored, co-authored, and co-edited numerous books on the region. Hopkins has received fellowships from the Council on Foreign Relations, the National University of Singapore, the School for Advanced Research in Santa Fe, and the Wilson Center in DC. Writing for the public, he has been featured in The New York Times, The National Interest, and the BBC.
Hopkins holds a PhD from the University of Cambridge and BSc from the London School of Economics. @GWUSigurCenter
LEV NACHMAN is a Visiting Scholar at the National Taiwan University. He was a 2019 scholar at the Global Taiwan Institute and 2019-2020 Fulbright Student awardee to Taiwan. His research focuses on the relationship between social movements and political parties, with a special regional interest in Taiwan and Hong Kong. Previously, Nachman was the Editorial Assistant at the American Chamber of Commerce in Taipei. He has written for The Washington Post, Foreign Policy, The Diplomat, East Asia Forum, Political Research Quarterly, Asian Survey, International Journal of Taiwan Studies, and the Asian Journal of Social Science, and The Journal of Asian Studies.
Nachman holds a MA in International Studies from Johns Hopkins University's Nanjing Center and a BA from the University of Puget Sound. He is a Ph.D. candidate in Political Science at the University of California, Irvine. @LNachman32
DEEPA M. OLLAPALLY is the Associate Director of the Sigur Center for Asian Studies and Director of the Rising Powers Initiative. She is currently working on a funded book, Big Power Competition for Influence in the Indian Ocean Region, which assesses the shifting patterns of geopolitical influence by major powers in the region and drivers of these changes. Ollapally has received major grants from the Smith Richardson Foundation, US Department of State, Carnegie Corporation, MacArthur Foundation, Ford Foundation, the Rockefeller Foundation, and the Asia Foundation for projects related to India and Asia. She is a frequent commentator in the media, including appearances on CNN, BBC, CBS, Reuters TV, and the Diane Rehm Show.
Ollapally holds a PhD from Columbia University. @DeepaOllapally
ROBERT SUTTER is Professor of Practice of International Affairs at the Elliott School of International Affairs (2011-Present). Sutter is a prolific author of books, articles, and government reports dealing with contemporary East Asian and Pacific countries and their relations with the United States. His most recent book is Chinese Foreign Relations: Power and Policy of an Emerging Global Force, 5th edition (Rowman & Littlefield, 2020). Sutter's government career (1968-2001) saw service as Senior Specialist and Director of the Foreign Affairs and National Defense Division of the Congressional Research Service, the National Intelligence Officer for East Asia and the Pacific for the National Intelligence Council, the China Division Director at the Department of State's Bureau of Intelligence and Research, and a professional staff member of the Senate Foreign Relations Committee.
Sutter holds a PhD from Harvard University. @GWUSigurCenter
SARAH TRISTER is the Foreign Policy Advisor for Senator Edward J Markey (D-MA), who is the lead Democrat on the East Asia Subcommittee of the Senate Foreign Relations Committee. She served for six years as Deputy Chief of Staff for Congressman David N. Cicilline (D-RI) where she was also his senior foreign policy advisor. She previously worked as a Senior Advocacy Manager at Freedom House and policy staff for Congressman John Olver (D-MA). Trister's expertise is in international affairs, national security, human rights, LGBTI issues, and the U.S. Congress. She's a Term Member of the Council on Foreign Relations.
Trister is a graduate of the University of Miami (FL) and she holds a MA in American government and international relations from Georgetown University. @SarahTrister
HUNG-JEN WANG is an Associate Professor of Political Science at National Cheng Kung University in Taiwan and a non-resident scholar at GW's East Asia National Resource Center. Wang was a Fulbright Senior Scholar and a non-resident scholar at the Sigur Center in 2019-2020. Previously he held research positions at the Center for UN Constitutional Research in Brussels, Stimson Center in DC, University of Hamburg, and at the University of Duisburg-Essen. His research interests include global governance, international relations of East Asia, cross-Strait relations, and Chinese foreign policy. Wang has authored numerous books and journal articles, most recently as the co-author of China and International Theory: The Balance of Relationships (Routledge: Taylor & Francis Group, 2019) and author of "Chinese IR Scholarship as a Relational Epistemology in the Study of China's Rise" in The China Quarterly's April 2020 edition.
Wang holds a PhD in Political Science from the University of Tübingen in Germany, MAs from the University of Denver and Queen's University of Belfast, and a BA from National Taiwan University. @NCKU_official
Organizer of US Election Results and Implications for Taiwan: A One Month Assessment
The Sigur Center for Asian Studies is a university research institute and the academic home of the Asian Studies Program of the Elliott School of International Affairs at the George Washington University. Its mission is to increase the quality and broaden the scope of scholarly research and publication on Asia, promote US-Asian scholarly interaction, and educate a new generation of students, scholars, analysts, and policymakers. The Sigur Center promotes research and policy analysis on East Asia, Northeast Asia, Southeast Asia, and South Asia through an active program of publishing, teaching, public events, and policy engagement. The Center offers students the largest Asian Studies program in the Washington, DC metropolitan region, with 60+ faculty members working on Asia.