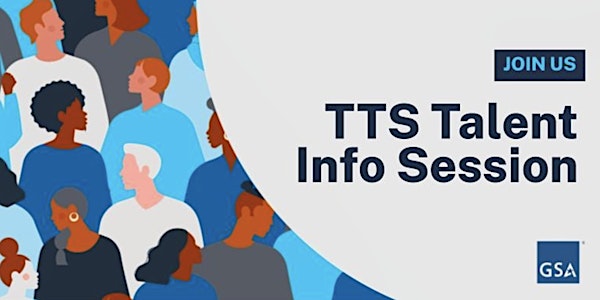 U.S. Digital Corps Fellow Experience Supervisor Info Session
Please join us to learn more about the USDC Fellow Experience Supervisor role!
About this event
Join Caitlin Gandhi, U.S. Digital Corps Co-Founder, for a thoughtful and candid conversation where we'll share:
An overview of the U.S. Digital Corps and Technology Transformation Services (TTS)
Information about the Fellow Experience Supervisor role
Application guidance and tips
The hiring & interview process
Next steps
Q&A
About the U.S. Digital Corps: The U.S. Digital Corps was launched in August 2021 by the Biden-Harris administration and is operated by GSA's Technology Transformation Services (TTS).
It is a two-year fellowship for early-career technologists to work in government with a path to career positions— with the goal of building a deep, sustainable tech talent pipeline for federal agencies.
How to attend
Thank you for your interest in this TTS Talent event. Please contact us directly at jointts@gsa.gov if you need accessible accommodations to register or be able to attend the event.
Two important items!
Once you register and before the event, you will need to download the Zoom web browser client in order to attend this event. Visit the Zoom Download Center to install.
Be sure to check your email, as the Zoom link and password will be sent 24 hours and 1 hour prior to our event start time for anyone that registers. The email subject line will contain the event name.
Please click "Register" to sign up and reserve your spot for the event.
This event will be held and recorded over Zoom for Government. For general questions about the tool, please review the Zoom computer and device requirements and FAQs. If you have specific questions or security concerns about Zoom for Government, please visit ZoomGov.com.
About the Technology Transformation Services
Technology Transformation Services (TTS) designs and delivers a digital government with and for the American public. We help government agencies make their services more accessible, efficient, and effective with modern applications, platforms, processes, personnel, and software solutions.
About the U.S. General Services Administration (GSA)
The mission of the U.S. General Services Administration is to deliver value and savings in real estate, acquisition, technology, and other mission-support services across the government. One of GSA's four strategic goals is to improve the way agencies buy, build, and use technology.
Join the conversation on social media at @USGSA and @GSA_TTS