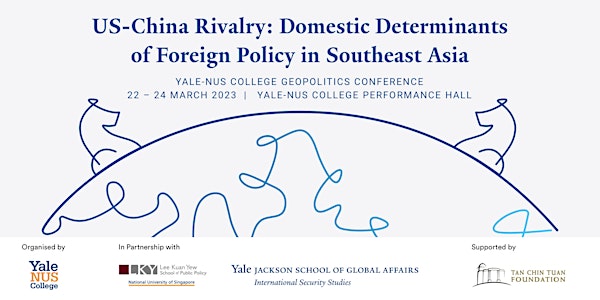 US-China Rivalry: Domestic Determinants of Foreign Policy in Southeast Asia
Join us at Yale-NUS College Performance Hall, from 22 – 24 March 2023, for the Yale-NUS College Geopolitics Conference.
Date and time
Wed, 22 Mar 2023 18:00 - Fri, 24 Mar 2023 13:00 +08
Location
Yale-NUS College Performance Hall 16 College Avenue West Singapore, 138527 Singapore
About this event
1 day 19 hours

Mobile eTicket
The United States-China strategic competition is often seen as a rivalry confined to the two great powers in which secondary states do not have much influence. The calls for secondary states to "choose sides" are undertaken with limited understanding of how domestic processes in secondary states shape the choices they make. As much as electoral cycles, leadership changes, and domestic politics in the US and China affect their policies towards each other, elections and domestic factors also influence how secondary states respond to the US-China rivalry.
This conference focuses on how domestic politics shape the foreign policy of Southeast Asian countries, particularly how they position themselves between the US and China. Southeast Asian countries are undergoing elections in the next few years, and a new generation of leaders and political parties are poised to take over. The Philippines appointed a new president, Ferdinand Marcos, in 2022. In 2023, Thailand faces calls for fresh elections. In Cambodia, Hun Manet, has been designated to succeed his father, Hun Sen. Indonesia and Singapore will also see election cycles in 2024-2025, ushering in new leaders to succeed Joko Widodo and Lee Hsien Loong. How will the sea change in domestic politics shape the foreign policy of these countries with respect to the US and China? This conference examines the variables of domestic politics, political institutions, and leadership in shaping the foreign policy choices of secondary states and their implications for US-China relations in the region.
This conference is organised by Yale-NUS College, in partnership with the Lee Kuan Yew School of Public Policy and Yale Jackson School of Global Affairs, and supported by the Tan Chin Tuan Chinese Culture & Civilisation Programme.
If you are unable to join us physically,
Keynote Addresses
Professor Khong Yuen Foong, Li Ka Shing Professor in Political Science, Lee Kuan Yew School of Public Policy, National University of Singapore
Mr Ryan Hass, Senior Fellow and Michael H. Armacost Chair, Brookings Institution; Nonresident Fellow, Yale Law School
Paper Authors
Dr Adhi Priamarizki, Research Fellow, S. Rajaratnam School of International Studies, Nanyang Technological University
Ms Hoang Thi Ha, Senior Fellow and Co-coordinator, Regional Strategic and Political Studies Programme, ISEAS-Yusof Ishak Institute
Professor Dr Kuik Cheng-Chwee, Professor in International Relations, National University of Malaysia (UKM)
Assistant Professor Pongphisoot Busbarat, Director, Institute of Security and International Studies, and Assistant Dean of the Faculty of Political Science, Chulalongkorn University
Mr Raymund Joe Quilop, Former Associate Professor of Political Science, University of the Philippines
Dr Soulatha Sayalath, Independent Researcher
Associate Professor Terence Lee, Associate Professor, Department of Political Science, National University of Singapore
Discussants
Professor Alice D. Ba, Professor of Political Science & International Relations, University of Delaware
Professor Arne Westad, Elihu Professor of History and Global Affairs, Yale University
Associate Professor Chin-Hao Huang, Associate Professor of Social Sciences (Political Science), Yale-NUS College
Mr David Rank, Senior Fellow, Yale University, Jackson School of Global Affairs
Professor Mely Caballero-Anthony, Professor of International Relations Associate Dean (International Engagement); Head of Centre for Non-Traditional Security Studies; President's Chair in International Relations and Security Studies, S. Rajaratnam School of International Studies, Nanyang Technological University
Dr Ronan Tse-Min Fu, Assistant Research Fellow of the Institute of Political Science, Academia Sinica
Dr Selina Ho, Co-Director of Centre on Asia and Globalisation and Assistant Professor, Lee Kuan Yew School of Public Policy, National University of Singapore
About the organiser
Established in 2011, through a partnership between Yale University and the National University of Singapore, Yale-NUS College is a leading liberal arts and sciences college in Asia, with a full residential programme that integrates living and learning. Drawing on the resources and traditions of its two founding universities, a Yale-NUS College education promotes broad-based interdisciplinary learning across the natural sciences, social sciences and humanities complemented by depth of expertise in one's major. Our curriculum and pedagogy draw on the strengths of established traditions in the liberal arts and sciences, while introducing our students to the diverse intellectual traditions and cultures of Asia and the world. We nurture young minds and equip the next generation with the means to appreciate and understand complex issues, the capacity to think critically and problem-solve, and the skills to communicate effectively and lead.
Our Vision:
A community of learning,
Founded by two great universities,
In Asia, for the world.