US-China Energy & Climate + Artificial Intelligence Summits
Description
Note that Summits on Feb 23rd and Feb 24th are hold at two different locations.
Feb 23rd: Fioli Garden, Woodside, California
Feb 24th, Mackenzie Room, Stanford (parking direction: https://docs.wixstatic.com/ugd/9b7898_f7a7057e39ea4b0b8a4ab0448ee35b08.pdf)
Feb 23rd: US-China Energy & Climate Summit
(Focused on Energy & Climate Policy, Markets, Investment and Entrepreneurship)
February 23, 2019

Location: Filoli, Woodside, California (A prominent California historical Landmark)
Hosted by SCEA, assistant hosted by CSEE North American Chapter



Overview: China and the United States are the world's largest producers of greenhouse gas emissions. It is paramount for both countries to have more dialogues around the climate change challenges, to forge a better understanding of each other's climate and energy agenda, and to collaborate on solving these challenges and investing in innovative solutions.
The US-China Energy & Climate Summit on Feb 23rd, to be held at Filoli, a prominent California historical landmark, will bring together executive policy makers, company leaders, technology experts, investors and entrepreneurs from both China and the U.S. to discuss the climate progress and the presence and future of our clean energy industry. The full-day agenda will feature a high-level keynote opening followed by several panel discussions on climate policies, energy market designs/landscapes, corporate strategies in clean-tech and sustainability, and opportunities for investment and entrepreneurship for a sustainable future.
Executive-Level Guest Speakers:
All of our 30+ speakers from are executive-level industry leaders. Some examples are listed below:
Junfeng Li, Director General at National Development and Reform Commission (NDRC) of China;


Drew Bohan, Executive Director of the California Energy Commission;

Nan Zhou, Leader of the China Energy Group of Lawrence Berkeley National Laboratory;

Karin Corfee, Managing Director at Navigant Consulting;

Guangyi Liu, CTO of GEIRI North America, State Grid Corporation;

Lei Qi, Principal at Alliance Ventures, world's largest mobility investor;

Dian Grueneich, Commissioner Emeritus, California Public Utilities Commission

Huifeng Chang, Senior VP and CFO of Canadian Solar

David Phillips, Associate VP of Energy and Sustainability at the University of California (UCOP)

Douglas Cameron, Co-founder of First Green Partners

Yi Liu, Deputy Director of Energy Internet Research Institute, Tsinghua University

Agenda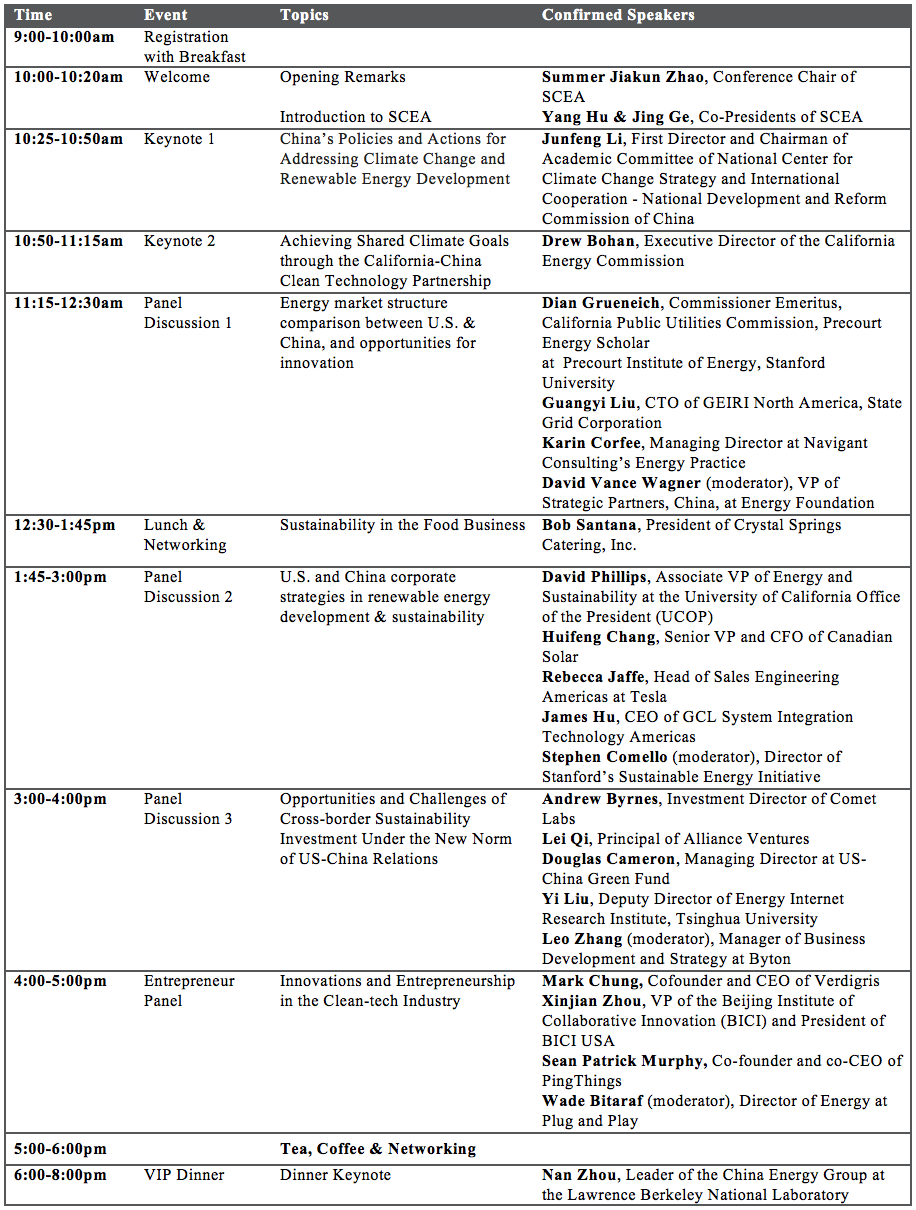 ---
Feb 24th: Artificial Intelligence in Energy Summit
Feb 24th, 2019
Location: Mackenzie Room*, Jen-Hsun Huang Engineering Center, Stanford University


475 Via Ortega, Room 300, Stanford, CA 94305

(Parking direction: please see this link, two nearby garage, Via Ortega and Roble Field Garage, https://docs.wixstatic.com/ugd/9b7898_f7a7057e39ea4b0b8a4ab0448ee35b08.pdf)

Hosted by Stanford IEEE and SCEA, assistant hosted by CSEE North American Chapter
Overview: Machine learning and other artificial intelligence technologies have been proved to be powerful tools in extracting and processing information from large sets of data and have been used extensively for different applications in energy, such as Load forecasting and demand management, yield optimization, predictive maintenance in the utility industry; energy trading nad customer insights in the retail field; and supplier selection, consumption insights, and building energy management in the consumers sector. We will bring both academic and industry experts in energy and machine learning fields to share ideas, opportunities, and best practices, as well as challenges and caveats in applying machine learning in energy.
Agenda


---
Hosting Partners:
---
Ticket Include:
Entry to one or both days of the summit

Entry ticket to the entire Filoli property and garden ($25/person if you were to visit Filoli on your own)

Breakfast & lunch for one or both days