US-China: Challenges and Opportunities in Technology and Business
Description
Dear friends,
The Harvard Club of Dallas and Tsinghua Alumni Association of Dallas-Fort Worth invite you to join this FREE event on US-China technology related challenges and opportunities in business. The seat is very limited so please reserve ASAP if interested. Parking is free too.
In this event, six panelists from a range of sectors/ functions, including nanotech/ materials science, telecom, computing, energy/power, IP law, and investing, will provide their input on key topics at the intersection of technology and business as pertains to the US and China. Please join us for this joint discussion between the Harvard and Tsinghua Clubs. The aim will be to cover both hot topics in the US-China business and technology space, such as technology transfer and IP protection, as well as look at the relative levels of technology in each country, competition, and potential cooperation. Discussion between the two clubs will seek to achieve deeper understanding of the issues than we typically see in the press. Ideally, recommendations for addressing the problems will emerge from these discussions.
Topics include: tech transfer, IP protection/theft, tech acquisition via investment, security concerns with installation of foreign technology, relative levels in science and technology in various sectors, future projections of relative levels, drivers of relative levels (policy, institutional, social, financial), recommendations for increased competitiveness in science and technology, opportunities and recommendations for US-China win-win cooperation in science and technology, and attractive technology investments in each country, given the trends.
Panelists (detailed bio here)
Dr. Ray Baughman, Director of the Alan G. MacDiarmid Nano Tech Institute and Robert A. Welch Distinguished Chair in Chemistry, University of Texas at Dallas (nanotech, materials science)

Tim Danks CIPP/E, VP, Risk Management & Partner Relations, Huawei Technologies (USA) (telecom)

Patrick Jenevein, Chief Executive of Tang Energy Group and Pointe Belo(energy and power)

Jerry Pi, Entrepreneur/ Investor, former CTO of Straight Path Communications and Sr. Director at Samsun Research (investing, computing, telecom)

Robert Hill, Partner, Holland and Knight (intellectual property law, with experience in multiple sectors)

Tim Wang, Partner, Ni, Wang, and Massand (intellectual property and complex commercial dispute law, with experience in multiple sectors)
Moderators
Brian Buffington, Executive Director and General Manager, Entertainment Group, AT&T

Ruby Xu, Head of Capital Management and Credit Loss Forecasting, Toyota Financial Services
UTD Parking information: On the weekends, visitors can park in green spaces for free without a permit. Nearest lots with green spaces are: PS1 (a parking structure), D, and C. Cashless metered parking (credit/debit/pay by phone) also available in lots M west, PS1, F, and G. Building for event is marked as JSOM on Parking map.
Detailed direction will be provided via email after registration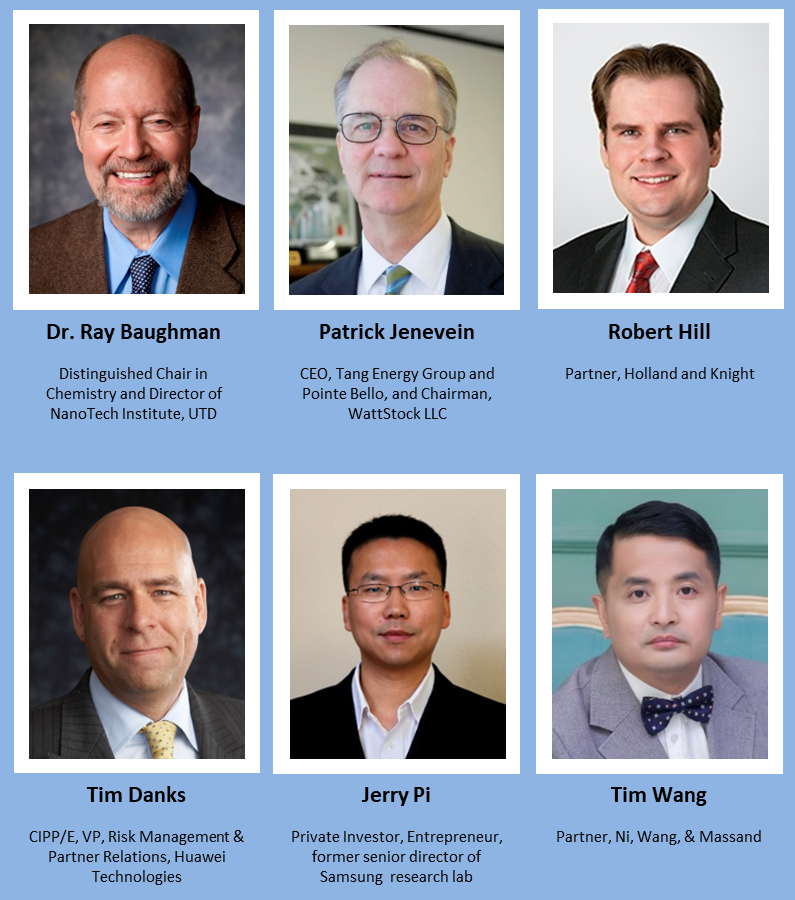 Organizer of US-China: Challenges and Opportunities in Technology and Business