U.S - Arab Entrepreneurship & Innovation Forum (Day long)

Friday, December 4, 2015 from 12:00 PM to 6:00 PM (EST)
Event Details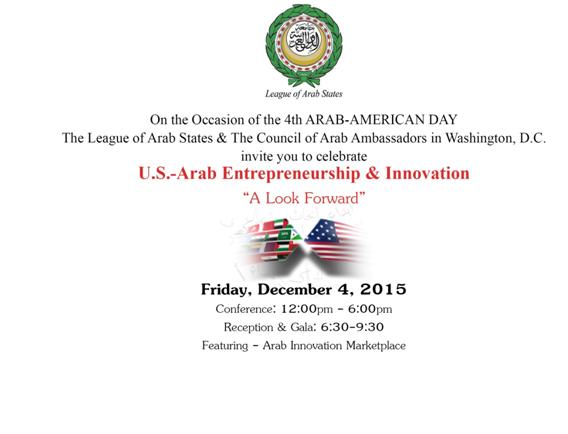 Annually, the Arab-American Day, brings together the diplomatic community, businesses, government, Arab-American leaders and community to celebrate the achievements and professional advancement of the Arab-American community. This year, Arab-American Day will feature a program aimed at celebrating Arab entrepreneurship and innovation at the nexus of government relations, public-private partnerships and community development.
ABOUT:
Arab-American Day 2015 will bring together industry leaders, entrepreneurs, investors, incubators, public sector officials, investors, and thought leaders from across the Arab region and Arab-American communities, to exchange ideas and resources with the goal of building a collaborative ecosystem to foster economic growth, promote job-creation, and inspire innovation and social impact.
Entrepreneurial Forum Overview:
The Forum panels and workshops will bring together key stakeholders for in depth discussions to brainstorm, tackel challenges, and produce a roadmap for action to improve the Arab innovation and entrepreneurial ecosystem and explore how to connect it to larger global ecosystem. The Forum will feature an Innovation Marketplace to showcase best practices, facilitate networking opportunities and highlight success stories.
GOALS:
Inspire the Arab, Arab-American, and general public with stories of entrepreneurial and innovative successes across a variety of sectors that have created transformative businesses and technologies with significant long-term impact in their respective fields;

Provide a space for Arab and Arab-American entrepreneurs to comingle &  share their resources, stories, challenges, and ideas, so as to build bridges of opportunity between these two communities;  and

Highlight the work of Diaspora capacity-building organizations, investors, public sector officials that are interested in facilitating the work of Arab and Arab-American entrepreneurs and to discuss how this work may be done more effectively over the coming 5 years.
PROGRAM
Entrepreneurial Forum- 2015 
1:00-2:00 PM - PANEL 1
Trends in Entrepreneurship in the Middle East and North Africa
Expert panel including practitioners, government representatives and investors on trends in entrepreneurship in MENA. Panel will provide an overview of the ecosystem and will showcase trends, developments and challenges. 
---


2:00-3:00 PM - PANEL 2
Tools for Development: Entrepreneurship & Social Issues
An interactive exploration of how entrepreneurship and innovation can be at the forefront of addressing social challenges faced in the Arab region and its diaspora including: social inclusion, gender rights, human rights, taboos around disability, Immigration/Refugees
---


3:00-3:30 PM - LIGHTNING TALKS
Lightning Talks & Interactive Discussion: Behind the Scenes of Failure, Success, Opportunity
5 brief presentations by entrepreneurs and innovators on their entrepreneurial journeys.
---


3:30-4:30 PM - PANEL 3
A Success Ecosystem: The Role of the Private-Public Sectors in Facilitating Entrepreneurship   
This interactive conversation with industry leaders. Panel will explore current trends in access to capital and financial resources. It will discuss corporate public-private partnerships and how to leverage the private sector & government to better support Arab Innovation & Entrepreneurship. The panel will focus on an exploration of opportunities.
---


4:30-5:30pm - Impact Circle
Fostering Innovation: From Education to Job Creation
Addressing the status quo, and finding effective and innovative solutions for illiteracy, learning challenges and unemployment, especially in post-war zones. Building a Knowledge-generating and innovation-driven nations in key sectors that address regional and global challenges.
---


5:45-6:15 PM - CLOSING PANEL
A Look Forward: A Roadmap for Action
Closing remarks & defining a way forward based on Forum conversations & outcomes. Session led by keynote speaker with inputs from topic based rapporateurs . 
---


5:30-9:00pm - Marketplace Exhibition 
Capacity building organizations showcase who they are, what they do, resources they provide, and how to connect with them.  
**END ENTREPRENEURIAL FORUM**
ALL ATTENDEES FOR THE FORUM ARE WELCOME TO JOIN US FOR THE GALA AND EVENING PROGRAM
Organizer
Email: rsvparableague@aol.com