Description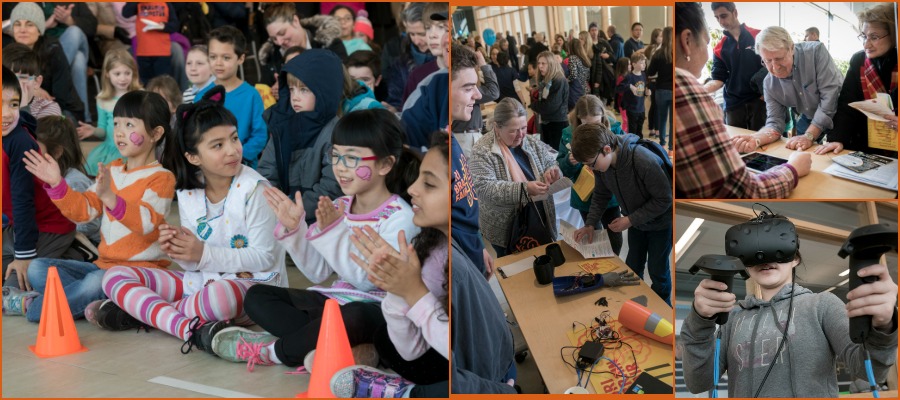 Scroll down for speaker session times and info, plus a campus map and parking.

Meet your amazing brain!
The third annual URI Brain Fair is a free event for all ages to learn about your amazing brain and how you can keep it healthy, with nearly 30 interactive learning stations, plus talks, giveaways, and special events -- including a mid-day brain circus with Marvelous Marvin.

Meet the machine-learning robots of the URI Artificial Intelligence Lab

Learn about balance during a simulated surfing activity

No hands! Control a game or type words by using your mind

Learn science-based ways to keep your brain healthy

Learn the science behind optical illusions and motor learning

Watch your brain waves in action with EEG technology

Experience "dementia" during a guided simulation

Discover the brain benefits of de-stressing through deep breathing techniques or a visit with Phantom the Therapy Dog

Get a brain boost from craft-making activities, including origami folding and dream-catching

Learn about community brain health resources for Alzheimer's, frontal temporal neurodegeneration, migraines, and brain injury

2019 Brain Fair Speaker Sessions:
The Science Behind the BEACON Study (Avedisian 130, 11 a.m.): Ryan Institute Executive Director Paula Grammas discusses the research that led to the upcoming BEACON study, an Alzheimer's clinical drug trial that will target inflammation in the brain's blood vessels as a potential treatment for Alzheimer's disease.

Fly through the Brain in 3D (Avedisian 170, 10:30 a.m., 11:30 a.m., 12:30 p.m., 1:30 p.m.) : Step inside the visualization theater for an immersive journey into the structure and complexity of the human brain, led by Rachel Carley, a Class of 2020 Doctor of Pharmacy candidate.

Sleep and Dreams: 10 Common Myths Explained (Avedisian 105, 10:30 a.m., 12:30 p.m.): Sue Adams, professor of human development and family studies, breaks down the truth about sleep and the science of dreaming.

Play Promotes Healthy Development (Avedisian 105, 11:30 a.m., 1 p.m.): Jessica MacLeod, Director of the URI Child Development Center, gives an overview of research-based strategies to support the development of self-regulation, increased attention, flexible thinking, and problem-solving skills in young children, using play and positive interactions.

Understanding Migraines (CBLS 152 10:30 a.m., 12:30 p.m.): Alicia Torborg, Executive Director of the Association of Migraine Disorders, leads an informational Q&A about the symptoms and management of migraine headaches.

Brain Circus with Marvelous Marvin (CBLS Lobby, 12 p.m.)


This year's event takes place in two of our adjacent science buildings, Avedisian Hall and the Center for Biotech & Life Sciences (CBLS).
PARKING & CAMPUS MAP: The nearest lot is Greenhouse (9). Other nearby lots include the corner of Flagg/Butterfield (16) and the Beaupre lot on West Alumni Avenue (13). See a campus map with parking lots marked in brown here: https://web.uri.edu/visit/files/URI-KingstonCampusMap-Web-FINAL.pdf
Questions? Email Nicole Maranhas at maranhas@uri.edu.