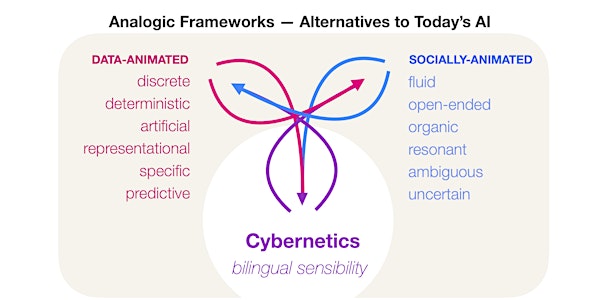 Urgent Questions in response to "Today's AI" — #NewMacy Meeting #2
Propose your urgent questions to bring more humane interactivity to our digital world
About this event
ASC Speakers Series: Cybernetics and humans' knowing
Abstract
What forms of human-machine interactivity would move us away from the ills of "Today's AI"?
How do we create organic frameworks for AI that are based in human and ecological values?
There is no question that widespread AI software has negative effects. Manipulation of our attention and political sentiment, spread of bias, loss of privacy, and encouragement toward addictive behaviors are only a few widely acknowledged examples. With 2.8 billion people active on social media and 4 billion touched by digital devices, these manifestations of "Today's AI" demand response.
— Our goal is to bring about the integration of today's digital AI technologies with "analogic" frameworks — that is, humane, organic, open-ended, resonant, and socially-animated interactivity.
— Our plan is to create new design patterns and working prototypes that present vivid examples to designers, entrepreneurs, teachers, students, legislators—to promote inspiring alternatives to technologies to "Today's AI.'
— Our hope is to transform the marketplace that dispenses harmful algorithms of "Today's AI" and to make a better world of interactions with digital machines.To reach our goals we need a rich variety in the conversation and we invite you to participate:
I. Propose your "urgent questions" in response to these prompts:
In what areas should we pay attention to the negative impact of "Today's AI", and why?
What counterexamples to those areas exist already, for example, alternative social networks, recommendation engines, and social-profiling algorithms?
What new modes for interactivity can we define? For what circumstances and desirable outcomes?
Who else do we need in the conversation to design and prototype effective alternatives?
Click here to submit your urgent questions before the deadline of Friday September 10th at 11pm. From all submissions, selections will be announced in advance and presented in real-time by their authors at #NewMacy Meeting #2 on September 19 (see next item).
II. Participate in #NewMacy Meeting #2 on Sunday September 19 at noon EDT by registering here at Eventbrite. Urgency of the need and scale of the challenge require that we convene a Network of #NewMacy Meetings. You are invited to attend whether or not you submit your own questions.
To succeed we must bring together voices across all disciplines, geographies, and generations. Please join us.
Participants Bios
Paul Pangaro is President of the American Society for Cybernetics and Professor of the Practice in the Human-Computer Interaction Institute at Carnegie Mellon University. His bio is here and personal web site is pangaro.com/.
Larry Richards is Professor Emeritus of Management and Informatics at Indiana University East. Before retiring, he served as an administrator in three universities for 32 years. He now resides in Portland, Maine, USA. His interests include the arts, technology and society.
Eryk Salvaggio is an interdisciplinary researcher and artist examining gaps between datasets and the world they reflect. He holds a Masters in Media and Communication from the London School of Economics and a Masters in Applied Cybernetics from the Australian National University. His work can be found at cyberneticforests.com.
Frederick Steier is Professor, School of Leadership Studies, Fielding Graduate University in Santa Barbara, California, where he leads the program in Media, Technology and Innovation, and Emeritus, Department of Communication, University of South Florida. A former President of the American Society for Cybernetics, he received his doctorate in 1983 in Social Systems Sciences from the University of Pennsylvania.
Claudia Westermann is an artist and architect, and Senior Associate Professor in Architecture at Xi'an Jiaotong-Liverpool University (XJTLU) in Suzhou, China. Her work and bio can be found at litra-design.com.