URGENT, Inc.'s TOPGOLF Educational Fundraiser - $25,000 Hole in One Opportu...
Description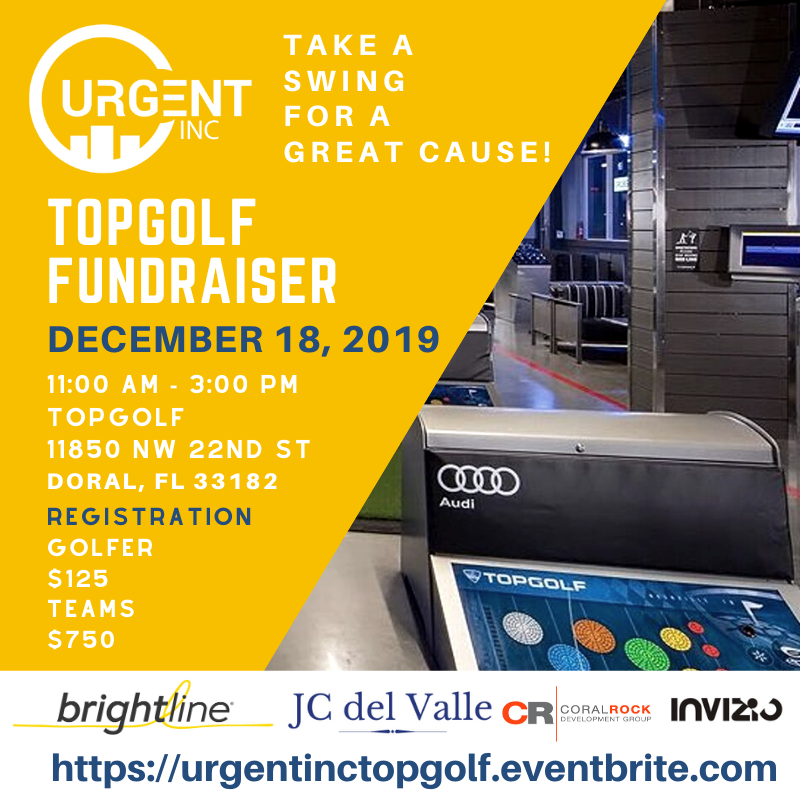 Topgolf is a sports entertainment complex that features an inclusive, high-tech golf game that everyone can enjoy. Paired with outstanding food, climate-controlled hitting bays, and music, Topgolf is a fun experience for all skill levels. When you join us for an afternoon of golf, food, music, and tournament-style games you will be helping to raise funds for a great cause.
All Registrations include 3 hours of golf, great food, bottomless non-alcoholic beverages and two drink tickets (beer & wine). The event is open to the public. Also plan to enter the $25,000 hole-in-one competition!
EVENT TICKETS:
Individual Golfer $125
Reserved Team Bay $750 (up to 6 players)
GAME TIME!
11:00 AM Registration, Buffet and Photos

12:00 PM Game Play (Coaching Available for 1st Hour)

1:00 PM $25,000 HOLE-IN-ONE COMPETITION

3:00 PM Awards
Proceeds will benefit Urgent Inc, a 501(c)(3) in Miami, FL based youth and community development organization celebrating 25 years of service dedicated to empowering young minds to transform their communities. The organization teaches core competencies in a variety of dynamic programs serving youth from ages 5-21. Programs include the FACE Internship, the Rites of Passage Media Project and the Youth Empowerment After School program. The FAC.E (Films, Arts, Coding & Entrepreneurship) internship is a hands-on, real-world media arts internship program for high school teens. Rites of Passage is an arts enrichment program designed to inspire girls in middle school to elevate their voice about issues they care about using video, photography, poetry, and performance. Youth Empowerment After School and YES! Camp create year-round experiences designed to help children build skills, discover their talents and identify their intelligence. Most importantly, Urgent Inc is launching a capital and growth fund campaign to build Urgent Academy, UA, a creative design and technology apprenticeship center and open the Film Arts Culture Entrepreneurship (FACE) Production Studio.
Questions or to become a Sponsor Contact Emily Diane Gunter, emily@urgentinc.org, (305)915-3195.