Event Information
Location
Ateneo de Manila University Law School Auditorium
No. 20 Rockwell Drive
Rockwell Center
Makati, 1200
Philippines
Description
Signup for free tickets to UrbanisMO through Eventbrite is now closed. 195 slots gone in less than 10 hours!
However, fear not. UrbanisMO is only part of a larger event organized by Artkitektura and the British Embassy entitled FILMS AND CITIES, featuring the Philippine premiere of A STORY OF DREAMS, a film about Curitiba mayor and urban planner Jaime Lerner. Talks will also be given by filmmaker Tia Kansara and Architecture pioneer Rod Hackney.
These will be held from 10:00-12nn at the Ateneo Law Theatre in Rockwell, Makati, followed by the UrbanisMO forum from 1:00 - 4:00 pm
A day ticket (PHP 400 for regular admission, PHP 150 for students) will allow you to watch the movie, listen to talks, and join UrbanisMO.
For more information, please go to http://www.artkitekturafestival.com.
---
Urban planning speaks of ensuring the "highest and best use" of land. Experts variably describe this through a number of buzzwords: "green", "smart", "resilient", "just", "equitable". But who defines and decides on these uses? Highest and best use–for whom?
But what do YOU want for YOUR city? What can you do about it?
UrbanisMO invites development practitioners, urban planners, data scientists, and interested citizens of all ages to discuss four crucial issues that can make or break Philippine cities: a) Transportation; b) Housing and urban poverty; c) Disaster risk reduction and management, and d) Addressing urban conflict.
By focusing on alternative scenarios, visions, and paths of engagement, the forum encourages interdisciplinary exchange and collaboration towards useful solutions to the Philippines' urban problems, at human scale.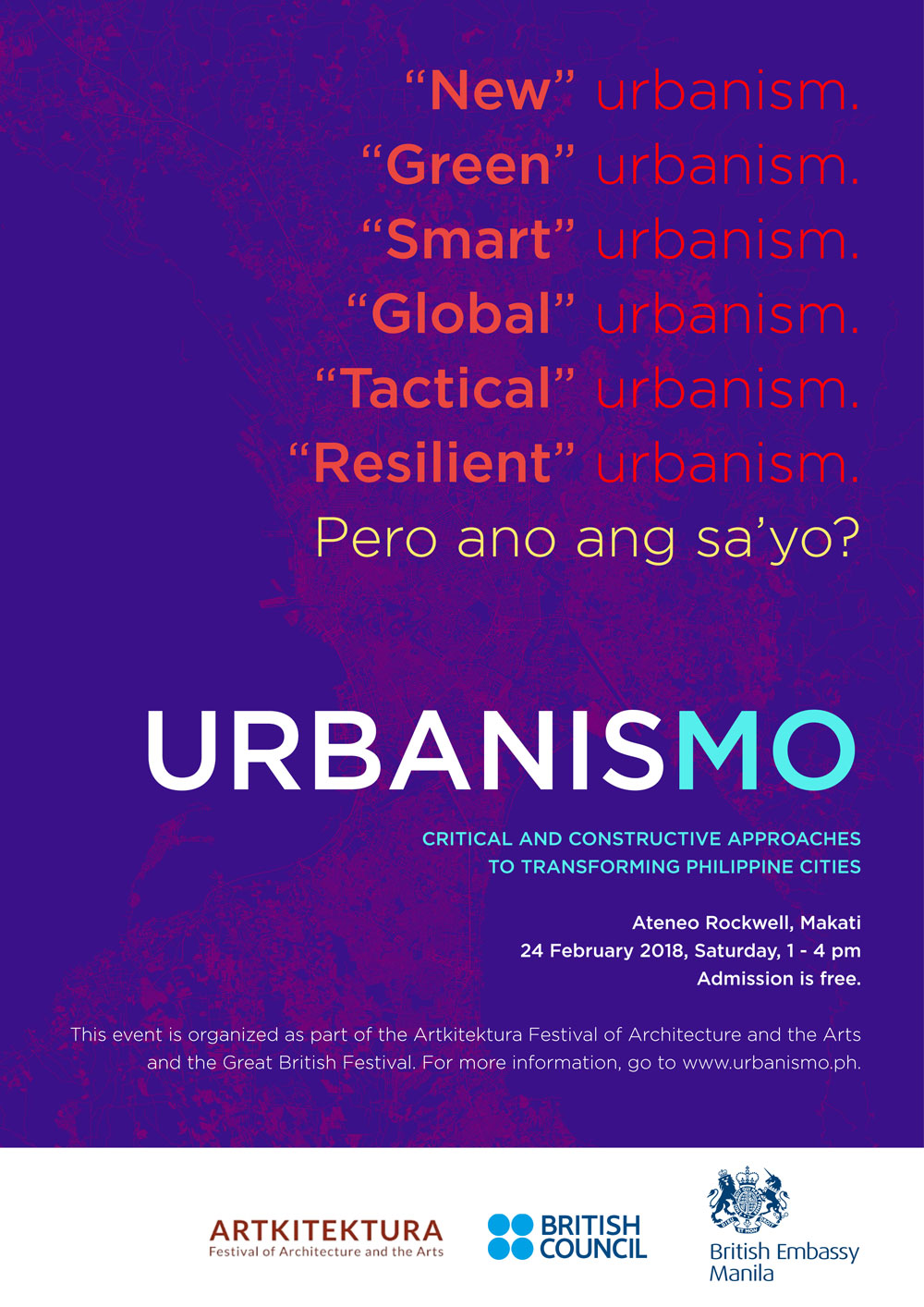 Date and Time
Location
Ateneo de Manila University Law School Auditorium
No. 20 Rockwell Drive
Rockwell Center
Makati, 1200
Philippines