Description
2017 Memorial Day Weekend Celebration
Party Starts at 10pm
Open Bar 10pm to 11pm
Join the Guestlist for Complimentary Admission until 12midnight
Dress Code: Chic & Trendy

For Large Groups or VIP Tables, email vip@urbaneworldwide.com or call (202) 905-2794.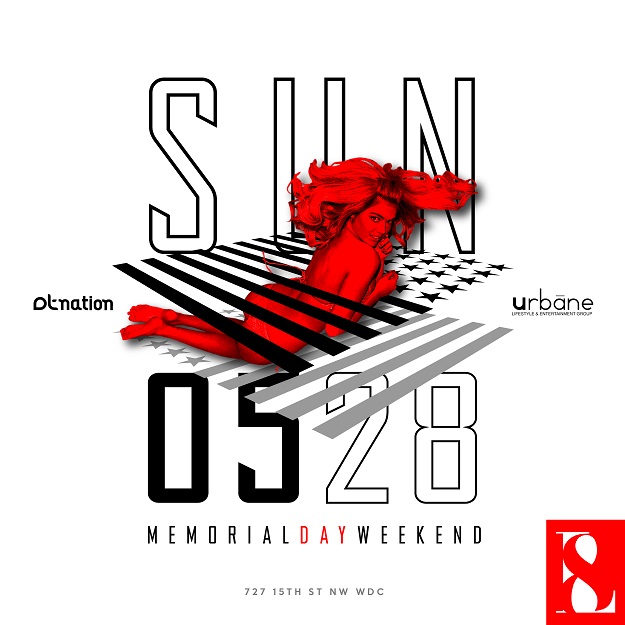 ---
Frequently Asked Questions (FAQs)

Q: Do I need to print out a ticket for the event?
A: No, it's not required. We will check-in all guests via Eventbrite Mobile at the front door via Ipad. We will match your ID to ticket name registered on eventbrite.

Q: Where is L8 Lounge?
A: It is located on 15th Street NW between NY Ave and H Street in Downtown DC. Address is 757 15th Street NW, Washington DC 20005.

Q: How is parking? Best method of transportation?
A: Valet parking will be available. Uber or cab is strongly suggested.
Q: Are there age restrictions?
A: Yes, must be 21+ years of age or older with valid ID. Target demo for this event is 25 to 35.

Q: Can you pay admission at the door?
A: Yes.

Q: Is there a dress code?
A: Urban chic attire is required. No athletic wear. Most importantly, be beautiful and sexy. We reserve the right to deny entry for attire or attitude. We may turn people away, and refund tickets if necessary, for attire.

Q: Is Bottle Service available?
A: Yes.