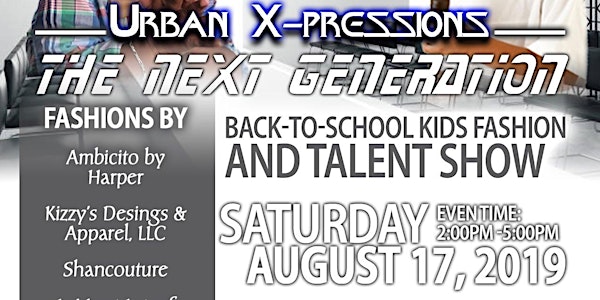 Urban X-pressions The Next Generation Rooftop Fashion & Talent Show | @frid...
Location
TGI Fridays
1776 Benjamin Franklin Parkway
Philadelphia, PA 19103
Description
Urban X-pressions, The Next Generation; Kids Fashion & Talent Show, hosted by our youth. This event will kick off the on-going activities X-pressions, Inc. we will provide for the youth throughout the year.
Fundraising Event – Kids Fashion & Talent Show
Date: August 17, 2019
Time: 2pm -5pm
Location: TGI Fridays Center City, Rooftop - 1776 Ben Franklin Parkway
Tickets: $10-$35
Help X-pressions, Inc. support Youth Media Programs in its 4th Fashion Show. This event, is hosted @fridayscentercity. It features runway show and performances.
Tickets are available now.
****$1 from every ticket will be donated to various non-profit organizations that assist with homeless outreach.
This VIP Seating ticket gets you VIP seating in the show.
* For VIP Experience tickets
* For general admission tickets

* Make donations & ad spaces
Vending Tables

For more information contact Shelly Williams 215-843-1984
Contact publicist Leviathan Publications 215-391-5836
Urban X-pressions: The Next Generation – Media Training Program
The Next generation of what? Urban X-pressions, Philadelphia's longest running music video show and a staple in the community; originally aired on broadcast television from 1992-2013 and it now lives on, via the web and in the hearts of many. After the move to a web base show, the original cast and producers began to focus on other projects, which left a void for those still missing the Urban X-pressions brand. The show was very popular, reaching almost 3 million viewers weekly, every Saturday night from 11pm-1am.
The Show's Executive Producer Shelly Shell Williams has decided to create a new series, featuring the next generation, the children of the original cast; embarking on the mission of Building a Legacy.
*Media inquiries submit your credentials to urbanxpressionsvideo@gmail.com Attn: Media and register for a free media ticket.
*Volunteer inquiries submit Name 2 pics resume if you have and full contact info to urbanxpressionsvideo@gmail.com Attn: Volunteers
*Swag Bag, Vendors and Sponsorship opportunities available urbanxpressionsvideo@gmail.com Attn: Vendor/Sponsorship