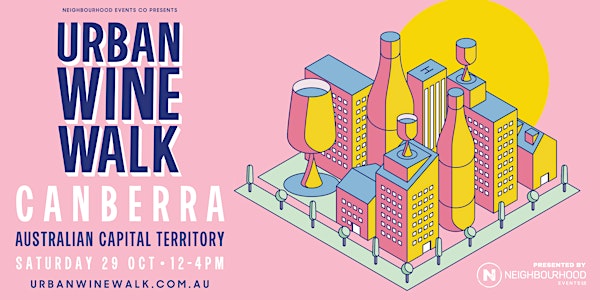 Urban Wine Walk // Canberra (ACT)
Get ready Canberra, the Urban Wine Walk returns in October and if you and your mates love wine this is the event you'll want tickets to!
When and where
Location
Multiple Venues Multiple Venues Canberra, ACT 2601 Australia
About this event
The streets and laneways of Canberra will come alive this October as a line-up of the best venues transform into an Urban Cellar Door for you to visit on a self-guided trail!
How does it work you ask? Simply decide which venue you'd like to start from and you're off! Choose your own adventure as you and your friends move from venue to venue tasting delicious wines thanks to our incredible line-up of Australian winemakers.
Guaranteed to sell out, the Urban Wine Walk promises a fun and unique self-guided wine tasting experience that you and your friends won't want to miss!
PARTICIPATING VENUES & WINEMAKERS (9)
1 - Midnight Bar Ft. Mallaluka (NSW)
2 - The Pearl Ft. Lark Hill Winery (NSW)
3 - Dolly's Ft. Whitton Farm (NSW)
4 - Bootleg Bar Ft. Jeir Creek Wines (NSW)
5 - Hopscotch Ft. Lake George Winery (NSW)
6 - Bar Beirut Ft. Shaw Wines (NSW)
7 - BlackBird Bar Ft. Sapling Yard Wines (NSW)
8 - Grease Monkey Ft. Murrumbateman Winery (NSW)
9 - Temporada Ft. Linear Wines (NSW)
TICKETS
Vino Lover - $75 + Booking Fee (Limited Availability)
WHAT YOU RECEIVE
- Complimentary Tastings (One Per Variety Per Person)
- 1 x $10 Food Voucher to Spend at your Nominated Starting Venue (Before 1pm)
- 1 x $25 Voucher for Event Day Wine Orders (Six Pack Minimum / Subject to Participating Producers)
- Official Event Wristband & Tasting Glass
* Please Note - Maximum of Six Tickets Per Transaction
EVENT REGISTRATION / WRISTBAND & VOUCHER COLLECTION
Event wristbands, tasting glasses & vouchers will need to be collected on the day of the event prior to commencing the Urban Wine Walk. The collection point is as follows:
Where - The Pearl 1 Genge St, Canberra ACT 2601)
​Date & Time - Saturday 29th October (11am - 1pm)
COVID-19
If we are not able to run the event as planned due to COVID-19 all ticket holders will receive a full refund via Eventbrite.
** Sorry no refunds, unless event is cancelled / postponed by the organiser
GETTING AROUND
Aside from the incredible wines, one of the best things about the Urban Wine Walk is that it's a completely self-guided day out! What that means is once you've been to your nominated starting location you can go where you want, when you want! 
**Sorry kids, Urban Wine Walk is strictly 18 Years and Over!