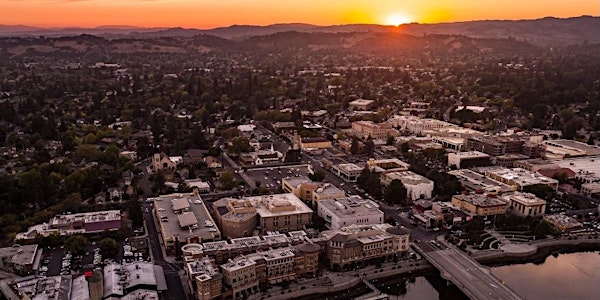 Urban Tech Talk - Napa: 2040 General Plan Conversation Starters
When and where
Location
Uptown Theatre Napa 1350 3rd Street Napa, CA 94559
Description
As a prequel to our 2040 General Plan update the City of Napa is hosting a two part speaker series to start the conversation.
Day at a Glance

2:00 – 3:00 – Network with speakers, guests, and colleagues

3:00 – 4:00 – Session 1: Smart Cities and Incubators
A "SmartCity" uses information and communication technologies to increase
operational efficiency, share information with the public, and improve the
quality of government services and citizen welfare. Incubators are a way to
foster creativity in business, hospitality, tourism and other areas vital to Napa.
STiR is one such incubator idea that has tremendous success in garnering and
fostering talent. Speakers: Jonathan Reichental, Ph.D. and Jay Nath

4:00 – 5:00 – Session 2: Connected Streets & Parking
Traffic, parking, and road congestion are issues cities grapple with across the
country. Transportation innovations have successfully helped cities manage
these symptoms of a thriving economy. Our roads and parking assets hold the
key to some of these solutions with the help of innovative approaches. Speakers:
Jaime Rodriguez and Chris Davis

5:00 – 6:00 – Session 3: Autonomous Vehicles & Mobility of the Future
Autonomous Vehicles and the future of mobility will undoubtedly change the
way we connect with our cities. The question of autonomous cars is not "if" but
"how" and "when." How we get around is also changing with a move toward
ride sharing apps and services that offer great opportunities as well as give cause
to think about our city's future. Speakers: Keith Foxe and Andrew Adams

6:00 – 7:00 – Session 4: Resilient and Sustainable Cities
Resilience and sustainability are no strangers to Napa. Devastating floods, fires,
and earthquakes have made these traits core values of Napa and surrounding
cities. These topics continue to be of paramount importance to communities
throughout Napa Valley. Technology increasingly plays a role in these efforts.
Speakers: Gil Friend and Derek Ouyang

7:00 – 8:00 – Network with speakers, guests, and colleagues

Urban Tech Talk is the first in a two-part speaker series intended to foster civic
engagement in a lead-up to the General Plan Update. For more information,
please check the City's website and social media accounts for continuous
updates.
View the program and speaker bios at www.cityofnapa.org.