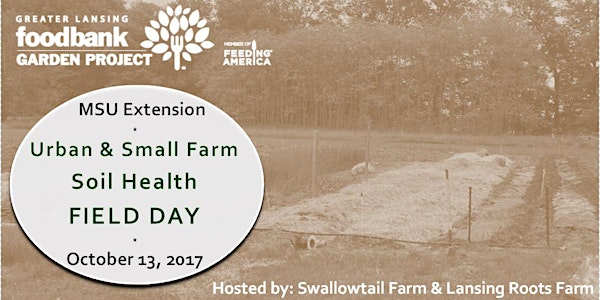 Urban & Small Farm SOIL HEALTH FIELD DAY
Location
Swallowtail Farm
1633 S. Hagadorn Road
Mason, MI 48854
Description
"Essentially, all life depends upon the soil ... There can be no life without soil and no soil without life; they have evolved together." - Charles E. Kellogg, USDA Yearbook of Agriculture, 1938
--------------------------------------------------------------------------
The Garden Project and Michigan State University Extension will host an Urban & Small Farm Soil Health FIELD DAY on Friday, October 13th at two of mid-Michigan's finest farms. The morning session will be held at Swallowtail Farm, located at 1633 South Hagadorn Rd, Mason, Michigan, 48854. The afternoon session will be held down the road at the Lansing Roots Farm, 1084 S. Hagadorn Road.
"Managing for soil health increases crop productivity and profitability while improving the environment," said Dean Baas, Extension Educator in Sustainable Agriculture for Michigan State University Extension. "Soil is a living substance so minimizing tillage, diversifying crops and using cover crops benefits the entire ecosystem. At this educational field day, growers can get to the bottom of soil health by learning soil health management practices that are practical to them and their growing spaces."
Throughout the day, growers will have the opportunity to participate in hands-on demonstrations as they learn about cover cropping, composting, proper tiller tool selection, soil test kits and soil health. Every type of grower is welcome, from community and urban gardeners, to homesteaders and market farmers.
---
Farm, Garden and Hoophouse Tours
Morning Session: Measuring Soil Health
Principles of Soil Health: H

ealthy soils are essential for food production. What we grow can improve our soils and ultimately our communities and earth. Experts will teach how crop selection, rotations, cover crops and manure can impact the productivity of the soil and improve overall soil health.

Rainfall Simulator: The rainfall simulator provides a "seeing is believing" demonstration of how practices such as no-till farming/gardening and cover crops benefit soil health and improve the water cycle on ag land.
Soil testing:

Soil test kits, soil probes, and even just our senses, are essential in diagnosing what our specific soils need to be productive. Demonstrations will show how testing and making appropriate choices will influence soil structure and soil health and also how to

interpret soil test results for cost-effective soil fertility management.
Catered Lunch
Afternoon Session: Improving Soil Health
On the Farm Demonstration Rotations: There

are many benefits in adding cover crops, compost and manures in farming systems, including erosion control, nutrient sourcing and management, weed and pest control, building organic matter and reducing compaction.

Growers will cycle through rotations allowing for both hands-on demonstrations and conversation.
Q&A Panel: Bringing it all together - How to put no-till practices to work this season & in years to come.
The entire day will give gardeners and farmers a chance to talk with fellow growers and the MSUE team who can help them improve their growing practices while maintaining environmentally sound practices on their farms and in their gardens.
---
FAQs
What is the cost of this event and how to I pay?
Cost to attend is $10 and is payable either online now, or preferably, AT THE DOOR, THE DAY OF THE EVENT.
On the registration page, under payment method, instead of selecting Credit/Debit Card, drop down to the PAY AT THE DOOR option.
We will accept cash, credit card or check, payable to the Garden Project at the event.
Cost covers lunch, a thumb drive & booklet full of take-home educational resources, a Mid-Michigan Cover Crops Field Guide and additional materials from the day's presentations.
What are my transportation/parking options for getting to and from the event?
Both farms are located in Mason, 1 mile apart on Hagadorn Road, 15 minutes south of MSU. There will be ample parking at both farms, but carpooling is encouraged. A map between the two farm locations is linked HERE.
What can I bring into the event?
A good portion of the field day will be held outside, on the farms. Wearing layers, a hat, sunglasses and sturdy shoes will make your day more comfortable. Feel free to bring a water bottle and a snack, though water, coffee and lunch will be provided. Please, no dogs. Childcare is not provided.
Who will be presenting?
Farmers from Swallowtail Farm and Lansing Roots will give tours of their sustainable farms. The Sustainable Agriculture Team from MSUExtension, including Dean Baas, Christina Curell & Paul Gross, as well as PhD Graduate Research Assistant/Farmer, Brooke Comer, will present.
I still have questions. How can I contact the organizer?
You can contact Donny, by calling (517)853-7809 or emailing dcomer@glfoodbank.org.
You can also register for this FIELD DAY by phone. Call 517-853-7809.