Actions and Detail Panel
Urban Ski Weekend
Fri, Feb 3, 2017, 3:00 PM – Mon, Feb 6, 2017, 11:00 AM EST
Description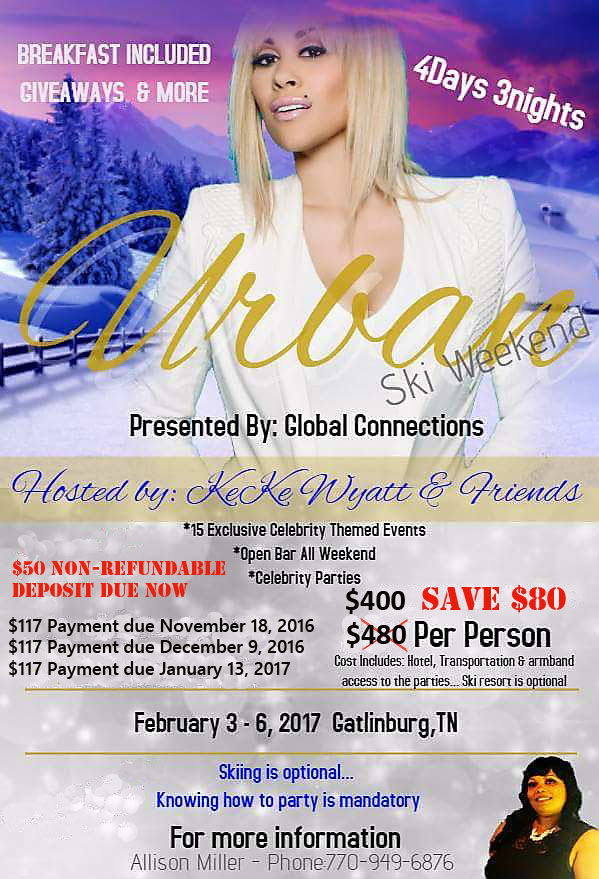 Q. Where will we be staying that weekend?
A. We are staying at the Capital Music Row Hotel, which is in Pigeon Forge, TN. Its the last hotel before the mountains. This hotel is selected because it's not the normal Holiday Inn, its more like a Crown Plaza. DO NOT STAY IN GATLINBURG! YOU WILL MISS THE WHOLE POINT, TRUST US.

Q. What if I don't want to ski?
A. While we encourage everyone to "at least try", since it is a "Ski Trip", YOU can opt to do other things during that time. More information after you sign up.

Q. Does this trip include any transportation?
A. YES, transportation is provided on this trip. Or you can carpool/jet in.

Q. Do I need a rental car?
A. Optional
Q. Where the closest airport?
Knoxville Tn- Airport Code: (TYS)
Closest Airport (45mins from Smoky)

Nashville Tn- Airport Code: (BNA)
3 hours

Atlanta Ga- Airport Code: (ATL)
3 1/2 hours

Q. How far is the hotel from the airport?
A. It's about a 45-minute drive from the airport to the Holiday Inn which is in Music Row Hotel TN. Simple and easy directions given at booking.

Q. How do I pay?
A. You can pay 2 ways. Call us directly at 770-949-6876 or book online here.

Q. Does this trip include an open bar?
A. Yes we provide an open "Premium Open" bar @ varies time throughout the weekend.

Q. Does this trip include my ski equipment?
A. No, if you decide to ski-- ski lessons, ski rental, and ski poles can be paid on arrival at the theme park.The cost for the Sunday Ski Excursion is $99/pp.
Q. How long do we ski?
A.. Usually we have up to a 4 hour block but you can leave when ready.

Q. Does this trip include all the parties?
A. Yes!! IT includes ALL THE EVENTS & PARTIES

Q. What if I don't have a roommate?
A. COME ALONE, YOU WILL MET NEW PEOPLE & MAKE NEW FREINDS.

Q. Is my money refundable?
A. NO BUT CHECK OUR POLICY

Q. Can I pay all of my money for the trip at one time?
A. Yes, however, THERE ARE NO REFUNDS and you need to check the policies before making the payment

Q. What do I need to buy for the trip?
A. You will need to bring the following items:
•Relaxed casual winter wear
•A Turtleneck
•Sweatshirts or Sweater
•Wool or Thermal Socks
•Ski Gloves or Mittens
•Ski Bib & Warm Jacket
•A Hat
•Goggles or Sunglasses
•Swimsuit (You know what's up)
•Trendy Black Outfit
•All White Outfit

Q. When will I get my informational packet?
A. Once your payments are made, we will send you a confirmation page.
***********PLEASE READ THE FOLLOWING***********
REFUND POLICY

ALL PAYMENTS ARE NONREFUNDABLE AND NON-TRANSFERABLE.*
Including late, extension, convenience and final payment Fees. NO EXCEPTIONS.

WHY IS MY PAYMENT NONREFUNDABLE?
We are providing you with a service. This means:
-We take packages out of inventory, in good faith, on a lay-a-way basis.
-We create VIP GROUP LINKS so that you can take advantage of the affordability aspect of a payment plan.
-We provide a convenience of having everyone in your party use their own credit/debits cards.
-We provide package details clearly and concisely, so that everyone will know what is required of them.

Our vendor(s) -- hotels, promoters,coach bus, excursion companies, etc. -- require upfront commitments that we have to adhere to. When we offer a package to you we have to ensure, through good-faith payments, that you will attend the events. This is the only way our vendors will take us seriously, and will want to help us provide our services to you for years to come.
Your Itinerary: